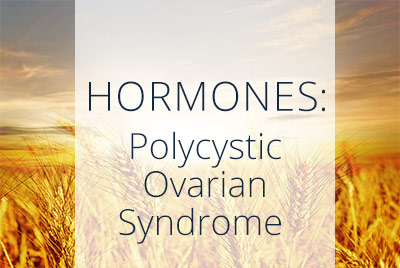 What is polycystic ovarian syndrome (PCOS)?
PCOS is a disorder of the endocrine system — the system of glands that produce hormones that regulate the body's functions. Between 5% and 10% of women of childbearing age (between 15 and 44) have PCOS. Most women find out they have PCOS in their 20s and 30s when they see their healthcare provider about trouble getting pregnant.
Who is at risk of PCOS?
We don't know what exactly causes the polycystic ovarian syndrome. While most women won't be diagnosed with PCOS until their 20s or 30s, it can start at any age after puberty. There is no difference in risk for women of different ethnic backgrounds.
A family history of PCOS increases your own risk.
Obesity and PCOS go hand-in-hand: overweight people seem at higher risk, and obesity is a symptom of PCOS. Being overweight can also worsen PCOS symptoms.
How does PCOS affect hormones?
Polycystic ovary syndrome causes the body to produce high levels of androgens (i.e., "male hormones"). Everyone has some androgens, but their stories tend to be lower in women.
This hormonal imbalance prevents the proper maturation of eggs. In healthy ovaries, eggs are developed and released by the follicles; the empty follicles then dissolve and are reabsorbed into the ovary. With PCOS, the immature follicles cannot dissolve and instead develop into small fluid-filled cysts.
Gynecologists specializing in reproductive endocrinology study the connection between hormonal imbalances and fertility. PCOS is a leading cause of infertility due to these hormonal imbalances.
How is PCOS diagnosed?
There is no single test to diagnose PCOS. To help diagnose PCOS and rule out other causes of your symptoms, your OB/GYN will review your medical history and do a physical exam with tests:
Physical exam. Your blood pressure, body mass index (BMI), and waist size will be checked. They will also look for excess hair growth on your face, chest, back, acne, or skin discoloration. Your doctor may look for thinning hair or signs of other health conditions (such as an enlarged thyroid gland).
Pelvic exam. This may be performed for side effects of extra androgens (for example, an enlarged clitoris) and to check if your ovaries are enlarged or swollen.
Pelvic ultrasound (sonogram). This test uses sound waves to examine your ovaries for cysts and check the endometrium (lining of the uterus).
Blood tests. This is to check your androgen hormone levels. Your doctor will also check for hormones related to other common health problems that can be mistaken for PCOS, such as thyroid disease. Your doctor may also check your cholesterol and blood glucose levels.
What are the symptoms of PCOS?
Patients with PCOS symptoms typically experience:
Unpredictable and or irregular periods – Menstrual periods may be absent or infrequent or occur too frequently
Several small ovarian cysts.
Severe acne or acne that doesn't respond to treatment.
Oily skin.
Acanthosis nigricans – abnormal patches of skin that appear dark and velvety.
Skin tags – small excess flaps of skin in the armpits or neck area.
Hirsutism – abnormal hair growth on the chest, face, upper thighs, and abdomen.
Male-pattern hair loss or baldness.
Severe weight gain – affects about 80% of women with PCOS.
Infertility.
If you're experiencing these symptoms, please make an appointment with your OB/GYN. Keep notes of your symptoms, and be sure to ask any questions. Your OB-GYN will diagnose based on your symptoms, hormone levels, and ultrasound findings.
If you're overweight and have PCOS, you're at higher risk of obstructive sleep apnea — a condition where breathing repeatedly stops during sleep.
Health risks of polycystic ovary syndrome
While we don't know the exact cause of PCOS, we do know it is related to insulin resistance and increased levels of androgens in the bloodstream. Also, patients with PCOS often have higher LDL (bad) cholesterol and lower HDL (good) cholesterol levels.
Women with PCOS often have insulin resistance — meaning their bodies can't lower blood sugar levels correctly. These factors contribute to your risk of serious illness and complications. Research shows that patients with PCOS have an increased risk of developing:
Type 2 diabetes mellitus
Hypertension (high blood pressure)
Cholesterol problems
Cardiovascular disease (heart disease)
Metabolic syndrome
Endometrial hyperplasia – is a disease in which the endometrium grows too thick, which raises the risk of endometrial cancer.
Female adolescents and women with PCOS may be at higher risk for depression and anxiety. Women with PCOS may experience pregnancy complications, including gestational diabetes, preterm delivery, or pre-eclampsia.
PCOS and weight loss
Dr. Aliabadi's focus on overweight and obese patients, as well as those suffering from PCOS, has led her to create Trimly. Trimly is a weight-loss treatment that is personalized to each patient to bring about lasting change. Those who have struggled with weight or PCOS issues will find help through this program.
Dr. Aliabadi's goal is to help patients achieve a healthier lifestyle, gain confidence, and avoid future health problems. Learn more about Trimly here.
Treatment of PCOS
If you are diagnosed with PCOS, your OB/GYN will recommend a course of treatment based on your symptoms, your medical history, and your desire to become pregnant in the future. While PCOS cannot be cured, a mixture of medication and lifestyle changes can lessen symptoms.
With advances in fertility care, patients with PCOS can carry healthy, full-term pregnancies.
Some treatments may include:
Combined hormonal birth control pills
Oral contraceptive treatment can deliver estrogen and progestin to the body to regulate the menstrual cycle and reduce androgen levels. These pills can reduce menstrual irregularities and decrease unwanted body hair and acne. This treatment plan can work long-term for patients who no longer wish to become pregnant.
Weight loss
Healthy eating habits and regular physical activity can help relieve PCOS-related symptoms, but they may not be enough. While losing weight can help to lower your blood glucose levels, improve the way your body uses insulin, and regulate hormones, PCOS works against weight loss.
Insulin resistance and hormone imbalances can result in weight gain. While it may be harder to reverse PCOS-triggered weight gain, it is possible to lose weight if you have PCOS. Support groups and primary care doctors can help find what your body needs to start losing weight and improving your symptoms.
Learn about Trimly, Dr. Aliabadi's personalized PCOS medical weight loss treatment at trimly.com.
Insulin-sensitizing drugs
These drugs are normally used to treat patients with diabetes, but they can help women with PCOS by facilitating the body's response to insulin. They can also jumpstart ovulation by reducing levels of androgens; this helps put the menstrual cycle back on track.
Appearance changes
If PCOS has given you extra unwanted hair, try facial hair removal creams, laser hair removal, or electrolysis. You can find hair removal creams and products at drugstores. A doctor must do procedures such as laser hair removal or electrolysis; your insurance may not provide coverage. These procedures can help reduce the appearance of excess hair and (potentially) slow its growth.
If you're experiencing excessive acne due to PCOS, a dermatologist may be able to prescribe creams or treatments to reduce acne or improve its appearance.
Worried about PCOS? Make an appointment with Dr. Aliabadi
As one of the nation's leading OB/GYNs, Dr. Thaïs Aliabadi offers the very best in women's health and well-being. With her warm, professional team, Dr. Aliabadi supports women through all phases of life. She fosters a special one-on-one relationship between patient and doctor.
Highly trained and honored by the medical community, Dr. Thais Aliabadi is certified by the American Board of Obstetrics and Gynecology and a Diplomat of the American College of Obstetrics and Gynecology. She implements the most advanced, state-of-the-art technology and treatment options.
Dr. Aliabadi specializes in up-to-date, minimally invasive surgical techniques, promising her patients shorter recovery times, reduced pain, and the least interruption to their daily lives.
We also invite you to establish care with Dr. Aliabadi. Please make an appointment online or call us at (844) 863-6700 for general inquiries.
If you believe you are experiencing symptoms of, or suffering from Polycystic Ovarian Syndrome Hormonal Disorder (PCOS), or have questions about it, please see your doctor.

We also invite you to establish care with Dr. Aliabadi. Please click here to make an appointment or call us at (844) 863- 6700.

Latest posts by Dr. Thaïs Aliabadi
(see all)