Menopausal Joint Pain, causes and treatment options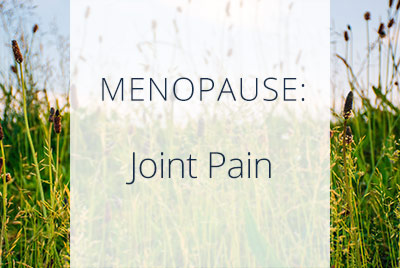 The list of menopausal side effects is extensive – from mood swings to hot flashes, fatigue, night sweats, and more. And now we add joint pain to the list.
Joint pain affects many people as they get older, but unfortunately, it's also common among menopausal women. As if we don't have enough to worry about as we approach midlife.
Aches, stiffness, and swelling around the joint are common symptoms of menopausal joint pain. As a woman approaches menopause, her body goes through drastic hormonal changes that can affect her in many ways.
Why do we get joint pain from menopause?
One reason menopause impacts the joints is these changing hormone levels. There are estrogen receptors in your joints; estrogen protects bones and helps keep joint inflammation low. As estrogen levels decline during perimenopause (the first stage of menopause), the joints can swell and become painful.
Another contributing factor is osteoporosis. Decreasing estrogen levels also contribute to loss of bone density. This puts menopausal women at higher risk for osteoporosis, a condition in which reduced bone mass makes the bones weak and brittle.
Unfortunately, it isn't just arthralgia (joint stiffness) that menopausal women have to worry about. Estrogen fluctuations, as previously mentioned, increase joint inflammation. This can result in menopause-related osteoarthritis. And, those who go through early menopause are more likely to develop rheumatoid arthritis. Fun (not)!
These conditions are complicated and varied, so it's important to make an appointment with an expert to discuss your concerns and treatment options. As a leading expert in my field, I've helped many people through the trying time that is menopause. I don't just support women's health; my objective is to support my patient's overall wellbeing.
What Does Joint Pain Feel Like?
Menopausal joint pain usually hits the worst in the morning and eases as the joints loosen up with the day's activities. Most women complain of back pain, neck pain, as well as pain in the jaw, shoulders, and elbows. Wrists and fingers can also be affected.
The pain can be accompanied by stiffness, swelling, or even shooting pain traveling down the back, arms, and legs. Some women report more of a burning sensation, especially after a work-out.
Menopausal Joint Pain Treatment
Aching fingers, tight hips, sore knees… chronic pain is perhaps the most annoying menopause symptom. If you're feeling a bit stiff and sore, especially in the mornings, small lifestyle changes can do wonders for joint pain relief.
See Your Doctor
Making an appointment with your primary care physician or gynecologist is a good first step towards alleviating your joint pain. Your healthcare provider can check your estrogen and progesterone levels and develop a treatment plan to manage your menopause symptoms.
If you're looking for a new care provider, my compassionate team and I are conveniently located in Beverly Hills and the Los Angeles area. Click here to establish care!
Keep Active
Exercise is a great way to strengthen your joints and stay flexible. Swimming, tai chi, and yoga are great low-impact options for seniors. Avoid activities that put a lot of strain on your joints, like jogging. Staying active can also help keep your weight down, which can relieve some of the pressure on your joints.
Exercise gives you more energy and joint flexibility, eases depression, and fights heart disease. It curbs the weight gain and insomnia that often come with menopause. Weight-bearing exercise helps protect against osteoporosis.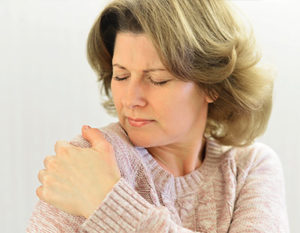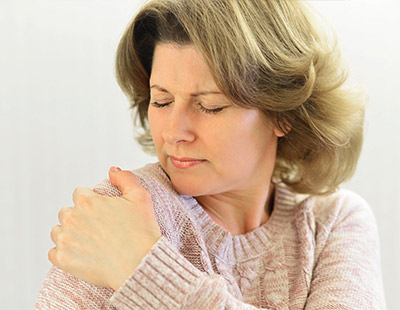 De-stress
Cortisol, the stress hormone, is known to excite inflammation in the joints. Simple lifestyle changes such as practicing stress relief techniques and getting regular exercise can help decrease stress and cortisol levels.
Eat Well
Diets high in carbohydrates and sugars and low in omega-3 fatty acids have been shown to trigger chronic inflammation. Replace white bread, white rice, and flour with whole-grain foods like wheat bread and pasta, oatmeal, brown rice, and quinoa. Choose seafood like fresh tuna, salmon, and mackerel, and seek out leafy greens like kale and spinach. Some foods, like blackberries, blueberries, and cherries, provide the body with natural anti-inflammatories. You can also supercharge your diet with omega-3 and vitamin D supplements.
This diet also provides calcium and magnesium, minerals that promote bone and joint health.
Over-the-counter medication
Hyaluronic acid might help lubricate the joints, and ibuprofen can help relieve everyday aches and pains.
Hormone Replacement Therapy
Hormone replacement therapy is the most effective treatment for menopausal symptoms.
Every woman is different. Some with rheumatoid arthritis (RA) find that menopause can affect their RA.
Researchers aren't sure why, but hormones seem to play a role in RA. Nearly three times as many women get it than men. Many women who have it see their symptoms improve while they're pregnant. This may be because their estrogen levels go up during pregnancy.
Estrogen levels drop around the time of menopause. When that happens, RA symptoms may worsen. Some women first get symptoms around the time they start menopause.
You might think that taking estrogen would reduce RA symptoms along with the symptoms of menopause, but that doesn't seem to be the case. And because hormone replacement therapy (HRT) is linked with heart disease — another increased risk for women with rheumatoid arthritis – doctors rarely recommend it for treating menopause symptoms in women with RA.
What if my Joint Pain is Severe?
If fever or weight loss accompanies your joint pain, or if the pain becomes worse and lasts more than a few days, please contact your doctor.
If you've been suffering from joint pain since beginning perimenopause or menopause, or have any questions about it, please talk to your doctor. Please do not suffer needlessly, there are many options available today that can help.
Why choose Dr. Aliabadi?
Highly trained and honored by the medical community, Dr. Thais Aliabadi is certified by the American Board of Obstetrics and Gynecology and a Diplomat of the American College of Obstetrics and Gynecology. She implements the most advanced, state-of-the-art technology and treatment options. Dr. Aliabadi specializes in up-to-date, minimally invasive surgical techniques, promising her patients shorter recovery times, reduced pain, and the least interruption to their daily lives.
Supported by her warm professional team, Dr. Aliabadi treats women through all phases of life and cherishes the special one-on-one relationship between patient and doctor.
We also invite you to establish care with Dr. Aliabadi. Please click here to make an appointment or call us at (844) 863- 6700.
We take our patients' safety very seriously. Our facility's Covid-19 patient safety procedures exceed all CDC and World Health Organization recommendations. Masks are required in our office at all times during the coronavirus pandemic.
The practice of Dr. Thais Aliabadi and the Outpatient Hysterectomy Center are conveniently located for patients throughout Southern California and the Los Angeles area. We are in Beverly Hills and near West Hollywood, Santa Monica, West Los Angeles, Culver City, Hollywood, Venice, Marina del Rey, Malibu, Manhattan Beach, and Downtown Los Angeles.
Save

Latest posts by Dr. Thaïs Aliabadi
(see all)