Good nutrition during pregnancy is critically important
A healthy eating habit is essential for pregnant women. Many women receive a lot of well-intentioned advice from friends and family about diet and nutrition during pregnancy. Some women refer to pregnancy nutrition blogs or websites. There is a lot of information out there, but not all of it is backed by science, and weeding through all that infoglut can confusing.
One tool that we recommend is the easy-to-use SuperTracker meal plan calculator from the U.S. Department of Agriculture, found at www.choosemyplate.gov. Just input your age, due date, height, and pre-pregnancy weight, and the tool will show you how many calories from healthy foods are recommended for your daily diet, and how you should portion your intake of the five main food groups.
Your decision to incorporate delicious vegetables, whole grains and legumes, lean protein, and otherwise food choices into your eating plan before and during pregnancy will give your baby a strong start. It's crucial to base your pregnancy weight-gain goal on your height and prepregnancy weight.
Your OB/GYN may prescribe a prenatal supplement before conception, or shortly afterward, to ensure all of the woman's nutritional needs are met. However, a prenatal supplement does not replace a healthy diet.
Physical activity is also just as important when you're pregnant as at any other time of life.
The Importance of Good Nutrition during Pregnancy
Approximately 300 extra calories are needed daily to maintain a healthy pregnancy. These calories should come from a balanced diet of protein, fruits, vegetables, and whole grains, with sweets and fats, kept to a minimum. A healthy, well-balanced diet during pregnancy can also help to minimize some pregnancy symptoms such as nausea and constipation.
The Academy of Nutrition and Dietetics recommends the following key components of a healthy lifestyle during pregnancy: appropriate weight gain, eating a balanced diet, exercising regularly, and appropriate and timely vitamin and mineral supplementation.
During the first trimester, you should gain 2 to 4 pounds total; during the second and third trimester of pregnancy, you should gain 1 pound per week.
Fluid intake is also an important part of healthy pregnancy nutrition. Pregnant women can take in enough fluids by drinking several glasses of water each day, in addition to the fluids in juices and soups. An expectant mother should talk with her health care provider or midwife about restricting her intake of caffeine and artificial sweeteners. All alcohol should be avoided in pregnancy.
A balanced diet will give you enough vitamin A for the healthy development of your baby. Too much vitamin A may cause birth defects. Do not take individual vitamin A or fish liver oil supplements during pregnancy.
Should I Be "Eating for Two"?
"Eating for two" is more of a cultural joke than a sound nutritional guideline. Generally, you should listen to your body, eating when you're hungry, and stopping when you feel full. But you should be more mindful of where your calories are coming from.
Most women will need to up their protein intake to about 70g per day during pregnancy. As a reference, this is 24g more than the daily recommendation for non-pregnant women.
Experts recommend that pregnant women should increase their daily calorie intake by about 300 calories. This is equivalent to about an 8oz prepared chicken breast or a medium-sized bagel with cream cheese. 
How Much Weight Should I Expect to Gain?
Each woman's weight gain during pregnancy is unique to her body and her eating and exercise habits. Although it's not an exact measure, doctors use the Body Mass Index (BMI) calculator to estimate how much weight a woman should gain during her pregnancy.
The BMI sets guidelines for normal weight depending on a person's height. Your doctor can tell you your BMI, or you can calculate it yourself at home by searching online.
Women with a BMI of 20-25 (normal weight) should expect to gain 25-35 pounds
Women with higher BMIs (overweight or obese) should gain 10-20 pounds
Women who are underweight may want to consult with their doctor about their specific nutritional needs.
Women pregnant with twins should gain 35-50 pounds
The Five Food Groups
Dr. Aliabadi recommends that her prenatal patients follow a balanced and mostly plant-based diet while pregnant. The five food groups to pay attention to are:
Grains – We suggest limiting red meat while pregnant.  When you do eat it or poultry and seafood, organic without the use of antibiotics or hormones are important and should be considered. And of course, proteins that come from beans, organic eggs, nuts, seeds, and soy are a great idea.
Vegetables – leafy greens, cooked, raw, canned, frozen, dried, or juiced vegetables.
Fruits – fresh, frozen, canned, or dried. Fruit juice counts too, but be careful! Many "fruit" juices are sugary drinks in disguise.
Proteins – Meats, poultry, and seafood are often the first foods that come to mind, but proteins can also come from beans, eggs, nuts, seeds, and soy.
Dairy – milk, yogurt, cheese, and cream.
A sixth group – oils and fats – aren't typically considered a food group, but they provide important nutrients playing a crucial part of a healthy diet. Healthy fats and oils, such as omega-3 fatty acids and plant-based oils, give you energy and give the fetus and placenta the building materials to grow. The type of fats you want to limit mostly comes from red meats and pork. Harmful fats ( like trans fats) are also found in many processed foods. Your developing baby needs plenty of protein, especially in the second and third trimesters.
You will need an additional 200 to 300 extra calories from nutrient-dense foods such as lean meats, low-fat dairy, fruits, vegetables, and whole-grain products. It will be important to carefully consider the foods you consume during your pregnancy.
Vitamins and Minerals
Pregnant women need to make sure they're getting enough vitamins and minerals, especially folic acid, iron, vitamin D, and calcium.
Folic acid (folate)
Folic acid is a B vitamin that is instrumental to the baby's brain and spinal cord development. Before pregnancy and during pregnancy, you need 400 micrograms of folic acid daily to help prevent major birth defects of the fetal brain and spine called neural tube defects. Getting enough amount of folic acid reduces the risk of neural tube defects. Pregnant women should get at least 600 micrograms each day, but this amount is difficult to get through food alone. Most prenatal vitamins include the daily folic acid requirement, if not more.
Folic acid is a nutrient found in some green leafy vegetables, most berries, nuts, beans, citrus fruits, and fortified breakfast cereals, and some vitamin supplements.
Iron
Your red blood cells use iron to carry oxygen to your organs. When you're pregnant, extra iron is needed to help deliver blood and oxygen to the baby. On average, pregnant women need 27 mg of iron daily – about twice the amount of women who aren't pregnant. You can find this amount of iron in most prenatal supplements. You can also find iron in lean meats, fish, beans, prune juice, peas, and iron-enriched foods. Iron also can be absorbed more easily if iron-rich foods are eaten with vitamin C-rich foods, such as citrus fruits and tomatoes.
Read More
Vitamin D
This helps the baby build its bones, teeth, skin, and eyesight. Good sources are milk fortified with vitamin D and fatty fish such as salmon. Exposure to sunlight can also produce vitamin D, but it is always important to protect yourself from excessive sun exposure. The standard recommendation for pregnant women is 600 IU but check with your doctor. Some women may require more.
Calcium
Just like you, your baby needs calcium to develop healthy bones and teeth. Calcium helps your body regulate fluids, and it helps build your baby's bones and tooth buds. The recommended amount of calcium for pregnant women is 1000mg daily, which you can get through dairy products or a prenatal supplement.
Milk and other dairy products, such as cheese and yogurt, are the best sources of calcium. If you have trouble digesting milk products, you can get calcium from other sources, such as broccoli and/or dark, leafy green vegetables.
What Foods Should I Avoid During Pregnancy?
Certain types of fish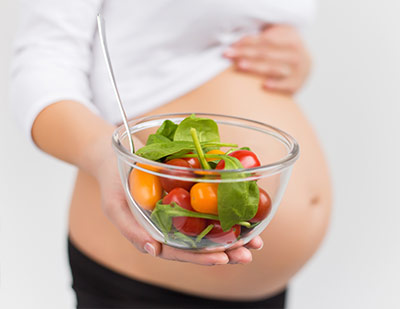 Salmon and shellfish are excellent healthy choices during pregnancy, but some types of seafood put you and your baby at risk. Albacore tuna has moderately low levels of mercury. You should limit your consumption to less than 6oz per week. Fish with high mercury content, like swordfish, mackerel, tilefish, and shark, should be avoided altogether.
Raw fish
Raw fish, such as those found in sushi, and other undercooked (seared or smoked) fish, can increase your risk of food poisoning, which can be harmful to you and the baby. You should avoid these foods while pregnant.
Unpasteurized milk and cheese
Dairy products made with unpasteurized milk increase your risk of listeriosis, which is a food-borne bacterial illness. Make sure to read the labels of any dairy foods you're not familiar with.
Hot dogs, cold cuts, lunch meats, and meat spreads
Unless these foods are served thoroughly cooked and hot, pregnant women should avoid them. Undercooked meats carry a higher risk of food-borne illnesses.
Food Safety Guidelines
Follow these general food safety guidelines when handling and cooking food:
Wash. Rinse all raw produce thoroughly under running tap water before eating, cutting, or cooking.
Clean. Wash your hands, knives, countertops, and cutting boards after handling and preparing uncooked foods.
Cook. Cook beef, pork, or poultry to a safe internal temperature verified by a food thermometer.
Chill. Promptly refrigerate all perishable food.
Call your doctor if you show any symptoms of food poisoning or food-borne-illnesses like listeriosis. These symptoms include vomiting, diarrhea, fever, chills, and muscle pain.
show less
Save

Latest posts by Dr. Thaïs Aliabadi
(see all)