Menopause and Facial Hair, causes and treatment options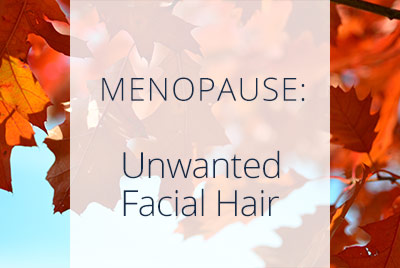 Your hormone levels shift periodically and throughout your life because of aging, weight gain, and other factors, including pregnancy and menopause.
Many post-menopausal women find that their hair just won't grow like it used to. The hair on their scalp thins, while the chin or upper lip sprouts patches of "peach fuzz." These changes are very normal. In fact, one study found that almost 40% of women age 45 and older have an excess of facial hair growth, especially on the chin. According to another study, it is very likely you will experience unwanted facial hair after menopause.
Causes of Unwanted Facial Hair After Menopause
Just like men, women have hair follicles all over their faces. However, for most women, these follicles grow tiny, soft hairs that are barely noticeable.
During menopause, a woman's body stops circulating estrogen but continues to circulate the same amounts of testosterone. The imbalance of hormones causes the appearance of some male secondary sex characteristics, like coarse facial hair.
You should let your doctor know if your facial and body hairs are growing quickly. This might signal a more serious medical condition. Tumors of the ovaries or adrenal glands that produce testosterone could be stimulating your hair growth, or you may have Cushing syndrome, a disease in which the adrenal glands secrete excessive male hormones, resulting in excess hair growth.
What Can I Do About Unwanted Facial Hair?
There's nothing wrong or unhealthy about growing sparse facial hair. There's nothing dangerous about a few extra chin hairs, after all. But if it bothers you, there are things you can do to remove the hair or minimize its appearance. It is understandable that some women won't welcome this change in appearance. Waxing, shaving, and tweezing are perfectly acceptable ways to deal with unwanted hairs. Based on the degree of growth, plucking, tweezing, threading, or waxing may do the trick.
Your doctor can also prescribe a topical cream to slow the growth or refer you to a clinic that can perform electrolysis or laser treatment for hair removal. Electrolysis eliminates hairs by killing hair follicles with a targeted electric current. If you can afford it, electrolysis or laser hair removal may be options. These result in the permanent destruction of the hair follicle so it can't grow back.
But this technique works best on dark hairs and is less effective for blonde or peach-fuzz type hair growth.
If you are experiencing unwanted facial hair after menopause, or suffering from hair loss and want to do something about it, please talk to your doctor

We also invite you to establish care with Dr. Aliabadi. Please click here to make an appointment or call us at (844) 863- 6700.
Save

Latest posts by Dr. Thaïs Aliabadi
(see all)