Although hair loss is generally considered a male problem, it can affect women as well. Women are almost just as likely to experience hair thinning or loss as men. In fact, it's thought that at least 50% of women will experience hair loss at some point in their lifetime. Unlike male pattern hair loss, women are more likely to experience hair loss a bit later in life, often in their 50s and 60s.
No matter what the cause of hair loss, changes in hair thickness and amount can affect self-esteem and confidence. To better understand why women may lose hair as they age, it's important to know how hair grows.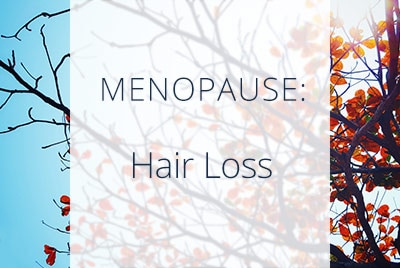 How does hair grow?
Hair goes through four stages during its growing cycle: anagen, catagen, telogen, and exogen. During the first two phases, hair grows and matures. On average, you may see about a half-inch of hair growth each month. Next, hair moves into the third phase, known as the telogen phase, which is the hair's resting phase.
The final phase is when natural hair loss occurs. For most women, it's normal to lose around 60-100 pieces of hair a day as part of the exogen process. Although things like washing can cause women to lose twice or even three times as much hair. Still, this is healthy. In addition to hair care, age, nutrition, family history of hair loss, and overall wellness can affect how much hair is lost day-to-day.
Each phase can last months, with the entire cycle taking three to five years. Each hair follicle goes through the phase at its own pace, making it unlikely you'll notice bald patches from normal hair growth.
What are the signs of hair loss?
If you suffer from abnormal hair loss, you may notice your hair starting to thin out faster than usual. Some women find clumps of hair on their pillows, and some find they are shedding more than usual into their brushes and combs.
While men usually see hair loss begin as a receding hairline, women tend to lose hair from the top of the head. The incidence of women's hair loss progressing to baldness or near total baldness is rare. Instead, you may notice your hair's part widening, or you may notice bald spots when you put your hair up. This type of hair loss is commonly called female pattern baldness.
What are the causes of women's hair loss?
Hair loss often develops after menopause, so naturally, hormonal imbalance may be a contributing factor. However, there are a few different causes of female pattern alopecia.
Androgenic alopecia
Androgenic alopecia is generally used to describe female pattern hair loss, it is the most common cause of hair loss in women. It usually occurs after menopause because of an excess of androgens ("male hormones") such as testosterone and dihydrotestosterone (DHT) caused by rapidly decreasing estrogen.
Activity in androgen receptors in your hair follicle can also play a role in hair's natural growth and shedding cycle. When there is high activity in the androgen receptors, your hair's growth cycle can be shortened, the hair can become thinner, and hair strands may be replaced less often. In addition to menopause, hormonal fluctuations contributing to androgenetic alopecia can be caused by ovarian cysts, high androgen birth control pills, and pregnancy.
Heredity and women's hair loss
Genetics is another common culprit of hair thinning. Inherited androgenic alopecia (also known as androgenetic alopecia) is more commonly known as male pattern baldness. You are more likely to have the condition if your mother, grandmother, or aunts have thinning hair. Around 30 million American women have androgenetic alopecia.
Androgenetic alopecia usually starts to appear between the ages of 50-70. Normally when thick strands of hair fall out, they are replaced by a strand with a hair shaft of the same thickness. With androgenetic alopecia, however, a thinner hair grows in its place. After a few years, the follicle stops growing new hairs, leading to hair thinning and baldness. Therefore, a dermatologist may be able to diagnose androgenetic alopecia early if the scalp has both thick and thin hair follicles.
Other causes of female hair loss can include:
Pregnancy
Alopecia areata is a rare autoimmune disorder where the immune system attacks the hair follicles.
Hair loss may develop after a significant illness, such as severe infection, high fever, or surgery
Cicatricial alopecia is an inflammatory condition that causes the destruction of hair loss, leading to permanent baldness.
Low iron levels
Excess vitamin A
Thyroid disorders
Psoriasis
Seborrheic dermatitis
Dramatic weight loss
Stress can produce a form of temporary hair loss known as Telogen effluvium.
Medications (such as those used to treat cancer) can cause hair loss as a side effect. However, hair usually regrows once medication ceases.
Traction alopecia is hair loss that occurs when one frequently wears hairstyles that pull the hair too tightly.
What are medical treatments for female hair loss?
There are a variety of treatments available to help combat hair shedding and thinning. Hair loss diagnosis and treatment are best undertaken with the help of a professional who can adequately review your risk factors, make a diagnosis, and help you find the best intervention for your specific hair loss. Options may include:
Medications
Spironolactone, a blood pressure medication, can be used as an antiandrogenic medication to reduce hair loss. It's often prescribed for women with androgenetic alopecia. Finasteride is another medication that is generally used off-label for hair loss. Also known as Propecia, it helps to lower DHT levels.
Topical solutions
Topical solutions often come in sprays, foams, or oils. Rogaine (minoxidil) is a well-known FDA-approved topical cream that's applied directly to the areas of hair loss. Most patients find that topical minoxidil solution can slow hair loss, but only about 10-15% report new hair growth. Similarly, topical Finasteride is thought to decrease DHT activity directly at the follicle site, helping promote hair density and slowing hair shedding.
Supplements
Because nutrition plays a role in hair health, supplements such as biotin, iron, and zinc can help curb hair loss. However, vitamin supplements will not trigger hair regrowth, they only support hair fullness and health.
Hair transplant
Hair replacement therapy is a good hair loss treatment for smaller, localized patches of hair loss. A hair transplant takes small pieces of hair-bearing scalp and transplants them to bald patches. In some cases, individual healthy hairs may also be removed and transplanted. Several sessions may be required to reach your desired fullness.
Have questions about your health? Talk to Dr. Aliabadi
Dr. Aliabadi is an expert in minimally invasive gynecological surgery and all aspects of women's health and well-being, including hair loss due to hormonal changes. Dr. Aliabadi and her caring staff are available to support you through dealing with PCOS, endometriosis, menopause, childbirth, infertility, routine gynecological care, and more.
We invite you to establish care with Dr. Aliabadi. Please make an appointment online or call us at (844) 863-6700.
The practice of Dr. Thais Aliabadi and her Outpatient Hysterectomy Center is conveniently located for patients throughout Southern California and the Los Angeles area. We are near Beverly Hills, West Hollywood, Santa Monica, West Los Angeles, Culver City, Hollywood, Venice, Marina del Rey, Malibu, Manhattan Beach, and Downtown Los Angeles.
Highly trained and honored by the medical community, Dr. Thais Aliabadi is certified by the American Board of Obstetrics and Gynecology and a Diplomat of the American College of Obstetrics and Gynecology. She implements the most advanced, state-of-the-art technology and treatment options.
Sources
Rathnayake D, et al. (2010). Innovative use of spironolactone as an antiandrogen in the treatment of female pattern hair loss. https://pubmed.ncbi.nlm.nih.gov/20510769/
Hair loss. American Academy of Dermatology. https://www.aad.org/public/diseases/hair-loss/treatment/transplant

Latest posts by Dr. Thaïs Aliabadi
(see all)