What is Adenomyosis?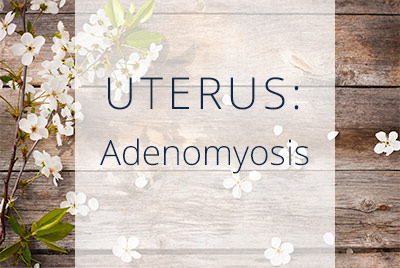 Adenomyosis is a condition in which the endometrial tissue – the tissue that lines the uterus – grows into the muscular walls of the uterus. Endometrial tissue, whether it's lining the uterus or embedding itself into the wall of the uterus, responds to your body's hormones by thickening, breaking down, and bleeding with each menstrual cycle. As a result, women with adenomyosis with an enlarged uterus can have painful, heavy bleeding during their menstrual cycle.
Cases of adenomyosis, which factor is estrogen, is found in women in their 40s and 50s. Women suffering from adenomyosis could relate to longer exposure to estrogen compared with that of younger women. However, recent research suggests that adenomyosis may be common in younger women as well.
Symptoms of Adenomyosis
Luckily, adenomyosis is not a life-threatening condition. Some cases of adenomyosis have no symptoms at all, while others can seriously impact your quality of life. Symptoms may include:
Heavy menstrual bleeding
Long-lasting periods (longer than 5 days)
Severe cramping or sharp pelvic pain
Chronic pelvic pain
Bloating
Difficulty becoming pregnant
Cause of Adenomyosis
The cause of adenomyosis remains unknown, but the disease usually resolves after menopause. Risk factors for adenomyosis include:
Prior uterine surgery, such as a C-section or fibroid removal
Childbirth
Middle age
Even though the cause of adenomyosis isn't known, there have been many theories, including:
Invasive tissue growth. Some believe that adenomyosis results from the direct invasion of endometrial cells from the lining of the uterus into the muscle that forms the uterine walls. Uterine incisions made during an operation such as a cesarean section (C-section) might promote the direct invasion of the endometrial cells into the wall of the uterus.
Developmental origins. Others suspect that adenomyosis starts within the uterine muscle from endometrial tissue deposited there when the uterus first formed in the fetus.
Uterine inflammation related to childbirth. Another theory suggests a link between adenomyosis and childbirth. Inflammation of the lining of the uterus during the postpartum period might cause a break in the normal boundary of cells that line the uterus. Surgical procedures on the uterus can have a similar effect.
Stem cell origins. A most recent theory proposes that bone marrow stem cells might invade the uterine muscle, causing adenomyosis.
Regardless of how adenomyosis develops, its growth depends on the circulating estrogen in women's bodies.
Diagnosing Adenomyosis
Adenomyosis is most commonly diagnosed in women who have been pregnant and women over the age of 35. It's often misdiagnosed as uterine fibroids, a condition with similar symptoms but a very different course of treatment. Diagnosis of adenomyosis used to be quite difficult, but today we have a few tests that can help detect the disease.
If you are experiencing some unusual menstrual symptoms, make an appointment with us. We can perform a pelvic exam and ultrasound to examine the uterine lining and the muscular walls more closely to diagnose adenomyosis. In some cases, we will inject saline solution into the uterus and perform an ultrasound – this is called a sonohysterography.
If the ultrasound reveals conditions consistent with adenomyosis, we can perform a three-dimensional transvaginal ultrasound (3D TVUS, ) or magnetic resonance imaging (MRI) to confirm the diagnosis.
Treating Adenomyosis
Your OB-GYN can help you decide the best course of treatment for you, based on the severity of your symptoms and whether you'd like to become pregnant in the future.
Over-the-counter remedies
If your symptoms are mild, over-the-counter pain relief drugs and heating pads can help you manage your discomfort.
Prescription pain relief
Your doctor may prescribe you stronger NSAIDs (nonsteroidal anti-inflammatory drugs). You can usually take these for 3-5 days during the most painful time of your period.
Hormone therapies
Many women have had success controlling their heavy and painful periods with an IUD, GnRH agonists, or aromatase inhibitors. There are many types of hormone therapies available, and some may act as contraception against pregnancy. Talk with your OB-GYN about your options and your family planning needs.
Uterine artery embolization.
This is a procedure in which tiny particles are inserted into the blood vessels to slow or stop blood flow to the uterus. This can shrink the adenomyosis and reduce your symptoms. It's a minimally-invasive procedure that can be performed on an outpatient basis. It's not yet well-known how having a UAE will affect a woman's chances of becoming pregnant or carrying a pregnancy to term.
Endometrial ablation
An endometrial ablation will destroy the uterine lining. It can treat adenomyosis if the endometrial tissue hasn't grown too deeply into the muscular uterine wall. Ablation can significantly impact your future fertility, and is only recommended if you no longer wish to become pregnant.
Hysterectomy
This is the complete surgical removal of the uterus. Sometimes the ovaries are removed as well. Usually, a hysterectomy is only performed if your symptoms are very severe and they aren't responding to other treatments. After a hysterectomy, you will no longer be able to become pregnant.
If you believe you are experiencing symptoms of, or suffering from Adenomyosis, or have questions about it, please see your doctor.

We also invite you to establish care with Dr. Aliabadi. Please click here to make an appointment or call us at (844) 863- 6700.

Latest posts by Dr. Thaïs Aliabadi
(see all)