Painful Intercourse Causes & Treatments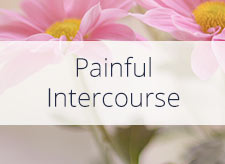 Dyspareunia, another word for pain during sex, is a persistent or recurrent pain that can happen during sexual intercourse. Causes widely vary and it can lead to distress and relationship problems. Painful intercourse affects both men and women, but it is more common in women. According to the American Academy of Family Physicians (AAFP), up to 20% of American women experience it.
When you experience painful intercourse, sex is not enjoyable and can be distressing for both you and your partner. Painful sex may be felt in the vulva or vagina, during or after. Many women also report pain in the perineum (the small stretch of skin in between your vagina and anus), pelvis, lower back, bladder, and/or uterus.
A variety of factors – both physical to psychological – can contribute. Treatment normally focuses on the underlying cause.
It's fairly common to experience pain during sexual intercourse once in a while. Painful intercourse might be caused by an emotional or psychological issue, or it may be a symptom of a physical disorder. But, if you're experiencing severe, frequent, or a new type of pain during intercourse, please make an appointment with us, your women's health care specialist.
Pains You May Experience During Sexual Intercourse
You may experience many levels of pain during intercourse that make sex dreadful. Your pain may occur at the vaginal opening or deep in the pelvis. The pain may be distinct and localized, or there may be a broader sense of discomfort.
Some may experience an aching, burning, throbbing, or ripping sensation during sex. Such pain and discomfort will make you and maybe or partner dissatisfied and disinterested with sex as a result.
What are the Causes of Painful Intercourse?
Painful intercourse may be associated with low sexual arousal or decreased libido. Causes can be varied and include physical factors, psychological factors, or both. Some of these common causes include:
Vaginal dryness: With sexual arousal, Bartholin's glands at the entrance of the vagina secrete fluids to aid intercourse. Low production of fluid can lead to painful intercourse.
Vaginismus: Caused by involuntary contraction of the pelvic floor muscles can lead to painful sexual intercourse.
Genital injury: Any trauma to the genital region can lead to sexual pain. Some include female genital mutilation (FGM), pelvic surgery, or maybe an injury from an accident.
Painful intercourse is also common after childbirth. Some studies suggest 45% of participants experienced pain after giving birth.
Inflammation or infection: Inflammation around the vaginal opening is called vulvar vestibulitis. Vaginal yeast infections, urinary tract infections, or sexually transmitted infections (STIs), or sexually transmitted diseases can also lead to painful intercourse.
Skin disorders or irritation: It may arise from eczema, lichen planus, lichen sclerosus, or other skin problems in the genital area.
Irritation or allergic reactions to clothing, laundry detergents, or personal hygiene products may also cause pain.
Abnormalities at birth: Less common underlying causes of dyspareunia include vaginal agenesis, when the vagina does not develop fully, or imperforate hymen, in which the hymen blocks the vaginal opening.
If pain occurs during deep penetration or is more acute in particular positions, it may be the result of medical treatment or a medical condition.
Your Emotional or Psychological causes
It's common your emotional and psychological factors can play a role in painful intercourse.
Anxiety, fear, and depression can inhibit sexual arousal and contribute to vaginal dryness or vaginismus
Stress can be a big factor in triggering a tightening of the pelvic floor muscles, resulting in pain
Many women have paralyzing emotional feelings surrounding sex, such as guilt, shame, embarrassment, or fear. Stress and anxiety can ruin "in the moment" with your partner, which might affect your body's ability to respond to sex.
A history of sexual abuse or sexual violence may contribute to painful sex.
Your partner's sexual issues
Sometimes a partner's problems can affect your desire to have sex, your sexual desire, and your enjoyment of sex. One common problem is a partner's delayed orgasm. The prolonged sexual activity for some may result in bruised genital areas.
Your relationship with your partner
Relationship problems can often get in the way of a healthy sex life. If you and your partner have different expectations for frequency or type of sex, you may have difficulty getting fully aroused for sexual intercourse.
Medications
Some medications can reduce the sexual response, including medications for pain, depression, or birth control.
Medical conditions
Certain health conditions can definitely affect your desire for sex. Arthritis, cancer, diabetes, and thyroid diseases can make many activities tiring and uncomfortable. Some necessary medical treatments that can lead to pain include pelvic surgery, hysterectomy, and some cancer treatments.
Some medical conditions that make sex painful include:
Cystitis: An inflammation of the bladder wall, usually caused by a bacterial infection
Endometriosis: A condition arising from the presence of tissue from the uterus in other areas of the body
Fibroids: Non-cancerous tumors that grow on the wall of the uterus
Interstitial cystitis: A chronic painful bladder condition
Irritable bowel syndrome (IBS): A functional disorder of the digestive tract
Ovarian cysts: A build-up of fluid within an ovary
Pelvic inflammatory disease (PID): Inflammation of the female reproductive organs, usually caused by infection
Uterine prolapse: One or more pelvic organs extend into the vagina
Diagnosis of Painful Intercourse
We will review your medical history and carry out a pelvic examination, to try to identify the cause of the pain.
You should be ready to explain the exact location, length, and timing of the pain. It's difficult to discuss such an intimate topic but you may need to talk about previous sexual experiences and reproductive history to fully understand the cause.
Treatment Options to Improve Sexual Health
Treatment options aim to relieve the underlying cause of painful intercourse. Options include medication and counseling, possibly both.
Counseling
Painful intercourse can lead to relationship problems. It may be worthwhile to speak to a relationship counselor, alone or as a couple, if this is the case to avoid communication or intimacy issues.
If sexual abuse, trauma, or other emotional issues are the root cause of the condition, counseling may help. Counseling can also help to cope with the emotional consequences of painful or difficult intercourse.
Medical conditions
Medication can treat pain due to an infection or medical condition. If existing medications are causing vaginal dryness, a doctor may recommend alternatives. Topical estrogen may help women who experience vaginal dryness, particularly postmenopausal women, due to low estrogen levels.
Adverse effects may include mild to moderate hot flashes.
Desensitization therapy
One can learn techniques that can help relax the vaginal muscles and decrease pain levels you experience during sex.
If you believe you are experiencing symptoms of, or suffering from Painful Intercourse, or have questions about it, please see your doctor.

We also invite you to establish care with Dr. Aliabadi. Please click here to make an appointment or call us at (844) 863- 6700.

Latest posts by Dr. Thaïs Aliabadi
(see all)