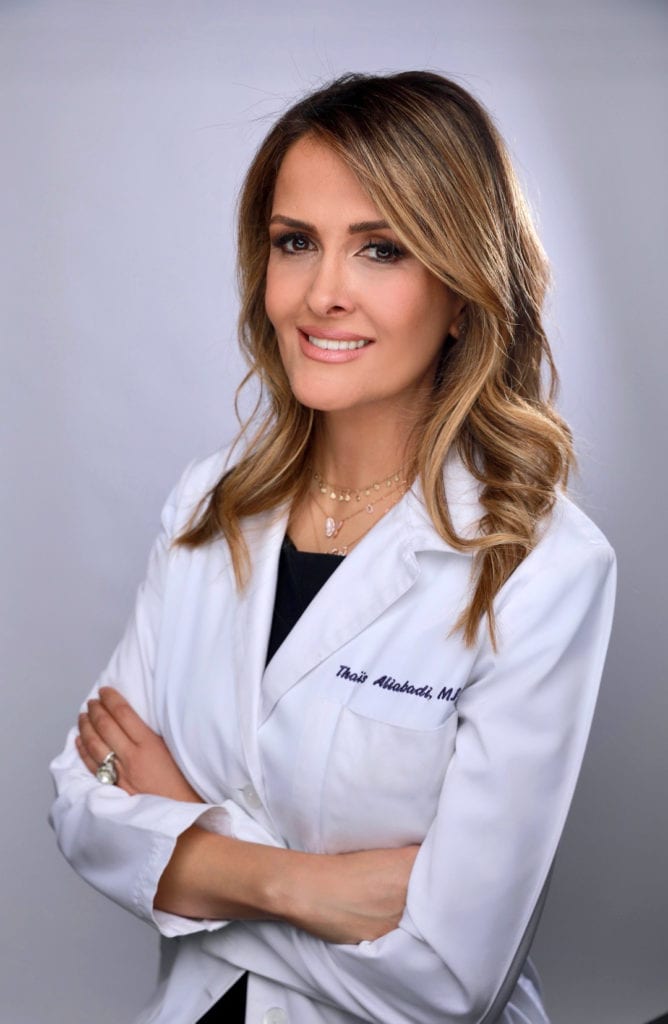 Known as the best OBGYN in Los Angeles, Dr. Thais Aliabadi provides women with a caring safe haven for all of their gynecological and obstetrical needs.
Dr. Aliabadi, certified by the American Board of Obstetrics and Gynecology, and a Diplomat of the American College of Obstetrics, supports family planning, women's genealogical surgical needs, routine check-ups and serious health concerns.
The doctor is known for her exceptional patient care, as well as her clear communication and compassion.
The path to a safe birth
Dr. Aliabadi understands that visits to an OB-GYN can be an unnerving event. It is for this reason that the doctor exudes confidence and experience. Dr. Aliabadi has delivered babies worldwide and includes assisting fashion icon Kylie Jenner and social media star Khloe Kardashian with labor.
Dr. Aliabadi helps expectant mothers from the beginning of their pregnancy all the way to the baby's birth. This means ongoing exams, testing, and expert advice on having a healthy pregnancy and birth.
If you are in the overwhelming process of selecting a doctor to help with your pregnancy, choose the best OBGYN in Los Angeles.
The personal side of women's health care
Dr. Aliabadi is acutely aware that women have functions and diseases specific to females. In her gynecology practice, she becomes a vital part of a woman's life. She understands that she now plays a role in the most intimate parts of a woman's health.
Women rely on Dr. Aliabadi, one of the best gynecologists in the country, to address health issues that occur at different times in their life. Beginning in adolescent years through family planning and menopause, patients receive compassionate care.
Dr. Aliabadi also specializes in endometriosis, hormone disorders, and fertility issues.
For more information on Dr. Aliabadi's Los Angeles gynecology practice, click here
Addressing the challenges of menopause
Dr. Aliabadi specializes in helping women in Los Angeles navigate their way through the trials and tribulations of menopause. Each woman is born with a limited number of eggs in their ovaries and when they are all used, they enter menopause. This directly affects the ovaries that produce estrogen and progesterone, and menstruation ceases.
Menopause and perimenopause, the stage several years prior to menopause, typically occurs in women over 40. However, some women enter menopause earlier due to surgery, ovary damage or chemotherapy.
Dr. Aliabadi helps women suffering symptoms of menopause, and offers many new treatments that can reduce these problems. Don't delay, let Dr. Aliabadi guide you through this critical part of your life.
Minimally-invasive gynecological surgeries
Dr. Aliabadi remains on the cutting edge of minimally-invasive gynecological surgical techniques. Procedures that used to involve pain and multiple days in the hospital, can now be performed in the office setting with reduced discomfort and recovery time.
Making tiny incisions only scant millimeters long, Dr. Aliabadi is able to complete procedures such as ovarian cyst and fibroid removal, tubal ligation and hysterectomies.
One of the most well-known surgeons in the country, Dr. Aliabadi has a steady number of women who travel from all areas of the globe because of her surgical skills.
Helping Los Angeles Women Look and Feel Healthy
Dr. Aliabadi realizes cosmetic procedures may be a luxury for some women, but they are a necessity for others. Indeed, for some women undergoing treatments improves the quality of life and self-esteem.
Cosmetic surgeries, typically performed in the office, include skin appearance, reducing excess fat and improving vaginal health through vaginal rejuvenation.
Dr. Aliabadi treats every cosmetic treatment kindness and care, using modern equipment and minimally invasive procedures.
Smile with Monalisa Touch
The FDA-approved Monalisa Touch therapy is a treatment for vaginal atrophy and laxity. The minimally invasive procedure uses laser technology to rejuvenate vaginal tissue.
The laser effectively removes dry skin, which stimulates collagen production. This allows the tissue to renew and improve vaginal lubrication that often results in a more enjoyable sex life.
The cause of vaginal atrophy is usually estrogen deficiency. Reasons for this uncomfortable condition include menopause, surgery, such as hysterectomy, breastfeeding, or some forms of chemotherapy.
When estrogen levels drop the vaginal walls thin and weaken, thus reducing blood flow, inflammation, and dryness. Vaginal atrophy can also cause urinary tract problems.
Dr. Aliabadi understands that hormone vacillations are just a part of a women's life. The symptoms, however, can be real and painful. The Monalisa Touch can improve these symptoms.
Our Beverly Hills office
Don't forget to check out our Women's Health Blog
Here you'll find a collection of informative pieces discuss the latest trends and advances in women's health. Click here
More about Los Angeles OB-GYN, Dr. Aliabadi
As one of the country's leading obstetrician-gynecologist, Dr. Aliabadi offers the very best in obstetrics, gynecological, and surgical care. Year over year, she had been named Top Doctor and Best Doctor by Los Angles Magazine and Leading Physicians of the World.
Patients visit Dr. Aliabadi for many health issues, ranging from routine check-up and serious health concerns to family planning and considering surgery. Patients are assured of discrete care, straightforward interaction, and personal attention.
Highly-trained and honored by the medical community, Dr. Aliabadi is board-certified by the American Board of Obstetrics & Gynecology and a Diplomat of the American College of Obstetrics and Gynecology.
Dr. Aliabadi's Southern California practice serves Beverly Hills, Westwood, Downtown Los Angeles, Santa Monica, Brentwood, Bel Air, and the greater Los Angeles region.
Board-certified obstetrician Dr. Thais Aliabadi received her medical degree from Georgetown University Medical School, where she was a member of the Alpha Omega medical honor society. She then completed her internship and residency training in obstetrics and gynecology at Los Angeles County + USC Medical Center.