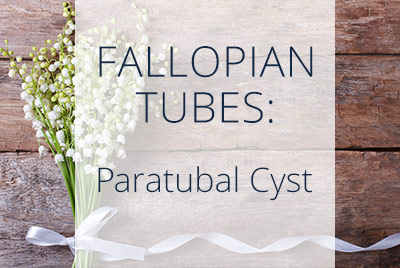 What is a Paratubal Cyst?
A paratubal cyst, also known as a paraovarian cyst or hydatid cyst of Morgagni, is a closed, fluid-filled mass that develops beside or near the ovary and fallopian tube (also referred to adnexa), but is never attached to them. The adnexa refers to the "appendages" of the uterus, meaning the fallopian tubes, ovaries, and the supporting ligaments. Paratubal or paraovarian cysts represent approximately 10% of all adnexal masses. Unlike some ovarian cysts, paratubal cysts or paraovarian cysts are generally benign, but may, on rare occasions, give rise to paraovarian tumors, borderline tumors, and malignancies.
Doctors believe that paratubal cysts originate from the mesothelial covering of the peritoneum or from paramesonephric and mesonephric and are presumed to be remnants of the Mllerian duct and Wolffian duct. The Wolffian duct is an embryonic structure that forms the male reproductive organs. All fetuses, regardless of sex, possess Wolffian ducts early in gestation, but in female embryos, the duct eventually shrinks to make way for female reproductive organs. In some female babies, however, pieces of this duct can remain and cause paratubal cysts.
Although most paratubal cysts develop as a single cyst ("simple"), in rare cases multiple cysts may arise in the same region. Giant paraovarian cysts are rare and only a few case reports are known in some adolescent females and only two cases of primary paraovarian serous cystadenocarcinoma have been reported in two postmenopausal women.
Paratubal Cysts Symptoms
Most paratubal cysts cause no symptoms at all, and women who have them may not be aware of their presence. However, large cysts can cause pelvic pain and may cause acute abdominal pain. This is the most common symptom of a paratubal cyst. In most cases, a misdiagnosis as an ovarian mass remains to be a problem. Paratubal cysts can become extremely big before causing symptoms. Adnexal torsion is another urgent issue regarding paratubal cysts, necessitating urgent surgery for the preservation of the ovary and the tube.
Complications of Paratubal Cysts
Paratubal cysts, unlike true ovarian cysts, are benign, meaning they will not become cancerous. However, even if your paratubal cyst is asymptomatic, you should have it treated. Some women may experience complications from their cysts which could be painful and harmful to their health and fertility. The most common complications include:
Hemorrhaging (bleeding)
Rupture of the fallopian tube
Ovarian torsion
Diagnosing Paratubal Cysts
At abdominal or pelvic examination, a smooth tense cystic mass arising from the pelvis and extending to the mesogastric region may be found, at times causing acute pain in the abdominal or pelvic region.
Commonly transvaginal sonography, pelvic ultrasound, computed tomography (CT), or magnetic resonance imaging (MRI) will be used for preoperative diagnosis of paratubal cysts. If any of these tests fail to diagnose the cyst, then blood tests may be issued to rule out cancerous cysts.
Diagnostic laparoscopy or biopsy can also be helpful in difficult cases. Paratubal cysts can look similar to ovarian cysts on ultrasound, so your doctor may also suggest this surgical test. A diagnostic laparoscopy requires a small incision in the abdomen. Your doctor will insert a tube, which has a tiny video camera attached to its tip, into the incision. This allows your doctor to see your entire pelvic region and offers an opportunity to collect tissue for a biopsy for pathological findings.
Paratubal Cyst Treatment
The treatment of your paratubal cyst (also known as a paraovarian or adnexal cyst) depends upon a few factors.
Size of the Paratubal Cyst
Small cysts may resolve on their own. Generally, a cyst under 1cm in size won't require much follow up from your doctor. However, cysts that measure larger than 7cm should be surgically removed. A large cystic mass may cause painful complications.
Age
For women in their reproductive years, your doctor will keep an eye on small cysts, but may not recommend any aggressive treatment. Women who have undergone menopause, however, may need more intensive care regardless of the size of the cyst. Although rare, young girls in the adolescent stage have been diagnosed with paratubal cysts.
Treatment options include:
Birth control pills
Birth control pills can prevent the growth of adnexal cysts and can often relieve pain associated with cysts.
Laparoscopy
This is a surgical procedure in which a tiny insertable camera is used to guide the removal of cysts through a small abdominal incision.
Salpingectomy or Oophorectomy
In rare cases, the affected fallopian tube or ovary may need to be surgically removed to prevent or treat severe complications.
If you believe you are experiencing symptoms of, or suffering from Paratubal Cyst, or have questions about it, please see your doctor.

We also invite you to establish care with Dr. Aliabadi. Please click here to make an appointment or call us at (844) 863- 6700.
Save

Latest posts by Dr. Thaïs Aliabadi
(see all)