Just 15 years ago, PCOS (Polycystic Ovarian Syndrome) still sounded like an obscure acronym — leading many women to think it's a rare, untreatable condition. But as figures became more accurate, awareness improved. Nowadays, we know PCOS affects up to 5% of women of reproductive age — including celebrities like Victoria Beckham and Daisy Ridley.
PCOS symptoms include painful and irregular periods, infertility, and other hormonal symptoms. And while many medications can help you manage the condition, the most effective plan is still a PCOS weight loss diet and exercise plan.
Does that sound like a complete lifestyle overhaul? Perhaps, but it doesn't need to be confusing or painful.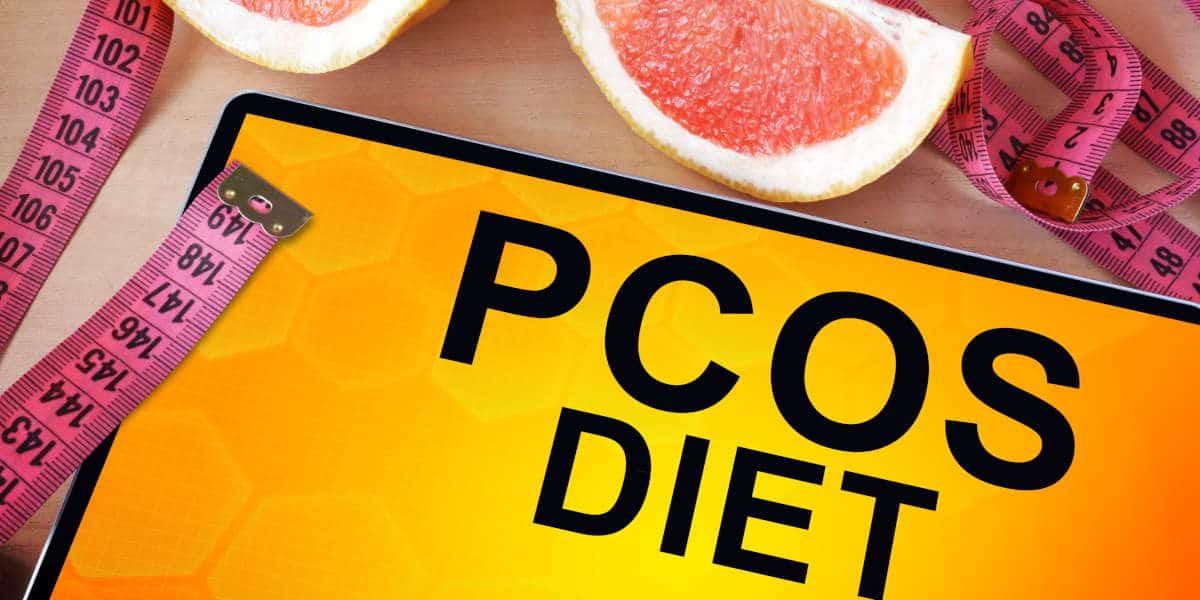 What is polycystic ovary syndrome?
Commonly known as PCOS, polycystic ovary syndrome is a type of hormonal imbalance that affects women during their childbearing years.
Despite its name, it is not simply a problem of the ovaries. PCOS can often be recognized by seeing several small cysts in the ovaries, but it's a body-wide hormonal disorder. Its most significant symptom is an excess production of androgens or "male" reproductive hormones, such as testosterone.
Although all women produce some testosterone, when we produce too much, we can easily develop any of the following:
irregular periods
very painful menstrual cramps
frequent acne breakouts
Hirsutism, or extra hair growth in the upper thighs, face, or back.
These are not directly symptoms of PCOS, but rather, they are caused by an increase in androgen levels. If you have PCOS, you can expect these symptoms to worsen or improve every month — and many, such as acne, will likely get worse alongside your PMS.
In addition, women with PCOS have a higher chance of anovulatory periods (menstrual cycles where there's no ovulation) and endometriosis. As a result, women with PCOS are more likely to have trouble conceiving. Curiously enough, their frequently missed periods also make it harder to monitor whether their birth control is working, increasing their chance of an unwanted pregnancy.
Why does PCOS make it hard to lose weight?
PCOS is tightly linked to another, much more serious metabolic condition: insulin resistance (also known as prediabetes). This condition develops due to chronically-high blood sugar levels, which trigger extra insulin production.
If you have both PCOS and obesity, there's at least a 70% chance of also having insulin resistance. But even women with "lean PCOS" who are at a "healthy" weight are at least five times more likely to have insulin resistance than the general population.
The body produces insulin whenever we eat anything with sugar (or carbohydrates). Insulin helps glucose enter the cells around your body, so it can be used for energy or stored as fat. But if you have a constant stream of sugar in your blood, your pancreas will produce more insulin constantly — and eventually, your cells will stop responding to it. Your blood sugar levels will begin staying slightly high near-constantly, and any extra sugar you eat will be turned into fat.
In the short term, high insulin levels have other consequences that directly affect PCOS. First, it increases hunger, causing intense cravings for sugary or starchy foods. But insulin levels also affect your ovaries, triggering extra androgen production — and worsening PCOS and other hormonal disorders.
Left unchecked, insulin resistance will eventually evolve into full-blown type 2 diabetes. It will also increase your body's inflammation levels and put you at risk for other chronic health conditions.
Why is weight loss important for women with PCOS?
Although not all women with PCOS are overweight, there is a strong link between PCOS, insulin resistance, and "stubborn" weight gain — especially around the midsection.
When the hormonal imbalances behind PCOS first set in, many women notice they gain weight abruptly and can't stop it as easily as before. Meanwhile, women with PCOS who are overweight often notice many symptoms go away or become less severe after losing just 5% of their body weight.
Most importantly, the right nutrition and exercise program will help you break the cycle of hormonal imbalances that causes extra androgens and insulin. This will often require a combination of medication (such as hormonal birth control and metformin) with big lifestyle changes.
What is the best diet for PCOS?
The right PCOS diet plan will vary depending on your starting weight and the severity of your symptoms. If you are overweight or obese (with a BMI of over 25), you may need to work with a nutritionist to figure out a way to safely reduce your total calorie intake. But even if you have "lean PCOS," you should rethink your food habits to prevent extra problems down the road.
Whether you are overweight, obese, or have "lean PCOS," the same principles will apply: you want a sustainable, healthy diet that prevents blood sugar spikes and improves insulin sensitivity.
Nowadays, many low-carb eating plans promise just that; this includes the very restrictive but trendy Keto, Atkins, or Dukan diets. By far, the most sustainable options — and the best-supported by research — are the DASH diet and the Low Glycemic Index (or Low GI) diet.
Using the DASH diet for PCOS
DASH stands for "Dietary Approaches to Stop Hypertension." It is not so much a diet but a series of guidelines meant to protect your heart health and help you include more high-fiber foods, lean protein, and whole grains.
This diet was designed by the National Heart, Lung, and Blood Institute to help prevent cardiovascular conditions and lower "bad" cholesterol levels. However, it has also proven very effective at improving insulin resistance and lowering PCOS symptoms.
The main guidelines for the DASH diet include:
At least five servings of veggies per day.
Seven servings of carbohydrates per day.
Two servings per day each of lean meats and low-fat dairy.
Adding two or three servings of nuts and seeds per week.
Capping your sodium intake at 1500 mg per day.
Whenever possible, choose legumes, whole grains, and leafy greens as your sources of carbohydrates.
Limiting white or refined flour and added sugars whenever possible.
The glycemic index diet for PCOS relief
The "glycemic index" is a more complex regimen examining how quickly your body turns specific foods into glucose. It assigns a "GI value" between 1 and 100 to each food, telling you how likely it is to increase your blood sugar levels.
GI values are usually classified as:
Low GI foods, with values between 1 and 55: most fruits, carrots, lentils, whole grains, meats, dairy.
Medium GI foods, with values between 56 and 69: corn, dried fruits, sweet potatoes, multigrain bread.
High GI foods, with values over 70: white bread, rice, potatoes, or pasta.
Then, it's just a matter of consistently choosing foods with a low GI value. Simple enough, right?
There are two catches, however: first, while there is a very extensive database of GI values online (and designed by Sydney University, no less), looking up the GI value of each food can be cumbersome. The database includes mostly ingredients: the final GI value will depend on how you cook and combine them.
Second, the GI value doesn't tell us much about the total calorie content or the other nutrients you may need: broccoli, kale, and pork chops are all "low GI," but they're far from equivalent!
As a result, the glycemic index is a useful tool for dieticians when designing a diet plan — but it doesn't convert into an easy-to-follow menu. If you're already at a healthy weight and want to lower your chances of developing insulin resistance, it gives you an easy number to guide your choices. If you also need to lose weight? It may not be enough.
Can you cure PCOS with diet if you're not overweight?
Cure completely? Not really. Improve symptoms, increase your quality of life, and prevent future problems? Definitely.
We all need to remember that the link between PCOS and insulin resistance is strong enough that a PCOS diagnosis should be taken as a warning sign. Even if your insulin sensitivity and blood sugar levels look okay now, having PCOS means you're at high risk of developing a metabolic disorder later on.
So if your BMI is in the healthy range, weight loss may not be necessary. But you can still protect yourself and decrease your symptoms through food. Rather than a strict "PCOS diet," try adding more of these foods to your diet:
Healthy fats, such as olive oil, avocados, or coconut oil.
Cold water fish like salmon, sardines, or mackerel.
Colorful fruits and veggies, such as blueberries, bell peppers, grapes, and cherries.
Anti-inflammatory spices like turmeric, ginger, or cinnamon.
High-fiber veggies, such as broccoli, kale, spinach.
Bonus point on the latter if you're also dealing with painful or heavy periods, as they may boost your iron levels. If you develop anemia, you may need an iron supplement.
At the same time, try to avoid or limit pastries, sweets, and cured or red meats.
Trimly, life-changing weight-loss treatment for women with PCOS
Dr. Aliabadi's focus on overweight and obese patients, as well as those suffering from PCOS, has led her to create Trimly. Trimly is a weight-loss treatment that is personalized to each patient to bring about lasting change. Those who have struggled with weight or PCOS issues will find help through this program.
The treatment combines doctor prescribed medication, an individualized weight loss plan, a once-weekly group video conference call with Dr. Aliabadi to answer any questions you may have, a once-monthly check-in call with a Trimly team member and supplements to facilitate the treatment.
Dr. Aliabadi's goal is to help patients achieve a healthier lifestyle, gain confidence, and avoid future health problems. Learn more about Trimly here.
PCOS and exercise: How to design the best PCOS workout plan?
Unlike diet plans, workout routines need to be customized: it will all depend on your preexisting fitness level, the equipment or facilities around you, the amount of time you can devote to it, and even your own idea of fun. After all, the best PCOS exercise plan is the one you will return to consistently for months.
The good news? There is no single best exercise for PCOS weight loss. In fact, any form of exercise will do once it meets the minimum requirements set by the CDC: 150 minutes of cardiovascular activity and at least one session of strength training every week.
Cardio routines for PCOS
You can get the benefits of "cardio" by doing anything that gets your heart pumping and lungs working faster.
If you're new to physical activity, start with a few brisk-paced walks, dancing, or yoga. These will provide a gentle start while balancing stress levels and improving your mental health. As you improve, aim for at least 50% of your maximum heart rate, and try to sustain that for longer stretches at a time. Spinning, jogging, treadmills, and even cardio-kickboxing can all get you there.
If you are moderately active already but want to burn extra calories, try high-intensity interval training or HIIT. Short and intense, these exercises will help you build your lung capacity and muscles in less time than a long cardio session, and if you've got a competitive streak, they can also be more fun.
What about strength training for PCOS?
Whether you use resistance bands, gym machines, your bodyweight, or old-school dumbbells, strength training is one of the best ways to increase your total calorie consumption. The more muscle you gain, the more calories you'll burn during the day — and the easier it will be to regulate your blood glucose levels.
Looking for a holistic PCOS management plan near LA? Trust Dr. Aliabadi
As a specialist in women's health issues, Dr. Thais Aliabadi understands the deep connections between gynecology and all other aspects of medicine. She is one of the country's leading OB/GYNs and has been recognized by the American Board of Obstetrics and Gynecology. Her healthcare philosophy is based on understanding each one of her patients and examining their circumstances, priorities, and values.
Her Los Angeles facility is fully equipped to offer state-of-the-art procedures, fertility treatments, and advanced diagnostics. Inside each office, her team uses their knowledge and experience to establish a caring partnership to safeguard each patient's well-being.
Make an appointment online or call us at (844) 863-6700.
The gynecology practice of Dr. Thais Aliabadi is conveniently located for patients throughout Southern California and the Los Angeles area. We are near Beverly Hills, West Hollywood, Santa Monica, West Los Angeles, Culver City, Hollywood, Venice, Marina del Rey, Malibu, Manhattan Beach, and Downtown Los Angeles.

Latest posts by Dr. Aliabadi Education Team
(see all)