What are Nabothian Cysts?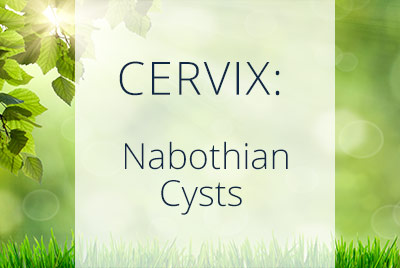 The cervix is the small organ that has a structure resembling a canal and connects the vagina with the uterus. These are the two most important parts of the female reproductive system. It has links to the cervical glands that produce mucus. At times, the glands may have excess growth of skin cells covering them that block the glands. Thus, resulting in the accumulation of mucus and the formation of tiny bumps on the surface of the cervix called Nabothian cysts. Nabothian cysts usually occur at the transformation zone of the uterine cervix.
Nabothian cysts are benign (non-cancerous) mucus-filled growths that develop on the surface of the cervix. This benign condition is not life-threatening or cancerous. They are also known as cervical cysts, cervical polyps, epithelial cysts, or mucinous retention cysts. They are most often caused when squamous epithelium blocks the opening of Nabothian glands trapping mucosal secretion in small subdermal pockets.
The cervix normally contains glands that secrete mucus. A Nabothian cyst occurs when these glands become clogged by skin cells. The mucus builds up, forming a smooth, white, round lump on the cervix.
Diagnosing Nabothian Cysts
Nabothian cysts can be seen during a regular pelvic exam, which includes a pap test. They can appear in singles or as a cluster on the surface of the cervix. In some cases, your doctor may wish to perform a colposcopy to get a closer look at them. A colposcopy is performed using a colposcope, an instrument equipped with a magnifying lens. Some procedures include:
Physical examination
Review of patient's medical history and health information
Pelvic exam
Ultrasound imaging
MRI/CT Scan
Colonoscopy
Biopsy of the cyst
Tests for the presence of sexually transmitted diseases
Complete blood count
Tests to check hormone levels
Risk Factors of Nabothian Cysts
In most cases, Nabothian cysts occur when new tissue regrows on the surface of the cervix after childbirth. Nabothian cysts are a normal finding on the cervix of women who have had children. They also are seen in menopausal women whose cervical skin has thinned with age. Less often, Nabothian cysts are related to chronic cervicitis, long-term infection of the cervix.
Lone Nabothian cysts are distinctive and normally do not carry an imaging differential. When they appear in clusters, the primary differential consideration for Nabothian cysts is adenoma malignum, a rare and aggressive mucinous form of cervical cancer that appears as a multicystic mass within the cervix, in contrast to the solid infiltrative appearance of standard non-mucinous cervical cancer.
May also appear as a possible complication from a hysterectomy.
Possible Symptoms of Nabothian Cysts
Cysts measuring few millimeters to 4 centimeters in diameter
Smooth texture
White or yellow in appearance
Severe pain in the cervical region, especially during sexual intercourse
Pelvic pain
Dragging sensation
Raised bumps
Irregular bleeding and vaginal discharge
Pale yellow to amber mucus secretion
Nabothian Cysts Treatments
In most cases, Nabothian cysts do not cause any symptoms, and in most cases require no treatment at all. In some cases, large cysts could obscure the cervical canal, making it more difficult for your Obstetrics and Gynecology health care provider to take samples for a Pap test or other test. In these cases, Nabothian cysts can be gently opened and drained by your doctor during the exam.
If you have symptoms of, or suffer from, a cervical condition such as Nabothian Cysts, please talk to your doctor.

We also invite you to establish care with Dr. Aliabadi. Please click here to make an appointment or call us at (844) 863- 6700.
Save
Save

Latest posts by Dr. Thaïs Aliabadi
(see all)