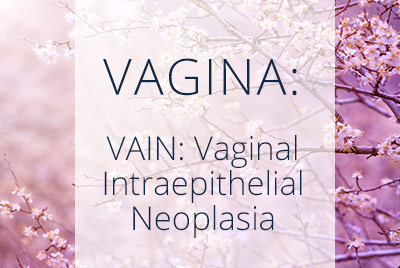 What is Vaginal Intraepithelial Neoplasia?
Vaginal Intraepithelial Neoplasia (VAIN), also known as vaginal dysplasia, is a condition that causes pre-cancerous changes in the cells of the vaginal tissue. Although many cases of VAIN resolve on their own, the changes may become cancerous after several years of no treatment. Its natural history and potential evolution into invasive cancer are uncertain.
VAIN starts inside the vagina. The vagina is the muscular tube that connects the uterus to your outside genitals, sometimes called the birth canal. VAIN can range in severity from low grade to high-grade VAIN. Women who have VAIN often do not have any symptoms. The most common symptoms are abnormal vaginal bleeding, such as bleeding after vaginal intercourse or bleeding in between periods, or abnormal vaginal discharge. In some cases of high-grade VAIN, it can progress to vaginal cancer. While VAIN itself typically is asymptomatic and not a harmful condition, it carries a 12% risk of progression to invasive vaginal carcinoma, so accurate identification, thorough treatment, and ongoing surveillance are essential. Primary invasive carcinoma of the vagina is rare, accounting for less than 3 percent of malignant tumors of the female genital tract.
Overall, VAIN is relatively rare. It is far less common than cervical or vulvar dysplasia. It may be associated with cervical or vulvar dysplasia, meaning that it is possible to have more than one type of dysplasia at the same time. The incidence of VAIN is most common in women with a history of cervical dysplasia. It is typically found in women between the ages of 40 and 60, although it can occur at any age.
VAIN is most commonly found in the upper third portion of the vaginal canal (the area closest to the cervix), but it can also be multi-focal, which means that it can occur in several areas simultaneously. Sometimes VAIN is accompanied by pre-cancerous changes in the vulva, cervix, anus, and other pelvic tissue. Women over age 50 are at the highest risk for VAIN, but the condition can develop in women of any age.
Vaginal Intraepithelial Neoplasia is subdivided into three grades, indicating how much of the surface layer of the vagina has been affected.
VAIN 1 – One-third of the depth of the surface layer is affected by the intraepithelial lesion, the most often upper third of the vagina
VAIN 2 – Two-thirds of the depth of the surface layer is affected
VAIN 3 – High-grade vaginal intraepithelial neoplasia affecting the entire full thickness of the surface layer
Women affected with VAIN tend to have either an antecedent or coexistent neoplasia in the lower genital tract. This is the typical situation in at least half to two-thirds of all patients with VAIN.
Causes of VAIN
VAIN is a complicated condition that likely has multiple, interrelated causes. It may be impossible to pin down the exact cause of a specific case of VAIN. However, experts believe that most cases of Vaginal Intraepithelial Neoplasia are linked to HPV, immunosuppression, and previous cancer or pre-cancerous conditions.
HPV
The human papillomavirus (HPV) is one of the most common sexually transmitted infections. The HPV infection is easy to spread through skin-to-skin contact with an infected person, and because infections are often asymptomatic, many people aren't aware that they carry the virus. The high-risk HPV infection is present in 85% of women with VAIN, and the presence of high-risk HPV is a predictor for recurrent VAIN.
There are over 100 strains of HPV, but only two strains are associated with VAIN: type 16 and type 18. A vaccine is available to protect against these dangerous strains. It is typically recommended for young girls ages 11-12 up to the age of 26.
Immunosuppression
When the immune system is suppressed, it has a much harder time fighting off infections, such as HPV, that might cause VAIN and other pre-cancerous conditions. These qualities can negatively affect a woman's immune system:
Smoking
Genetic disorders of the immune system
Some medications, such as those taken after an organ transplant
Bone marrow disorders
Blood disorders
Cancer or precancerous changes
Women who have previously experienced pre-cancerous changes or cancer of the vagina, cervix, vulva, or other reproductive and pelvic tissue are at a heightened risk for developing VAIN. Even women who have had a hysterectomy to treat cancer are at risk. Women who have received radiation as treatment for cancer in the pelvis may also have a slightly higher chance of developing VAIN.
Risk Factors for VAIN
Risk factors for VAIN are similar to those linked to cervical and vulvar dysplasia. They include:
Exposure to the drug DES while in the mother's womb. DES was given to pregnant women to prevent miscarriages in the 1950s. Women who have this exposure have an increased risk of developing a rare form of vaginal cancer called clear cell adenocarcinoma of the vagina.
HPV infection
History of vulvar intraepithelial neoplasia (VIN) or cervical intraepithelial neoplasia (CIN)
History of vulvar or cervical cancer
Tobacco use
A weakened immune system from HIV or immunosuppressive medications.
Symptoms of VAIN
Patients with VAIN usually exhibit no symptoms. In fact, most cases are discovered with a Pap smear during a routine exam or during a test for another condition. Some women with VAIN experience some vaginal discharge, but this is usually caused by another associated infection and not by the VAIN itself.
Diagnosis of VAIN
If your doctor suspects VAIN, they will likely make a diagnosis with the help of a colposcopy. A colposcopy is a procedure that allows your gynecologist to get a closer look at your vagina using a colposcope, which is a special magnifying lens.
Biopsy
In some cases, the gynecologist will also want to take a biopsy of your vaginal tissue. Removing the small sample can be uncomfortable, so a local or general anesthetic will usually be injected into the area.
Read More
Pap test
Also known as a liquid-based cytology test, this test uses a small brush to collect a sample of cells from your cervix. It's usually not painful and shouldn't require an anesthetic.
VAIN Treatment Options
In most cases of mild VAIN (VAIN 1), doctors will often monitor the condition closely and abstain from any proactive treatment unless it becomes necessary.
However, if a diagnosis of VAIN 2 or VAIN 3 is made, your doctor will likely recommend treatment in order to prevent vaginal cancer. Your particular course of treatment will vary depending on your medical history, the size, location, and severity of your condition, and whether or not you are pregnant or wish to become pregnant.
Important factors to consider when selecting the appropriate treatment for women with VAIN include prior hysterectomy, prior radiation therapy, age, whether she is sexually active, comorbidities, vaginal anatomy, and prior treatments.
Ablation
Ablation refers to the destruction of abnormal cells. Ablation can be accomplished through:
Laser ablation treatment
Also referred to as laser vaporization, this procedure utilizes a laser beam to burn away the VAIN. This is a minor procedure that is performed in the operating room under anesthesia. This is an outpatient procedure allowing most patients to go home the same day.
Carbon dioxide laser treatment
This is a procedure in which a tiny, high-energy laser beam is directed at the cells, destroying them. Usually, this is performed under general anesthetic, but if the affected vaginal surface area is small, it can also be performed under a local anesthetic. If several areas of your vagina are affected, or if your doctor feels there is a high risk the disease may return, they may treat all of your vagina with topical 5-fluorouracil and CO2 laser treatment.
Diathermy treatment
Diathermy, also known as "deep heat," is a treatment that involves directing a high-frequency electrical current to the area using an ultrasound, shortwave, or microwave instrument.
Following an ablation, it's common to experience some light bleeding or vaginal discharge for 3-5 days. You should avoid intercourse and refrain from putting anything into your vagina for 4-6 weeks, including tampons and douches.
Internal Radiotherapy
This treatment isn't typically recommended for most cases of VAIN, but it can be helpful for treating recurring VAIN or widespread VAIN. It involves inserting a small tampon-shaped device that contains a radioactive chemical into your vagina. You may need to keep the device in for several hours or a couple of days.
Surgery
Your doctor may recommend surgery if there is a possibility of undetected cancer in the area or if your case of VAIN is recurring. There are two primary surgical procedures for treating VAIN. Your surgeon will remove the abnormal cells and some surrounding healthy tissue. This is called a wide local excision. The most common excisional procedure employed for VAIN is upper vaginectomy.
Local excision
This is the surgical removal of the affected tissue as well as a border of normal tissue around the area to act as a "buffer zone." Sometimes, the area can be stretched after the procedure to allow you to continue having vaginal intercourse.
Partial or total vaginectomy
This is the surgical removal of the vagina. Sometimes the surgeon can create a new vagina from the surrounding tissue.
After Treatment of Vaginal Intraepithelial Neoplasia
Women who have been treated for VAIN are at risk for VAIN recurrence throughout their lifetimes. Because there is a risk of recurrence, women who have had VAIN should have close follow-up with an OB/GYN health care provider who is familiar with the types of skin changes for the management of vaginal intraepithelial neoplasia.
You will need to schedule routine follow-up exams with your OB/GYN to make sure the VAIN does not come back. You may need to receive additional treatment. Follow-up exams are typically scheduled for every 6 to 12 months after the initial treatment.
Effects on your sex life
Depending on your treatment, recovering from VAIN may have long-term effects on your sex life. You will want to avoid sex for several weeks following ablation, but typically you can return to your normal activities after complete healing. However, surgery and radiotherapy may have longer-lasting effects. Vaginectomy and vaginal reconstruction will likely have an effect on the sensations of sex. Neither surgery will have an effect on your clitoris, so you should retain the ability to orgasm.
Radiotherapy may cause soreness for the first few weeks, and in some cases, can leave scars that harm your vagina's elasticity. Your gynecologist can show you how to use a set of vaginal dilators if the scarring is affecting your sex life.
show less
If you believe you are experiencing symptoms of, or suffering from Vaginal Intraepithelial Neoplasia (VAIN), or have questions about it, please see your doctor.

We also invite you to establish care with Dr. Aliabadi. Please click here to make an appointment or call us at (844) 863- 6700.

Latest posts by Dr. Thaïs Aliabadi
(see all)