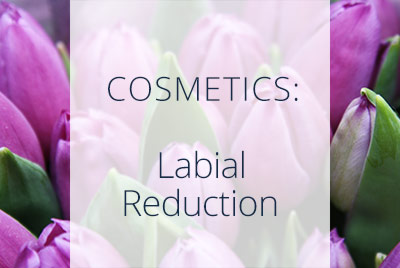 Female genitals are as unique as the women who own them. Women's labia (the outer and inner "lips" that line the vaginal opening) can range from short to long and from tucked-in to out-hanging. Women may be born with short or long labia, or labia may stretch out and become longer after a woman gives birth. While there's nothing medically wrong with longer labia, some women are dissatisfied with this feature of themselves.
What is Labial Reduction?
Labia reduction, also known as labiaplasty, is a surgery to reduce the length of the labia. This type of procedure is normally sought for cosmetic reasons — some patients are self-conscious and dislike the look or size of the labia — but labia reduction can also help relieve discomfort.
Long labia minora ("inner lips") can cause physical discomfort during sexual intercourse, when sitting down, or while wearing tight clothing for physical activities — especially if they hang longer than the labia majora ("outer lips").
Types of Labia Reduction Surgery
Labia reduction can be performed as an outpatient procedure right in your doctor's office; there is no need for hospitalization. You will be administered a sedative and local anesthesia — general anesthesia is also an option if you'd like to be completely unconscious for the procedure. The surgery typically takes about an hour or two.
Your exact treatment plan will depend on your general health, the size of the labia, and your own vision for your genitals.
Trimming technique.
Trimming is the most popular method of labiaplasty surgery. This surgical technique involves trimming labial tissues from the outermost edges of the labia.
This technique removes excess skin and can remove dark or discolored labial tissue, increasing comfort and self-esteem.
Wedging technique.
In the wedge labiaplasty procedure, the surgeon excises a triangular-shaped wedge of excess tissue from each labia and brings the two cut edges together with stitches. This method reduces the volume of the labia tissue without shortening the length.
This cosmetic procedure reshapes the outer or inner labia to a more natural or comfortable shape as well as correcting any asymmetry between the labia.
While this technique may seem more invasive, the incisions are generally small and heal into barely-noticeable (or even invisible) scars.
Labiaplasty vs. vaginoplasty
While labiaplasty is a cosmetic surgery solely focused on the labia, vaginoplasty (as the name implies) focuses on the vagina.
Labiaplasty, vaginoplasty, and clitoral hood reduction are all considered vaginal rejuvenation procedures — as they "rejuvenate" the appearance of the vaginal area while retaining functionality.
As seen on BuzzFeed and featuring renowned Dr. Aliabad discussing the Labia and Labiaplasty.
What is labia reconstruction recovery like?
After your procedure, you will need to wait in the recovery room for about an hour while the anesthetic wears off. You may wish to have a trusted friend or partner drive you home.
Traditionally, your surgeon will use dissolving sutures so you won't have to return to the office to have stitches removed. However, remember to attend any scheduled follow-ups with your gynecologist to ensure proper healing.
It's normal to experience some discomfort and swelling for the first week, but that can easily be managed with pain medication. Most patients take the week off work, as it could be painful to sit. An inflatable doughnut-shaped cushion can be used to take the pressure off your genitals while sitting.
Refrain from any vaginal sexual activities or tampon use for about four to six weeks. After six weeks, you should be able to return to your normal routine.
What are the risks of labia reduction surgery?
Labia reduction is a safe surgical procedure with few risks. However, with any surgery, there is always a risk of complication. Complications from labia reduction surgery include:
Infection. Call your doctor if you experience worsening pain, fever, nausea, chills, or vomiting more than 24 hours after your procedure.
Bleeding
Loss or change of sensation in the genitals
Lingering pain
Remember to talk to your doctor about the potential risks of this surgery in addition to its benefits for you. For best results, you may be referred to a board-certified plastic surgeon.
Am I a good candidate for labiaplasty?
Ideal candidates are in good general health and don't smoke. Labiaplasty is recommended for patients whose labia are negatively impacting their quality of life due to appearance or discomfort.
Labiaplasty itself will not address incontinence or functional problems. If you are worried about vaginal dryness, incontinence, or sexual dysfunction, consult with your OB/GYN before turning to plastic surgery.
Why choose Dr. Thais Aliabadi?
As one of the nation's leading OB/GYNs, Dr. Thaïs Aliabadi offers the very best in gynecological and obstetric care. Together with her warm professional team, Dr. Aliabadi supports women through all phases of life. She fosters a special one-on-one relationship between patient and doctor.
Dr. Aliabadi is a recognized leader in endometriosis treatment and has even taught minimally invasive laparoscopic surgery to other surgeons across the country.
We invite you to establish care with Dr. Aliabadi. Please make an appointment online or call us at (844) 863-6700.
We take our patients' safety very seriously. Our facility's Covid-19 patient safety procedures exceed all CDC and World Health Organization recommendations. Masks are required in our office at all times during the coronavirus pandemic.
The practice of Dr. Thais Aliabadi and the Outpatient Hysterectomy Center is conveniently located to patients throughout Southern California and the Los Angeles area. We are near Beverly Hills, West Hollywood, Santa Monica, West Los Angeles, Culver City, Hollywood, Venice, Marina del Rey, Malibu, Manhattan Beach, and Downtown Los Angeles.
Remember to talk to your doctor about the potential risks of this surgery in addition to its benefits for you. I am not discouraging you, but encourage you to discuss any and all questions with your doctor when considering any surgery, especially an elective one. You are your own best advocate, so always do your research and never be afraid to ask any question or discuss anything with your doctor.

We also invite you to establish care with Dr. Aliabadi. Please click here to make an appointment or call us at (844) 863- 6700.

Latest posts by Dr. Thaïs Aliabadi
(see all)