What is Labial Reduction?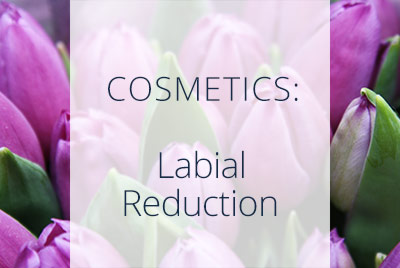 Female genitals are as unique as the women who own them. Women's labia (the outer and inner "lips" that line the vaginal opening) can range from short to long and from tucked-in to out-hanging. Women may be born with short or long labia, or labia may stretch out and become longer after a woman gives birth. While there's nothing medically wrong with longer labia, some women are dissatisfied with this feature of themselves.
Labia reduction, also known as labiaplasty, is a surgery that is performed to reduce the length of a woman's labia. This type of procedure is normally sought for cosmetic reasons – some women dislike the look of their labia hanging below their vulva – but labia reduction can also help relieve discomfort that might result from wearing certain types of lingerie.
Types of Labia Reduction Surgery
Labia reduction can be performed as an outpatient procedure right in your doctor's office. There is no need for hospitalization. You will be administered a sedative and regional anesthetic, which will allow you to sleep painlessly during the procedure. The surgery typically takes about an hour or two.
There are two types of surgical methods that can be used. Your doctor will choose the method after consulting with you about your own vision for your genitals.
Trimming technique.
This is the most popular method for labiaplasty. It involves trimming strips from the outmost edges of the labia. It shortens the length of the labia and removes some of the darkened skin that is bothersome to some patients.
Wedging technique.
In this method, the surgeon excises a triangular-shaped wedge of tissue from each labia and brings the two cut edges together with stitches. This method reduces the volume of the labia tissue without shortening the length.
As seen on BuzzFeed and featuring renowned Dr. Aliabad discussing the Labia and Labiaplasty.
Labia Reduction Surgery Recovery
After your procedure, you will need to wait in the recovery room for about an hour while the anesthesia wears off. You may wish to have a trusted friend or partner drive you home.
It's normal to experience some pain and swelling for the first week. Most women take the week off work, as it could be painful to sit. An inflatable doughnut-shaped cushion can be used to take the pressure off your genitals while sitting.
Refrain from any vaginal sexual activities for about four to six weeks. After six weeks, you should be able to return to your normal routine.
Labia Reduction Surgery Risks
Labia reduction is a safe surgical procedure with few risks. However, with any surgery, there is always a risk of complication. Complications from labia reduction surgery include:
Infection. Call your doctor if you experience worsening pain, fever, nausea, chills, or vomiting more than 24 hours after your procedure.
Bleeding
Loss or change of sensation in the genitals
Lingering pain
Remember to talk to your doctor about the potential risks of this surgery in addition to its benefits for you. I am not discouraging you, but encourage you to discuss any and all questions with your doctor when considering any surgery, especially an elective one. You are your own best advocate, so always do your research and never be afraid to ask any question or discuss anything with your doctor.

We also invite you to establish care with Dr. Aliabadi. Please click here to make an appointment or call us at (844) 863- 6700.

Latest posts by Dr. Thaïs Aliabadi
(see all)