What are Cervical Polyps?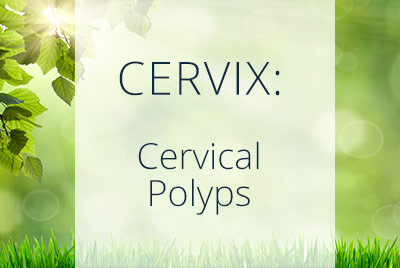 The cervix is a tube-like channel that connects the uterus to the vagina. Cervical polyps are growths that usually appear on the cervix where it opens into the vagina. Cervical polyps are small protrusions growing from the cervix. Polyps are usually cherry-red to reddish-purple or grayish-white. Varying in size, they often look fingerlike growths. Cervical polyps are usually not cancerous (benign) and can occur alone or in groups. They may appear as a symptom of chronic inflammation or an infection of the cervix.
Most polyps are small, about 1 to 2 centimeters long. Because rare types of cancerous conditions can look like polyps, all polyps should be removed and examined for signs of cancer.
The cause of cervical polyps is not well understood, but they are associated with inflammation of the cervix. They may also result from a build-up in the cervical blood vessels. They also may result from an abnormal response to the female hormone estrogen.
Polyps are easy for your doctor to see during a routine pelvic examination, which will include a pap test/pap smear. The two types of cervical polyps are ectocervical and endocervical.
Ectocervical polyps usually happen on the outer surface layer of cells on the cervix. The most common type of cervical polyp, endocervical polyps arise from the cervical glands. Postmenopausal women are more likely to have ectocervical polyps, and premenopausal women are more likely at risk for endocervical polyps.
Tissue samples or biopsies, of the polyps, are sent to a laboratory for testing. Results usually show benign polyp cells. In rare cases, abnormal cells or precancerous patterns of growth known as neoplastic changes may be present.
Symptoms of Cervical Polyps
Many times, cervical polyps have no symptoms at all. But in some cases, cervical polyps cause abnormal vaginal bleeding, especially:
After vaginal intercourse/sexual intercourse
After douching
Between periods
Post-menopause
Cervical Polyps Treatment
Doctors may not remove cervical polyps unless they cause symptoms. Cervical polyps do not necessarily need to be treated unless they are large, causing abnormal bleeding, or if they appear to be infected. Virtually all polyps are non-cancerous, but if your doctor has cause for concern, the polyp may be removed and sent to the lab for testing.
Removal of cervical polyps is a simple outpatient procedure that your doctor can perform in their office. Pain medication is not necessary. Sometimes, cervical polyps will disconnect from the cervix on their own. This can occur while a woman is menstruating or during sexual intercourse.
A polyp may be removed during a routine pelvic exam. Using fingers or forceps, your Obstetrics and Gynecology doctor can gently twist the polyp at its base and detach it from the cervical tissue. Your doctor can then apply a solution to the site to stop any bleeding.
Other removal methods of cervical polyps include:
Tying a surgical string around the base of the polyp and cutting it away
Using ring forceps to remove the polyp
Methods to destroy the base of the polyp include the use of:
Liquid nitrogen
Electrocautery ablation, which involves using an electrically heated needle
Laser surgery
Brief, mild pain during removal of the polyps and mild to moderate cramps for a few hours afterward you may experience is normal. Spotting of blood from the vagina may occur for one or two days after removal.
In some instances, the polyps or the polyp stems are too large to remove in a doctor's office. If this is the case, you may need to have surgery to remove the cervical polyp in a hospital or surgery in a hospital or surgery center.
If you have symptoms of, or suffer from, a cervical condition such as Cervical Polyps, please talk to your doctor.

We also invite you to establish care with Dr. Aliabadi. Please click here to make an appointment or call us at (844) 863- 6700.
Save

Latest posts by Dr. Thaïs Aliabadi
(see all)