Minimally Invasive Laparoscopic Surgery for Endometriosis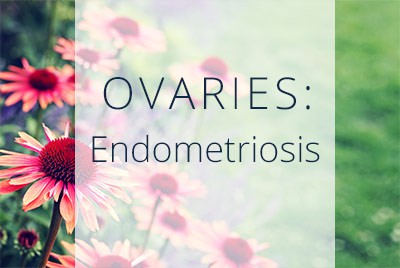 Endometriosis is a fairly common disorder that can cause terribly painful periods and affects over 10% of American women during their childbearing years. Most patients I diagnose are between the ages of 30-40.
I have more patients than I could ever count who have come to me after seeing a dozen or more doctors, all of whom failed to diagnose them properly. It is one of the tragedies of modern women's health that so many women must suffer needlessly for years from painful periods.
Here is something extremely important to remember: painful periods are not normal! 
Because endometriosis is so difficult for most doctors to diagnose, most women who come to me for a diagnose and care have been suffering for an average of eleven years before being properly diagnosed!
What's the exact cause of endometriosis??
The endometrium is the mucus membrane that makes up the lining of the uterus. During the menstrual cycle, it responds to hormones by thickening with blood vessels in preparation for pregnancy.
Every time the egg fails to be fertilized by a sperm, the body clears away the unused endometrial tissue inside the uterus, and this elimination is your period.
However, sometimes the body does not clear away all the endometrial cells, and it can accumulate month after month. This accumulated tissue winds up getting pushed outside the uterus and then grows on the fallopian tubes, ovaries, the external surface of the uterus, intestines, urinary organs, and even the rectum.
The sites of abnormal endometrial tissue growth are known as implants. These endometrial implants respond to hormones in the same way that the uterine lining does: by thickening, breaking down, and shedding. But since this occurs outside the uterus, the tissue becomes inflamed, irritated, and scarred. This scar tissue is called adhesions. Adhesions can cause organs to stick together, which usually causes terrible menstrual cramps and severe pain before and during your period.
Unfortunately, there are too few surgeons that perform this surgery laparoscopically on an outpatient basis. I do over 99% of mine this way. For more information about our advanced outpatient surgical procedures, please visit our Outpatient Hysterectomy Center website.
Common endometriosis symptoms
For most women, common symptoms of endometriosis feel like severe PMS symptoms, such as:
Chronic pelvic pain and cramping, especially before and during your period
Painful bowel movements or urination (due to implants hampering organ function)
Bloating
Diarrhea or constipation
Low back pain
Fatigue
Endometriosis can cause fertility issues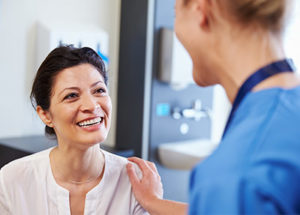 Unfortunately, endometriosis can also cause fertility problems. In rare cases, infertility may be the only symptom of endometriosis (called "silent endometriosis"). About 40% of women who have difficulty getting pregnant suffer from endometriosis. 

Because endometriosis results in inflammation of the ovaries and fallopian tubes, this may cause the fallopian tubes to stick together (known as adhesions), which block the egg's path to the uterus. Severe endometriosis can even affect the egg reserve and lead to poor egg quality.
How is Endometriosis Diagnosed?
If you're experiencing pelvic pain and heavy bleeding, schedule a consultation with me for an examination. Many different conditions can present with similar symptoms (ovarian cysts, to name just one). At your appointment, we will carefully review your medical history and perform a detailed physical and pelvic exam.
The only way to diagnose endometriosis with absolute certainty is to examine your pelvic organs via a surgical laparoscope. During this minor procedure, I insert a thin, flexible, lighted instrument through a tiny incision in your abdomen.
The laparoscope allows me to closely examine your pelvic organs and see any endometrial implants up close from various angles. I can also take a biopsy of any suspicious-looking tissue to send it out for further testing.
Why is endometriosis so hard to diagnose?
It's infuriating that the average woman living with endometriosis in the United States suffers from symptoms for 11 years before she is correctly diagnosed. I feel that the medical profession has let women down.
Diagnosing endometriosis is complicated because many symptoms can be due to other conditions. The truth is that endometriosis is pretty wily because the symptoms that patients experience don't always correlate to the endometrial implants' locations. GI symptoms appear just as often as gynecological symptoms in women with endometriosis.
For example, over 80% of women I diagnose with endometriosis describe their primary symptom as abdominal bloating. Or they'll describe periodic bloating and altered bowel habits such as diarrhea, constipation, painful bowel movements, nausea, and vomiting. Many women experiencing these symptoms will go to a GI specialist which, unfortunately, can lead to an erroneous presumptive diagnosis of IBS (irritable bowel syndrome) after lengthy and invasive diagnostic testing fail to turn up anything.
Another confounding overlap between endometriosis and GI conditions is that many women who suffer from endometriosis also suffer from SIBO (small intestine bacterial overgrowth). When gut bacterial growth gets out of whack, it can cause diarrhea, gas, bloating, and abdominal cramping – symptoms that are also seen in endometriosis.
Because up to 75% of women with IBS also have SIBO, many GI doctors will be quick to diagnose a woman as having IBS, overlooking the possibility that she might have endometriosis. Luckily, there's a rapid breath test that can be done at your primary doctor's office to rule out SIBO: known as the lactulose hydrogen breath test.
If you test negative for SIBO, you should seek a women's health specialist to determine if you may have endometriosis. If you are diagnosed with SIBO, the treatment is a two-week course of antibiotics. If GI symptoms don't improve after completing antibiotic therapy, you should seek a qualified endometriosis specialist to determine whether you might have endometriosis.
Is endometriosis treatable
In a word, yes. There are two approaches to endometriosis treatment:
Address the symptoms and suppress the spread of the disease
Remove the diseased tissue within the pelvis and reproductive organs via a surgical procedure
I always have a frank discussion about the best course of treatment for you taking into consideration your age, the type and severity of your symptoms, the stage of your disease, and your plans to bear children in the future.
Tools for treating endometriosis
Medications for Pain Symptoms
Moderate pain and cramping associated with endometriosis during menstrual periods can be managed with nonsteroidal anti-inflammatory drugs (NSAIDs) such as ibuprofen. You can buy these over the counter or, if necessary, you can be given prescription-strength pain medications.
Hormonal Therapies
Because endometriosis is hormonally driven, I can successfully suppress the disease in most patients with birth control pills (oral contraceptives), GnRH (gonadotropin-releasing hormone) agonists, and progestin medications with minimal side effects.
While these treatments won't cure endometriosis or remove existing diseased tissue, they can reduce the appearance of new endometrial implants, prevent adhesions from forming, and provide symptom relief.
I have successfully treated most of my endometriosis patients with careful monitoring and a hormonal suppression treatment plan that considers their age, disease severity, egg health and count, and future fertility desire.
Surgery
Women who are trying to get pregnant might elect to have their endometrial implants surgically removed. I perform this minimally invasive surgery with just two or three tiny incisions, using a slender lighted instrument to view and remove endometrial implants and break up scar tissue, thus improving fertility.
Surgery does not cure endometriosis but rather takes out abnormal endometrial tissue from within the pelvis.  It is important to know that unless you undergo hormonal suppression therapy after surgery, new endometrial plaques will form, and symptoms will return.
Surgery plus suppressive hormone therapy for pain and infertility
For women who plan on having children, combining surgery with hormone therapy yields the best results for combatting both pain and fertility problems by preventing new implants from forming. After this treatment protocol, some women are even able to get pregnant spontaneously without the aid of in vitro fertilization.
In general, too many gynecologists perform surgery to take out endometrial implants and fail to start their patients on hormonal suppression therapy. The net result is that, in a few years, these women have new endometrial implants that need to be removed again.
You must have appropriate post-op monitoring and be placed on hormonal suppression therapy if you do not want to have surgery after surgery to remove recurring endometriosis.
Last resort treatment of severe endometriosis, a hysterectomy
A hysterectomy is the surgical removal of the uterus and ovaries. Removing the ovaries significantly reduces the chance of pain coming back after surgery. A hysterectomy is typically only used as a last resort because, after the procedure, you will no longer have a period or be able to become pregnant.
Because removing the reproductive organs is a serious step, the decision for surgery should never happen until we have reviewed all of your treatment options. It is critically important that you have a thorough understanding of the pros and cons of every available option.
The problems with gynecological robotic surgery for endometriosis
In recent years, some surgical practices (many are hospital-based) have advertised that they're performing gynecological procedures using robotic technology such as the DaVinci. This type of surgery is performed by a machine with mechanized arms with surgical instruments attached that is controlled by the surgeon who sits at a remote console.
While these ads make robots out to be the Holy Grail of surgery, there are a few things you should be aware of regarding robotic surgery for gynecologic procedures:
Robotic surgery takes a high degree of skill and experience to perform well. Because operating a sophisticated computer console is a very different skill set than performing minimally invasive laparoscopy surgery, it takes special training and years of practice to become exceptionally proficient with robotic surgery. There aren't many gynecologists with twenty years of experience in robotic surgery as we have with laparoscopy. Experience is everything.
The incisions made by robots are visibly much larger than those made for traditional laparoscopic surgery. For example, the Da Vinci requires a 1.5cm diameter portal (opening) for its equipment, whereas I perform all of my laparoscopic procedures using a 3-5mm portal (meaning over three times smaller). If you are concerned with having visible scars, as so many of my patients are, this is something to take into consideration.
Claims of decreased pain and quicker recovery with robotic surgery are not true since they compare themselves to open surgery of the pelvic cavity with 7-inch incisions. In my practice, I always operate through incisions that are at least one third the size than those needed for robotic surgery. And keeping incisions small has a big impact on my patients' ability to recover quickly and return to normal routines. Of course, the ability to operate through tiny incisions comes from years of practice.
A three-year study of 87,514 gynecological surgeries published in Obstetrics and Gynecology, the journal of the American College of Obstetricians and Gynecologists, found that robotic surgery outcomes were no better than minimally invasive laparoscopic technique. In fact, robotic gynecologic surgery significantly increases the chances of complications versus laparoscopic surgery.
Robotic surgeries are much more expensive than laparoscopic surgeries, and you might wind up paying the difference. Most insurances now reimburse most endometrial surgeries at the same rate, whether done with a robot or not. Thus, you might be responsible for equipment fees related to the robot, additional OR time, and anesthesia time, since these surgeries take a lot longer to perform, to name a few. Robotic associated fees can add a few thousand dollars of out-of-pocket charges to your medical bill.
If you believe you are experiencing symptoms of or suffering from, endometriosis or if you simply have questions about endometriosis, I encourage you to see an endometriosis expert. Painful periods are not normal and no woman should needlessly suffer from Endometriosis.
If you would like to establish care with Dr. Aliabadi, please click here to make an appointment or call us at (844) 863-6700.
If you are suffering from Endometriosis and are considering Endometriosis Surgery, it is very important to discuss any questions or concerns you have with your doctor. That is what we doctors are there for!

We also invite you to establish care with Dr. Aliabadi. Please click here to make an appointment or call us at (844) 863- 6700.

Latest posts by Dr. Thaïs Aliabadi
(see all)