What are Uterine Malformations?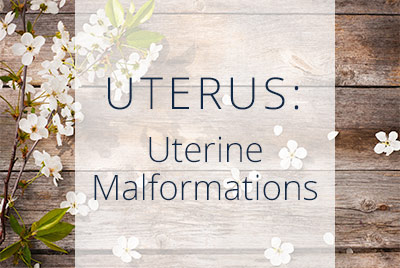 A uterine malformation is a type of female genital tract malformation resulting from abnormal development of the Müllerian duct(s) during embryogenesis preventing the formation of a normal uterus. Uterine malformation sometimes is referred to as Müllerian anomalies. As an embryo forms, two paired müllerian ducts develop into the female reproductive tract which includes the fallopian tubes, uterus, cervix, and upper two-thirds of the vagina. A wide variety of malformations can occur when this system is disrupted, such as vaginal septum.
Uterine malformations occur due to a birth defect. In the womb, female infants develop two separate halves of their uterus that merge together before birth. If the two halves fail to merge completely, the woman may be born with a malformed uterus. Uterine malformations make up a diverse group of congenital anomalies that can result from various alterations in the normal development of the Müllerian ducts.
In the majority of these cases, the cause of a congenital uterine anomaly is unknown. Most women with these malformations have a normal number of chromosomes. Between 1938 and 1971, some pregnant women were treated with diethylstilbestrol (DES) to help prevent miscarriages and premature deliveries. Women who were exposed to DES while in their mother's womb are at increased risk for having a congenital uterine anomaly.
At this time, there are no well-established risk factors for the development of a congenital uterine anomaly, and there is no way to prevent the development of a congenital uterine anomaly.
The prevalence of uterine malformation is estimated to be 6.7% in the general population, slightly higher in the infertility population, and significantly higher in a population of women with a history of recurrent miscarriages. They do tend to have a negative impact on a woman's ability to carry a pregnancy to full term. It's estimated that around 1 in 4 women who have had recurring miscarriages or delivered prematurely have a uterine malformation.
Frequently, renal anomalies, most commonly renal agenesis are associated with müllerian duct anomalies.
There are several types of uterine malformations:
The most common classification system for congenital uterine anomalies is that used by the American Society for Reproductive Medicine.
Absent Uterus
The uterus is not present, vagina only rudimentary or may be absent. The condition is also called Mayer-Rokitansky-Kuster-Hauser syndrome. The patient with MRKH syndrome will have primary amenorrhea.
Arcuate Uterus
A variation of the uterus, the arcuate uterus appears normal from the outside but has a very small (1cm or less) indentation, concave dimple, protruding from the top of the uterine cavity into the endometrial cavity. This is generally unproblematic. It is simply considered a different, but perfectly normal, type of uterus.
Bicornuate Uterus (Uterus with two horns)
This is the most common form of a müllerian anomaly. Described as a womb with two rudimentary horns. The womb is not pear-shaped, instead, it's shaped like a heart, with a deep indentation at the top. This means that the baby has less space to grow than in a normally shaped womb. Only the upper part of that part of the Müllerian system that forms the uterus fails to fuse, thus the caudal part of the uterus is normal, the cranial part is bifurcated.
Septated Uterus (Uterine septum or partition)
This uterus appears normal from the outside, but it contains an internal septum that divides the uterine cavity into 2 smaller cavities. Septate uterus also has the worst obstetric outcomes of the congenital uterine anomalies, with increased premature birth rates and lower fetal survival rates. Even though the two Müllerian ducts have fused, but the partition between them is still present, splitting the system into two parts. With a complete septum, the vagina, cervix and the uterus can be partitioned. Usually, the septum affects only the cranial part of the uterus. A uterine septum is the most common uterine malformation and a cause for miscarriages.
Didelphys Uterus (Double Uterus)
Sometimes referred to as uterus didelphys, both Müllerian ducts develop but fail to fuse, so the woman will have a "double uterus". This may be a condition with a double cervix and a vaginal partition or the lower Müllerian system fused into its unpaired condition.
Unicornate Uterus (One-sided uterus)
Only one side of the Müllerian duct forms. The uterus has a typical "banana shape" on imaging systems. Unicornuate uterus with a rudimentary horn does not require surgical correction.
The bicornuate and septate abnormalities are the most common, while didelphys and unicornuate tend to be much rarer.
Symptoms of Uterine Malformations
Uterine malformations usually present with no symptoms at all. Some women with malformed uteruses don't have difficulty getting pregnant and do not usually discover their unusually shaped uterus until they have a prenatal ultrasound. Others may be diagnosed during an infertility evaluation.
Other uterine malformations symptoms range from amenorrhea, infertility, recurrent pregnancy loss, and pain, to normal functioning depending on the nature of the defect.
Diagnosis of Uterine Malformations
Müllerian anomalies are often recognized at the onset of puberty, when an adolescent begins menstruation or when a young woman fails to get her menstrual period. The condition may also be diagnosed when a woman has trouble getting pregnant, or maintaining a pregnancy. Some anomalies are associated with abdominal or pelvic pain, discomfort during sex, or menstrual abnormalities.
A combination of tests may be recommended to establish the most accurate diagnosis.
The uterine malformation is diagnosed by medical image techniques, such as three-dimensional ultrasound or a magnetic resonance imaging (MRI). MRI is considered the preferred modality due to its multiplanar capabilities as well as its ability to evaluate the uterine external contour, junctional zone, and another pelvic anatomy. A hysterosalpingogram is not considered as useful due to the inability of the technique to evaluate the exterior contour of the uterus and distinguish between a bicornuate and septate uterus.
With the advancement of newer imaging techniques, we are able to make very precise and accurate diagnoses of congenital uterine malformations and their complications, including identification of unicornuate uterus and rudimentary uterine horns.
These procedures are also used to detect such women's health conditions as intrauterine adhesions, tubal ligation, uterovaginal anomalies, and other medical conditions.
Treatment for Uterine Malformations
The only treatment option for a uterine malformation is surgery, but you may not need it. Uterine malformations may contribute to fertility problems, but many women with the condition have healthy, successful pregnancies, with or without surgery.
Surgical intervention depends on the extent of the individual problem. With a didelphic uterus, surgery is not usually recommended. A uterine septum can be resected in a simple out-patient procedure that combines laparoscopy and hysteroscopic procedure. This procedure greatly decreases the rate of miscarriage for women with Müllerian duct anomalies.
Your women's health care provider will recommend surgery only if it will make it easier and safer for you to carry out your plans for pregnancy. Your doctor will evaluate your particular malformation to determine the best course of action. Surgery is usually recommended if a woman with a septate uterus is having difficulty with the reproductive outcome. A complete septate uterus can be corrected surgically, improving the chances of having a positive pregnancy outcome. Women with a congenital reproductive anomaly who have not been able to achieve pregnancy within six months of trying should see a fertility specialist skilled in reproductive surgery. Surgery can repair the defect, eliminate discomfort during menses or sexual relations and improve fertility and pregnancy outcomes.
Surgery is usually not recommended for women with unicornate, bicornate, or didelphic malformations.
If you believe you are experiencing symptoms of, or suffering from Uterine Malformations, or have questions about it, please see your doctor.

We also invite you to establish care with Dr. Aliabadi. Please click here to make an appointment or call us at (844) 863- 6700.

Latest posts by Dr. Thaïs Aliabadi
(see all)