What is a Hysterectomy?
Hysterectomy is a gynecological surgery to remove the uterus. It is a very common treatment for patients with severe uterine health problems. Often (far too often, if you ask me), this procedure is done as a "traditional open surgery" with a hospital admission, multi-day hospital stay, large abdominal incision, and a recovery that can last multiple months.
Nowadays, hysterectomies don't have to be like that. With advances in women's healthcare, we can (and should!) turn hysterectomies into minimally invasive procedures where the patient goes home the same day and can return to normal activities in just a few weeks.
Unfortunately, there are too few surgeons that perform this surgery laparoscopically. I do over 99% of mine this way. For more information about our advanced outpatient surgical procedures, please visit our Outpatient Hysterectomy Center website.
When is a hysterectomy the best option?
Many patients choose a hysterectomy after they have exhausted all other treatment options. However, it's not uncommon to wait to have a hysterectomy until you're finished having children. Because any hysterectomy involves surgical removal of the uterus, you can no longer become pregnant after a hysterectomy.
Some women with a family history of some cancers may choose this procedure to help reduce the chances of such problems as they age.
Some gynecological conditions that may be treated with a hysterectomy include:
severe endometriosis
uterine fibroids
uterine prolapse
cancer of the uterus or other nearby reproductive organs
abnormal uterine bleeding
chronic pelvic pain
In the following videos, Dr. Aliabadi performs outpatient hysterectomy on Sheila, who was suffering from fibroids. Watch Sheila's story and her amazing recovery.
Elective hysterectomy surgery
Some women may choose to have elective surgery to remove their uterus, ovaries, and/or fallopian tubes if they are at high risk for cancer. If you have a strong family history of cancer, or you are a member of another high-risk group, talk with your gynecologist about elective risk-reduction surgery.
As more and more people are electing to remain childless, interest in elective hysterectomy has also been rising. A hysterectomy generally comes with more side effects that traditional birth control (such as early-onset menopause), so be sure to weigh all possible pros and cons with your OB/GYN
What is removed during a hysterectomy surgery?
There are three primary types of hysterectomy, categorized by the amount of tissue that is removed.
Total hysterectomy
The complete removal of the uterus and cervix. Most patients under go a complete or total hysterectomy. This can be an abdominal surgery or as a total laparoscopic hysterectomy.
Supracervical hysterectomy
Also called a partial hysterectomy, this is the removal of the uterus only leaving the cervix and surrounding organs intact. A supracervical hysterectomy may be performed through abdominal surgery or laparoscopic surgery.
If you've never had an abnormal Pap smear and aren't at risk of cervical cancer, you may be eligible for this type of hysterectomy.
Radical hysterectomy
In this procedure, the uterus and cervix are removed, as well as some surrounding tissue, such as the ovaries (oophorectomy) or fallopian tubes (salpingectomy). Your doctor may recommend this procedure if you have a gynecologic cancer, or if your pelvic organs are affected by endometriosis.
What methods are used to perform a hysterectomy?
There are a few common methods used to perform a hysterectomy. The method your doctor recommends will depend on your medical history, age, general health, and how much tissue is to be removed. It's possible that the surgeon may begin the hysterectomy with one method, but then change methods if they find existing complications.
Abdominal hysterectomy
This is the most common type of hysterectomy surgery. This is an "open surgery" that requires hospital admission and several days of inpatient recovery. As mentioned above, while this is a common way to perform a hysterectomy, it is almost always a far more invasive surgery than is necessary.
The surgeon makes an incision in the lower abdomen, underneath your navel, to expose the pelvic organs. The uterine tissue is then removed through the incision. Abdominal surgery is traditionally recommended for patients with large uteruses or those who have pelvic scar tissue from damage or disease. This type of surgery carries some risk of complications, including blood loss, tissue damage, and infection.
Laparoscopic hysterectomy
Virtually all our minimally invasive hysterectomies are performed via laparoscopy. Dr. Aliabadi makes a few tiny incisions in the patient's abdomen and completes the surgery with the aid of a laparoscope — a narrow, flexible instrument with a lighted camera at the end.
Traditionally, the tissue is removed in small pieces through the incisions — but that is not how we perform the surgery. This technique carries a risk of spreading cells throughout the abdomen, and we don't want that in case there are any pre-cancerous cells in the tissue. It's just not safe.
Our technique includes wrapping tissue in a surgical bag before removal. This bag stops the existing tissue from contaminating any other tissue when it is being removed.
This type of surgery also has less pain than an abdominal hysterectomy, less risk of infection, and less scarring. But our patient's favorite benefit of minimally invasive surgery is faster recovery time — you'll have weeks of recovery instead of months!
Read More
Laparoscopic-assisted vaginal hysterectomy (LAVH)
This procedure removes the uterus through the vagina, with the assistance of a laparoscope inserted through small incisions in your abdomen. There are generally fewer risks with this type of surgery, and recovery time is much quicker than with abdominal methods. However, women who have very large uteruses or who have pelvic adhesions, may not be able to have this type of surgery.
Robotic-assisted hysterectomy
This procedure is typically conducted laparoscopically with the aid of a robotic surgical instrument that the surgeon controls. Though often touted as being state-of-the-art, robotic surgery is often less precise and can have a less predictable outcome.
Hysterectomy recovery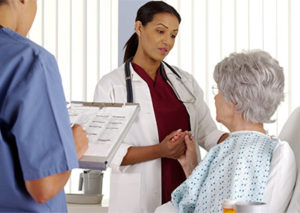 Depending on the type of surgery, you will need to stay in the hospital for a few days following the procedure. You will likely experience some pain, however, your doctor can help you manage this with medication.
With our minimally invasive approach, you can leave a few hours after surgery and recover in the comfort of your own home.
As with most major surgeries, blood clotting is one possible complication. You will be asked to walk around after your surgery to facilitate circulation in your legs.
Some mild to moderate vaginal bleeding and discharge following the surgery is normal — be sure to use sanitary pads instead of tampons. It might be difficult to have a bowel movement or completely empty your bladder for a few days after a hysterectomy.
For 6-8 weeks after your surgery, you should:
Get plenty of rest
Avoid heavy lifting
Get some light exercise. Taking short walks every day will improve your circulation and help you regain your strength.
Avoid vaginal intercourse
Avoid inserting anything into your vagina, including douches and tampons
Call your OB/GYN if you experience any signs of infection, such as fever, chills, nausea, or vomiting
Why choose Dr. Aliabadi for your outpatient hysterectomy?
Dr. Thais Aliabadi and her team accompany women throughout every stage of their reproductive care, including the joyful and the stressful periods.
At our women's health clinic, our focus is to help the patient decide what's best for their own lifestyles. For this, we offer a full range of medical procedures – from routine pap smears to specialized hormonal tests – as well as a listening ear.
In addition to her own expertise, Dr. Aliabadi also teaches residents at Cedars Sinai Medical Center and medical students at the University of Southern California.
We invite you to establish care with Dr. Aliabadi. Please make an appointment online or call us at (844) 863-6700.
The gynecology practice of Dr. Thais Aliabadi in Beverly Hills is conveniently located for patients throughout Southern California and the Los Angeles area. We are near Beverly Hills, West Hollywood, Santa Monica, West Los Angeles, Culver City, Hollywood, Venice, Marina del Rey, Malibu, Manhattan Beach, and Downtown Los Angeles.
Laparoscopic hysterectomy FAQs
How long does a laparoscopic hysterectomy take?
The average duration of our minimally invasive hysterectomy is one hour.
What to expect after laparoscopic hysterectomy?
Out laparoscopic hysterectomy is an outpatient surgery so you will go home the same day. Most of our patients return to normal activities in one week or less, versus 6 to 8 weeks needed for open hysterectomy recovery
How is the uterus removed in a laparoscopic hysterectomy?
The new technique of in-bag morcellation addresses the issue of residual uterine tissue left after a laparoscopic hysterectomy. A sterile bag is inserted through a small incision and used to isolate and cut the uterus into small pieces for removal through the laparoscopic incision. This containment prevents the spread of tissue throughout the abdomen, which is crucial if cancer cells are present. After the morcellation process, the sealed bag containing uterine fragments is removed via the same incision.
How long after a laparoscopic hysterectomy can I drive?
The recovery time after a laparoscopic hysterectomy can vary depending on individual factors and the extent of the procedure. In general, most women can resume driving within 1-2 weeks after the surgery if they are no longer taking narcotic pain medications and are comfortable operating a vehicle.
When can I exercise after a laparoscopic hysterectomy?
In general, most women can begin light exercise, such as walking or gentle stretching, within a few days after surgery. However, it is important to avoid strenuous exercise and heavy lifting for at least 4-6 weeks after surgery to allow the body to heal.
When can I take a bath after a laparoscopic hysterectomy?
After 24-48 hours, you can usually take a warm, shallow bath or a sponge bath, but it is important to avoid submerging the incision sites under water until they are fully healed. It is also important to avoid using any harsh soaps or chemicals that may irritate the incisions. A shower may be a better option in the first few days after surgery.
show less
If you are considering Hysterectomy Surgery, it is very important to discuss any questions or concerns you have with your doctor.

We also invite you to establish care with Dr. Aliabadi. Please click here to make an appointment or call us at (844) 863- 6700.

Latest posts by Dr. Thaïs Aliabadi
(see all)