Los Angeles' Best Gynecological, Obstetric and Surgical Care
Dr. Thais Aliabadi maintains an international practice focused on all facets of gynecological care. Supported by her warm, professional team, Dr. Aliabadi guides women through all phases of life and cherishes the special one-on-one relationship with her patients.
Women visiting Dr. Aliabadi for a routine check-up, serious health concerns, family planning, or those requiring surgery all receive individual attention, clear communication, compassion, and exceptional skill.
Highly trained and honored by the medical community, the doctor is certified by the American Board of Obstetrics and Gynecology and a Diplomat of the American College of Obstetrics.
Dr. Aliabadi specializes in state-of-the-art minimally invasive surgical techniques, promising her patients shorter recovery times, reduced pain, and the least interruption to their daily lives.
Dr. Aliabadi has been a practicing OB-GYN in Los Angeles since 2002. She serves as an official gynecologist for many royal families and "celebrities," as well as instructing Cedars Sinai Medical Center residents and medical students at the University of Southern California.
In addition to employing the latest cancer screening and prevention techniques, all diagnostic testing, labs, surgical, and non-surgical treatments are performed in her office – eliminating the need to visit a separate facility.
Our Beverly Hills office
Bringing Medical Expertise to Television and More
Dr. Thais Aliabadi has been fortunate to be a part of many different types of media appearances to share her medical expertise and contribute to the popular discussion on women's health. Be it newspapers, magazines, podcasts, blogs, and nationally syndicated television shows, Dr. Aliabadi makes herself available to advocate for women's health.
Dr. Aliabadi is known for her comprehensive knowledge, warm demeanor, and ability to communicate complex medical concepts in a relatable way.
Dr. Aliabadi has been featured on various prominent TV shows. They range from local television news health segments to nationally televised interviews on programs such as "The Dr. Phil Show," "The Doctors," "Chasing the Cure," and "Face The Truth." There she raised critically important awareness about women's health on a larger scale.
Other nationally broadcast shows include popular reality television shows such as "Keeping Up with the Kardashians," "The Culpo Sisters," "Miz & Mrs", and "Total Divas."
These appearances underscore Aliabadi's status as a trusted expert in women's health. Her approachable nature and wealth of experience have made her a sought-after expert and trusted voice not only for her patients but for women everywhere.
About Dr. Aliabadi's Training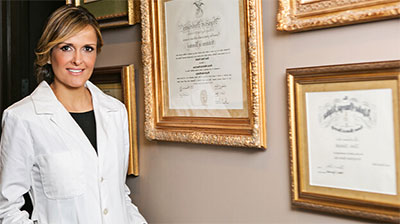 Dr. Aliabadi graduated summa cum laude with her medical degree from Georgetown University School of Medicine, where she was a member of the Alpha Omega medical honor society. She then completed her internship and residency training in obstetrics and gynecology at Los Angeles County + University of Southern California Medical Center.
Prior to her medical training, Dr. Aliabadi received her Bachelor's degree in biology from the University of California at Berkeley with honors and a Master's degree in physiology from Georgetown University. Her extensive education provided the basis for the dedicated care she now provides to her patients.
Before starting her own practice at Cedars-Sinai. Dr. Aliabadi served as the Medical Director of Teresa Medical Center in Los Angeles, as well as the Director of Gynecology at 90210 Surgery Center and Precision Ambulatory Surgery Center. She also served as the supervising physician at Northeast Valley Health Corporation and California Hospital Medical Center.
Academic Appointments:
Cedars Sinai Medical Center
Department of Obstetrics and Gynecology
Attending, 2003- present
California Hospital Medical Center
Department of Obstetrics and Gynecology
Attending, 2003- 2007
Hollywood Presbyterian Medical Center
Department of Obstetrics and Gynecology
Attending, 2003- 2007
Northeast Valley Medical Center
Department of Obstetrics and Gynecology
Attending, 2003- 2005
Positions:
Teresa Medical Center, Los Angeles, CA
Medical director
2002-2008
Beverly Hills Surgery Center, CA
Director of Gynecology
2009-2012
90210 Surgery Medical Center
Director of Gynecology and minimally invasive surgery
2012- present
Precision Ambulatory Surgery Center
Director of Gynecology and minimally invasive surgery
2012-present
OB/GYN Training:
University of Southern California
Keck School of Medicine Women and Children's Hospital
Department of Obstetrics and Gynecology
Residency, June 1999 – June 2002
University of Southern California
Keck School of Medicine Women and Children's Hospital
Department of Obstetrics and Gynecology
Internship, May 1998 – June 1999
Education:
Georgetown University School of Medicine
Washington, DC
Doctor of Medicine degree
May 1994 – June 1998
Summa Cum Laude
Georgetown University
Washington, DC
Master of Science degree
May 1993 – May 1994
Honors
University of California, Berkeley
Berkeley, CA
Bachelor of Art
1992
Honors
Honors and Awards
Alpha Omega Alpha Medical Honor Society 1998-present
American Medical Women's Association 

Janet M. Glasgow Memorial Achievement Citation
 1998
Alpha Gamma Sigma Honors Society 1990
Golden Key National Honors Society
 1989
Deans Honors list, UC Berkeley 1990-1992
Student Teaching Award Department of Obstetrics & Gynecology
Most Compassionate Doctor Award
Patient's Choice Award
Doctor of the Year Award

B'nai Brith International Award

Physician of the year B'nai Brith International Award
Top Doctors as seen in Los Angeles Magazine
Top Ob/Gyn in Los Angeles California Leading Physicians of the World
America's Top Obstetricians and Gynecologists Consumer Research Council of America
Super Doctors of Southern California
Memberships:
American College of Obstetrics and Gynecology 

American Board of OB-GYN 

American Medical Association 

Los Angeles County Medical Association 

Alpha Omega Alpha Honor Society
Medical Staff Privileges:
LAC-USC Medical Center
1998-2002
Cedars Sinai Medical Center
2003- present
California Hospital Medical Center
2002-2007
Hollywood Presbyterian Medical Center
2005-2007
Beverly Hills Surgery Center
2009-2012
Sunset Surgery Center
2012-2013
90210 Surgery Medical Center
2012-present
Precision Ambulatory Medical Center
2012-present
Languages Spoken:
English
Farsi
French
Spanish
Blog Articles by Dr. Thais Aliabadi:

Latest posts by Dr. Thaïs Aliabadi
(see all)