Breast changes during menopause are normal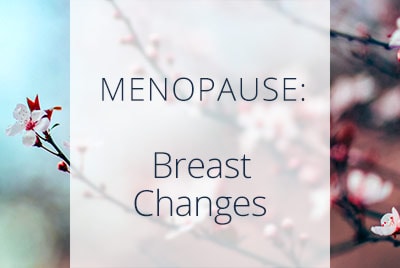 Though breast changes might have an impact on your self-esteem, rest assured that it is normal. Almost all menopausal women will notice some breast changes from menopause when they look in the mirror.
The greater cause for concern is the increased risk of cysts, fibroids, and other abnormal growths in the breast tissue. Women can develop abnormal growths at any age, but menopausal women are certainly in a higher risk category. But if you notice a breast lump, don't wait to be offered to screen – see your health care provider rule out breast cancer. Breast cancer is most common in women over 50.
You may feel discomfort in one breast or both breasts. Not all women experience breast discomfort in the same way. Breast pain in the postmenopausal years may be coming from the chest wall, arthritis of the spine, or, only rarely, from cancer.
What Causes Breast Changes from Menopause?
A natural process of aging in menopausal women is our breasts come to grips with the realities of gravity, losing their previous firmness and full shape.
But these changes can involve pain in your breasts, maybe a dull ache, heaviness, tightness, or a burning sensation. Breast pain may be linked to a menstrual cycle, and it is usually not a symptom of cancer. The hormonal changes in a woman's body post-menopause cause the skin to lose moisture and elasticity. This has a stretching, sagging effect on the breasts. Many, but not all, older women should expect to change a cup size due to the breast size changes.
Effects of hormone levels on the breasts may include increased pain and lumpiness, which understandably can be worrisome if you're looking for signs of breast cancer. A lump that gets smaller over time is unlikely to be cancer. A lump that remains the same size or gets bigger should be evaluated because of a risk of breast cancer.
What Should You Expect During Menopause?
You might see:
Nipples pointing off to the sides instead of forward
Stretching and flattening
Stretch marks
Widening of the gap between the breasts
Lumps, which may be due to minor fibroids or cysts, or a more severe condition like cancer
Are There Treatment Options?
There aren't really any medical treatments available to reverse changes in the breasts. Breast soreness should improve once your periods stop and your body no longer produces estrogen. If you take hormone therapy to treat menopause symptoms, you may continue to have sore breasts. You may be able to keep the skin healthier and more elastic with creams and lotions. Collagen and cocoa butter, found in specialty creams, lotions, and oils, have been shown to reduce stretch marks and keep the skin moisturized. Researchers found that relaxation techniques or massaging achy breasts with over-the-counter pain creams were helpful for up to 60% of postmenopausal women.
We hope you feel comfortable talking with us about these changes and more when you come to visit.
If you are experiencing breast changes in conjunction with menopause and have questions about it, please talk to your doctor

We also invite you to establish care with Dr. Aliabadi. Please click here to make an appointment or call us at (844) 863- 6700.
Save

Latest posts by Dr. Thaïs Aliabadi
(see all)