What is Mona Lisa Touch?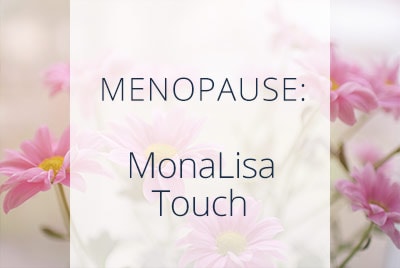 The MonaLisa Touch is a revolutionary new FDA-approved treatment for vaginal atrophy and laxity. MonaLisa Touch is a minimally-invasive technique that uses laser technology to revitalize genital tissue. The MonaLisa Touch can restore vaginal lubrication and elasticity, and it can relieve discomfort during intercourse.
Vaginal atrophy is a common symptom of estrogen deficiency. The body stops producing estrogen during menopause and after a complete hysterectomy.  Breastfeeding an infant and certain cancer treatments can also impact estrogen levels.
The decrease in estrogen production thins and weakens the vaginal walls, reducing blood flow to the area and causing inflammation and dryness. Vaginal atrophy can also cause urinary problems, such as incontinence.
Hormone fluctuations are a normal part of a woman's life, and although atrophy is not necessarily an illness, the symptoms can be unpleasant and oftentimes painful. The MonaLisa Touch can alleviate these symptoms, including:
Vaginal dryness
Genital irritation, burning, or itching
Painful intercourse
Urinary symptoms
How Does the MonaLisa Touch Work?
The MonaLisa touch directs a tiny carbon dioxide fractional laser at the vaginal walls. The laser removes dry skin, which stimulates collagen production. The tissue can then regenerate, growing healthier and more elastic, improving vaginal lubrication, and allowing for a more comfortable and enjoyable sex life.
ARVE Error: src mismatch
url: https://www.youtube.com/watch?v=BIFlax4Vyo8&t=1s
src in: https://www.youtube.com/embed/BIFlax4Vyo8?start=1&feature=oembed&wmode=opaque
src gen: https://www.youtube.com/embed/BIFlax4Vyo8?start=1Actual comparison
url: https://www.youtube.com/watch?v=BIFlax4Vyo8&t=1s
src in: https://www.youtube.com/embed/BIFlax4Vyo8?start=1&wmode=opaque
src gen: https://www.youtube.com/embed/BIFlax4Vyo8?start=1

The course of treatment consists of three sessions, spaced six weeks apart. The sessions take no longer than 5 minutes, and most patients experience no pain or discomfort. If you wish, your doctor can apply a local anesthetic cream before the procedure.
The risks of MonaLisa Touch are virtually nonexistent. The laser is small enough so as to virtually eliminate the risk of burning the skin. The MonaLisa Touch is one of the safest medical procedures available.
Who Can Benefit from MonaLisa Touch?
The technology is a safe and effective non-hormonal option for treating some of the symptoms of estrogen deficiency. Good candidates for the procedure include:
Peri-menopausal and post-menopausal women
Breastfeeding women
Women undergoing treatment for cancer
Women with a history of stroke or heart disease
Women who have undergone hysterectomy
MonaLisa Touch is a great choice for women who can't risk major surgery or hormone replacement therapy. The procedure is minimally-invasive, and there are virtually no side effects. Talk with your OB-GYN about your concerns and your medical history to determine if the MonaLisa Touch would be right for you.
MonaLisa Touch Recovery
Patients can return to their normal activities upon returning home from the procedure; however, sexual intercourse should be avoided for 2-3 days. You may experience some redness or swelling for a day or two, but you shouldn't expect pain or tenderness. Talk with your gynecologist for more information about a safe and quick recovery.
Most patients report being very happy with their results, experiencing significantly less itching, burning, dryness, and pain during sex. Although the full treatment takes three sessions, you should start to see some improvement in your condition after the first session.
[wpct-box text="If you are suffering from vaginal dryness related to perimenopause or menopause, there is now non-drug relief that is painless and very effective. It is called MonaLisa Touch. Have any questions or wish to explore more about this treatment, please call us to schedule an appointment.
Save

Latest posts by Dr. Thaïs Aliabadi
(see all)