Menopausal Sleep Disorders, causes and treatment options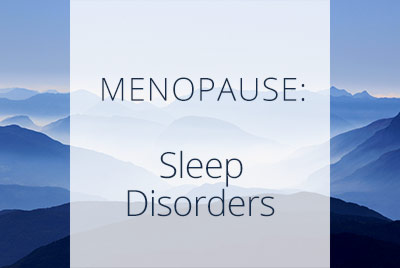 Many female patients in their late 30s and 40s with symptoms of insomnia are actually experiencing the beginning of their menopause transition, which is called perimenopause.
Menopause can bring with it significant challenges to sleep. Menopause is notorious for interfering with sleep due to bothersome hot flashes and night sweats. Insomnia and sleep disruptions from hot flashes are common in women going through menopause. At least three out of every four menopausal women will experience hot flashes, and about 60% of women will report menopausal sleep disorders due to hot flashes causing some serious sleep problems. Many menopause – or perimenopausal women – have sleep difficulties; and the same goes for postmenopausal women, who have gone without a menstrual cycle for more than one year or who are in menopause after surgical removal of their reproductive organs.
Poor sleep quality and sleep disturbance are lesser-known menopausal symptoms during this phase of life, but they're very common.
You might think that a good night's sleep is nothing but a dream once you reach a certain age. Many women experience sleep problems during perimenopause, the period of time before menopause when hormone levels and menstrual periods become irregular. Often, poor sleep sticks around throughout the menopausal transition and after menopause.
What's "good" sleep? Women should aim for between seven and eight hours of quality, uninterrupted sleep per night. The rule isn't hard and fast, though; some people need less sleep, and others need more. In general, if you're waking up regularly during the night and feel that your sleep isn't restful, those are signs that maybe you're not getting good sleep.
Both these sweats and tiredness resulting from insomnia can have a large negative effect on their subjective quality of life.
How Menopause Affects Sleep
Menopause is driven by the decline in the production of hormones, most significantly the hormones estrogen, progesterone, and testosterone. These hormones work together to regulate a woman's reproductive function and menstrual cycle. They also affect mood, energy, sex drive, cognitive and emotional abilities—and sleep—throughout a woman's life.
Estrogen also promotes healthy sleep. Estrogen helps the body use serotonin and other neurochemicals that assist sleep. Estrogen contributes to higher-quality sleep, with fewer awakenings throughout the night and less time needed to fall asleep. When I talk to my patients about estrogen, I describe it as a great protector of women's sleep and overall health.
Higher levels of estrogen are associated with a more positive mood, clear, elastic skin, greater energy and mental sharpness, and sound sleep. Low estrogen is associated with anxiety and low mood, fatigue, difficulty concentrating, physical pain including headache and migraine, weight gain, and disrupted sleep. One of the common early signs of menopause is insomnia.
Hot Flashes and Sleep
Sleeplessness due to menopause is often associated with hot flashes. These unpleasant sensations of extreme heat can come on during the day or at night. Nighttime hot flashes are often paired with unexpected awakenings.
It's common to feel like a hot flash has awakened you. Research shows that many menopausal women actually wake just before a hot flash occurs.
The changes in the brain that lead to the hot flash itself, and those changes — not just the feeling of heat — may also be what triggers the awakening. Even women who don't report sleep disturbances from hot flashes often say that they just have more trouble sleeping than they did before menopause.
Other Menopausal Sleep Disruptors
Also, at this stage of life, women can also develop sleep disorders such as sleep apnea, which may come from a loss of reproductive hormones like estrogen and progesterone. These can go undiagnosed because women often attribute symptoms and effects of sleep disorders (like daytime fatigue) to menopause itself.
Postmenopausal women are two to three times more likely to have sleep apnea compared with premenopausal women. Before you become menopausal, you're fairly protected, but the protective effect of hormones seems to be lost with menopause. Furthermore, women often have more subtle symptoms of sleep apnea than men. Thus, they may be less likely to seek evaluation for sleep apnea. Their health care providers may also be less likely to recognize sleep apnea as a possibility, further delaying evaluation and diagnosis of sleep apnea.
Other common sleep problems in this age group, such as obstructive sleep apnea and restless leg syndrome, can also worsen sleep quality.
Depressive symptoms and anxiety may also be risk factors for poor sleep during menopause.
How to Get a Better Night's Rest
The good news is that you don't have to kiss a good night's rest goodbye once you hit menopause. There are steps you can take to get better sleep.
Set a Routine
Go to bed and get up at a regular time. Routine is very important for establishing a good sleep pattern. Establishing and sticking to set times may take a few weeks, so bear that in mind. Keep a regular bedtime schedule to train yourself to sleep at the same time every night, and avoid napping during the day.
Exercise
Regular exercise can help menopausal women fall and stay asleep. Athletes, for example, tend to be highly efficient sleepers. But even for those of us who aren't professional athletes, exercise may help with sleep quality.
Exercise daily, but avoid exercise before bed.
Prescription Treatments to Help Sleep
Estrogen levels fluctuate significantly throughout the menopausal transition, then eventually fall to low levels, where they remain throughout a woman's post-menopausal life. Like many symptoms of menopause, such as mood swings, hot flashes can be treated with hormone replacement therapy (HRT), which in turn can help with sleep difficulties. Hormone therapy delivers estrogen to your system through a patch, pill, or vaginal cream to deal with your hormonal changes.
Speak to your doctor about taking conventional sleep medicines as many of these have side-effects and can only be used short-term.
Like many symptoms of menopause, hot flashes can be treated with hormone replacement therapy (HRT), which in turn can help with sleep difficulties.  HRT delivers estrogen to your system through a patch, pill, or vaginal cream.
However, there is a downside to hormone replacement therapy. Even though doctors are now prescribing HRT in low doses and for shorter periods of time, HRT has an increased risk of heart disease, breast cancer, blood clotting, and stroke. There are non-hormone options available that do not carry the same risks.  One of them is FDA approved for the treatment of hot flashes and is called Brisdelle® (fluoxetine). Other treatments include antidepressants such as Effexor® (venlafaxine), Paxil® (paroxetine), Prozac® (fluoxetine), and Lexapro® (escitalopram).  If symptoms are severe, there are other sleeping medications that can be temporarily used to provide relief.
Like many medications, these do not work for everyone. Your doctor may want to try different medications to see how they work for you.
Non-Prescription Treatments to Help Menopausal Sleep Disorders
Melatonin is a popular over-the-counter sleep-promoting supplement available to help with sleep. Our bodies produce melatonin naturally. However, some research shows these levels can decrease with age. Light can also decrease the production of melatonin, which is why it is essential to fall asleep in a dark environment. As with any other medication, it is important to discuss this option with your physician to see if it the right fit for you.
There are a few non-medicinal remedies to help improve your sleep as well.
Here are some more tips that might help you avoid hot flashes or sleep better through hot flashes.
Keep your bedroom cool at night and wear loose, light pajamas made of natural fibers.
Before bed, avoid spicy foods, which can make you sweat.
Take it easy on the caffeine, especially later in the day.
It is extremely helpful to visit your doctor to discuss menopausal sleep disorders. The research on the importance of sleep is clear; we need it in order to function at our best. Please visit us to discuss your sleeping problems or the other issues associated with menopause.
If you are suffering from sleep disorders due to perimenopause or menopause, you are not alone. There is a lot we can do now so you can finally return to getting the sleep you need. Have any questions, please talk to your doctor

We also invite you to establish care with Dr. Aliabadi. Please click here to make an appointment or call us at (844) 863- 6700.

Latest posts by Dr. Thaïs Aliabadi
(see all)