How do I know if I have cysts?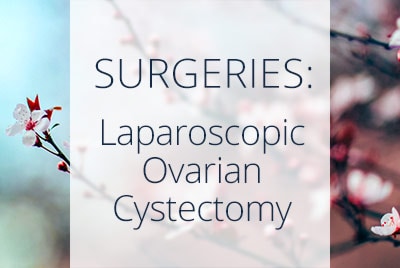 First, you should be having regular gynecology exams. These are your opportunity to talk about any (and ALL) unusual, painful, new, or just curious symptoms you may be experiencing. Even seemingly minor symptoms can indicate an issue.
Your gynecologist or general health care provider can recommend any necessary follow-up tests to find the cause of your symptoms.
These regular check-ups are generally where we discover signs of ovarian cysts. Early detection of issues can make a world of difference in your long-term health.
What is an ovarian cystectomy?
An ovarian cystectomy is a surgical procedure to remove cysts on the ovaries. A cyst is a sac of fluid that can develop inside the ovaries. You may have either cancerous or benign ovarian cysts. Your doctor will need to take a biopsy of the ovarian mass to determine if the cyst is cancerous.
Typically, a noncancerous ovarian cyst can be removed while leaving the ovaries intact. If the growths are cancerous, however, you may need an oophorectomy — removal of one or both ovaries.
After excision, new cysts may form — potentially in a previously-unaffected ovary. The only way to completely prevent cyst reformation is to remove the ovaries.
What is a laparoscopic ovarian cystectomy?
For too long the only way to perform surgery on reproductive organs was laparotomy. Laparotomy — or abdominal surgery — is a traditional, invasive surgery; the surgeon makes a long incision in the abdominal wall through which they can access the ovaries and remove the cysts.
Dr. Aliabadi focuses on laparoscopic surgery. This minimally invasive procedure only requires a couple small incisions in the lower abdomen. A thin, flexible camera is inserted into the abdomen, allowing the surgeon to see the ovary and cysts. Long, thin surgical instruments are then expertly inserted into the incisions to carefully separate the cysts from the healthy ovarian tissue.
Both surgeries are performed under general anesthesia. Generally, an abdominal surgery carries greater risks for infection or damage to tissue. However, it is a better choice when there is a large amount of tissue to be removed, or if the doctor needs to see all of the pelvic organs clearly.
Laparoscopic minimally invasive surgeries usually have quicker healing times and less pain.
For more information about our advanced minimally invasive outpatient Ovarian Cystectomies surgery, procedures, please visit our Outpatient Hysterectomy Center website.
When is an laparoscopic cystectomy performed?
Ovarian cysts are fairly common. Most cysts are not harmful and usually resolve on their own. However, some cysts can cause infertility, cause painful symptoms, or become cancerous.
A laparoscopic ovarian cystectomy may be a recommended treatment option if:
The patient has cysts or other masses in both ovaries.
An ovarian cyst has not shrunk or disappeared after three months.
A cyst is larger than three inches in diameter.
A cyst appears to be abnormal or malignant.
Your doctor suspects ovarian cancer.
If you have an ovarian cyst, your OB/GYN may recommend an ovarian cystectomy if you also:
Take birth control pills.
Have not yet started your period (children or teenagers).
Have already undergone menopause.
What tests are needed before a laparoscopic ovarian cystectomy?
Before recommending the laparoscopic surgical technique, your OB/GYN will want other diagnostic tests. These tests ensure you're receiving the best treatment plan for your situation.
Ultrasound
Examining an ovarian cyst via painless and non-invasive ultrasound is very standard and helps achieve a proper diagnosis. Essentially, we will look at the shape (regular or irregular), the size, and the composition of the cyst to determine if it is solid, fluid-filled, or a combination of the two.
MRI or CT Scan
Your doctor may recommend an MRI (or a CT Scan) to get a "better look" at solid ovarian tumors — something that a common X-ray is unable to do.
Blood tests
Blood tests are able to check multiple diagnostic factors and rule out other potential problems. A diagnostic blood test may check your hormone levels and for signs of pregnancy.
We may also perform a CA-125 test to rule out ovarian cancer. This might be needed depending on the characteristics of the cyst on the ultrasound or MRI. If your blood test indicates cancer, we will refer you to oncology for further testing and treatment.
What are the risks of an ovarian cystectomy?
An ovarian cystectomy is a relatively safe procedure, but every surgery carries some risk. Risks of ovarian cystectomy include:
recurring ovarian cysts
pelvic pain
infection
adhesions – scar tissue that causes the pelvic organs to stick together
damage to the bladder, bowel, or other pelvic tissue
What is ovarian cystectomy recovery time?
Depending on your surgeon, you may need a hospital stay for a few days. In our Los Angeles minimally invasive surgical practice, our procedures are always outpatient and you go home the same day. As soon as you are able, you should stand up and walk for a few minutes to improve your circulation. This will help decrease the risk of blood clots in the legs.
Be sure to get plenty of rest as well as some light exercise in the days and weeks following your surgery. Avoid any heavy lifting or rigorous exercise. If you have had abdominal surgery, you should be able to return to your normal activities after 4-6 weeks. For a laparoscopy, you may be fully recovered as soon as two weeks after the procedure.
About Dr. Aliabadi
As one of the nation's leading OB/GYNs, Dr. Thaïs Aliabadi offers the very best in gynecological and obstetric care. Together with her warm professional women's health team, Dr. Aliabadi supports women through all phases of life. She fosters a special one-on-one relationship between patient and doctor.
Highly trained and honored by the medical community, Dr. Aliabadi is certified by the American Board of Obstetrics and Gynecology and a Diplomat of the American College of Obstetricians and Gynecologists. She is also a recognized leader in endometriosis treatment and has even taught minimally invasive laparoscopic surgery to other surgeons across the country.
We invite you to establish care with Dr. Aliabadi. Please make an appointment online or call us at (844) 863-6700.
We take our patients' safety very seriously. Our facility's Covid-19 patient safety procedures exceed all CDC and World Health Organization recommendations. Masks are required in our office at all times during the coronavirus pandemic.
The Beverly Hills practice of Dr. Thais Aliabadi and the Outpatient Hysterectomy Center is conveniently located to patients throughout Southern California and the Los Angeles area. We are near Beverly Hills, West Hollywood, Santa Monica, West Los Angeles, Culver City, Hollywood, Venice, Marina del Rey, Malibu, Manhattan Beach, and Downtown Los Angeles.
If a Laparoscopic Ovarian Cystectomy has been recommended for you, please make sure to ask your doctor and surgeon (if they are not the same person) any and all questions you may have about it.

We also invite you to establish care with Dr. Aliabadi. Please click here to make an appointment or call us at (844) 863- 6700.

Latest posts by Dr. Thaïs Aliabadi
(see all)