Pelvic Pain Causes and Treatment Options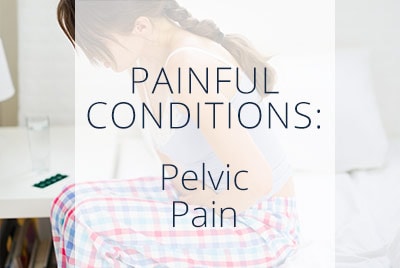 There are many causes of pelvic pain. Pelvic pain is considered to be chronic if it lasts longer than six months.
For women, pelvic pain can be a sign that there is a problem with one of the organs in your pelvic area, such as the uterus, ovaries, fallopian tubes, cervix, or vagina. Chronic pain of the pelvic region can be caused by the reproductive organs, urinary tract organs, pelvic inflammatory disease, or bowels. Chronic Pelvic pain is also known as pelvic congestion syndrome.
The pelvic pain can be intermittent, or constantly ongoing. For many, the pelvic pain follows a cycle or pattern, appearing only during the menstrual cycle or when urinating, eating, or having sex.
Unfortunately, there are times when no common cause can be identified.
Diagnosing Pelvic Pain
If you're experiencing pelvic pain, make an appointment to see your health care provider. They can provide medical advice and refer you to an OB/GYN to properly address your medical needs. Bring questions and concerns you may have. Some women find it helpful to take notes documenting their pelvic pain, when and where it occurs, how it feels, and what, if anything, makes it feel better. We will go over your personal histories, such as sexual activity and medical history, conduct a full physical examination as well as a pelvic exam, and may recommend imaging tests such as:
Ultrasound
Colonoscopy
Laparoscopy – inserting a small camera through a tiny incision to view the internal organs
Cystoscopy – using a thin, lensed tube to look inside the urethra or bladder
Sigmoidoscopy – inserting a small camera on the tip of a tube to view the rectum and lower portion of the intestines
The above procedures will help to diagnose medical conditions such as ovarian cysts, interstitial cystitis, uterine fibroids, and other condition in the pelvic organs. A condition such as Interstitial cystitis can cause pelvic pain and symptoms such as painful urination, needing to urinate frequently, and pain during sex. Other possible causes of pelvic pain are sexually transmitted diseases, painful menstrual cramps, ectopic pregnancy, and other reproductive organs.
With chronic pelvic pain, you may also experience sharp pain, low back pain, abdominal pain and pain in the lower abdomen, and irregular vaginal bleeding.
If your OB-GYN believes your pain is caused by kidney stones, urinary tract infection, or irritable bowel syndrome, or other digestive tract problems, you may be referred to a urogynecologist or gastroenterologist for diagnosis and treatment.
How is Pelvic Pain Treated?
Treatment for pelvic pain depends upon the particular diagnosis. Treatments might range from behavioral changes to surgery.
Strengthening your body
Improving your posture and getting regular exercise may help relieve certain types of pelvic pain. Your doctor will be able to instruct you if you're not sure where to begin.
Changes to your diet
Many women suffering from pelvic pain during their periods (dysmenorrhea) find that adding magnesium and vitamin B1 eases the discomfort.
Pain-relieving medication
Non-steroidal anti-inflammatory drugs (NSAIDs) are often recommended to treat pelvic pain. You can buy NSAIDs over-the-counter (ibuprofen, Aleve, Excedrin) or your doctor can prescribe prescription-strength NSAIDs to you depending on your pain.
Physical therapy
Physical therapy may ease trigger points may give relief of muscular pain. Other therapies, like acupuncture and acupressure, have been helpful in relieving chronic pelvic pain. You might also try biofeedback, a type of therapy that trains you to monitor and relax your body using a special machine.
Surgery
Although invasive techniques are usually performed as a last resort, pelvic pain can be treated by severing or destroying certain nerves that send pain signals from your organs to your brain.
If you believe you are experiencing symptoms of, or suffering from Pelvic Pain, or have questions about it, please see your doctor.

We also invite you to establish care with Dr. Aliabadi. Please click here to make an appointment or call us at (844) 863- 6700.

Latest posts by Dr. Thaïs Aliabadi
(see all)