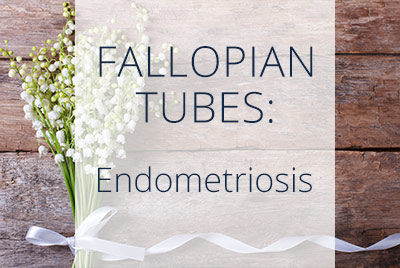 What is Endometriosis?
The endometrium is the normal mucous membrane on the lining of the uterus. During the menstrual cycle, it responds to hormones by thickening with blood vessels in preparation for pregnancy. Once this does not occur, it breaks down and becomes your period.
Endometriosis (en-doe-me-tree-O-sis) is an often painful disorder in which tissue that normally lines the inside of your uterus, the endometrium, grows outside of the uterus. Most endometriosis commonly involves ovaries, fallopian tubes and the tissue lining the pelvis. Rarely, endometrial tissue can and may spread beyond pelvic organs.
With endometriosis, displaced endometrial tissue functions as it normally would — it thickens, breaks down and bleeds with each menstrual cycle. Because this displaced tissue has no way to exit your body, it becomes trapped. When endometriosis involves the ovarian cysts, called endometriomas may form. Surrounding tissue can become irritated, eventually developing scar tissue and adhesions — abnormal bands of fibrous tissue that can cause pelvic tissues and organs to stick to each other.
Endometriosis can cause severe pain, especially during menstrual periods. Fertility problems also may develop. Fortunately, effective treatment options, from conservative to aggressive, are available.
Endometriosis affects an estimated 2 to 10 percent of American women between the ages of 25 and 40. Ovarian cancer does occur at higher than expected rates in those with endometriosis. Some studies suggest that endometriosis increases that risk, but it's still relatively low.
What is Endometriosis?
Endometriosis is a condition in which endometrial tissue grows outside the uterus. It can grow on the fallopian tubes, ovaries, the external surface of the uterus, and even the rectum, intestines, and urinary organs. The areas where the endometrium is growing abnormally are called implants.
The implants respond to hormones in the same way that the uterine lining does by thickening, breaking down, and shedding. However, since this is occurring outside the uterus, the tissue can become inflamed, irritated, and scarred. The areas of scar tissue are called adhesions. Adhesions can cause organs to stick together, which can be painful if you have endometriosis during and just before your period.
Endometriosis is fairly common, affecting around 10 percent of women in their childbearing years. Most patients are diagnosed between the ages of 30-40.
Signs & Common Symptoms of Endometriosis
Symptoms of endometriosis usually feel like severe PMS symptoms, such as:
Chronic pelvic pain caused by cramping, especially before and during your period
Painful periods
Lower back pain
Abdominal pain
Excessive menstrual cramps
Abnormal or heavy menstrual flow
Painful sexual intercourse
Painful bowel movements or urination (if implants are affecting these organs)
Please note that the amount of pain you experience is not necessarily related to the severity of the disease. Some women with severe endometriosis may experience no pain, while others with a milder form of the disease may have severe pain or other symptoms.
Endometriosis can also cause fertility problems. It's estimated that around 40 percent of women who have difficulty getting pregnant suffer from endometriosis. Inflammation of the ovaries and fallopian tubes may hurt the sperm or egg, and adhesions may cause the fallopian tubes to stick together and block the egg's path to the uterus.
Cause of Endometriosis
The exact cause of endometriosis is not certain, some explanations include:
Retrograde menstruation. Menstrual blood containing endometrial cells flows back through the fallopian tubes and into the pelvic cavity instead of out of the body. These displaced endometrial cells stick to the pelvic walls and surfaces of pelvic organs, where they grow and continue to thicken and bleed over the course of each menstrual cycle.
Transformation of peritoneal cells. In what's known as the "induction theory," experts propose that hormones or immune factors promote a transformation of peritoneal cells into endometrial cells.
Embryonic cell transformation. Hormones such as estrogen may transform embryonic cells into endometrial cell implants during puberty.
Surgical scar implantation. After a surgery, such as a hysterectomy or C-section, endometrial cells may attach to a surgical incision.
Endometrial cell transport. The blood vessels or tissue fluid (lymphatic) system may transport endometrial cells to other parts of the body.
Immune system disorder. A problem with the immune system may make the body unable to recognize and destroy endometrial tissue that's growing outside the uterus.
How is Endometriosis Diagnosed?
If you're experiencing pelvic pain and heavy bleeding or any symptom of endometriosis, make an appointment with us for an examination. Many different conditions present with similar endometriosis symptoms. At your appointment, we will go your medical history and perform a physical and pelvic exam.
The two most common are imaging tests – ultrasound, a machine that uses sound waves to produce images of organs and systems within the body and magnetic resonance imaging (MRI), a machine that uses magnets and radio waves to provide an image.
The most common type is laparoscopy. A laparoscopy is a surgical procedure in which a thin, flexible, lighted instrument is inserted through a small incision in the abdomen. The surgeon uses a small viewing instrument with a light, called a laparoscope, to look at the reproductive organs, intestines, and other surfaces to see if there is any endometriosis. The doctor may take a biopsy of the tissue for further testing.
Endometriosis Treatment Options
There are a few different treatments available for endometriosis. You and your doctor will have a discussion about the best course of treatment for you based on the severity of your symptoms and your plans to bear children in the future.
Home Remedies
Pain and cramping associated with endometriosis can be managed with nonsteroidal anti-inflammatory drugs (NSAIDs). You can buy these over-the-counter or your doctor can give you prescription-strength medications.
Hormone Therapy
Many women successfully treat endometriosis with oral contraceptives, such as birth control pills, gonadotropin-releasing hormone agonists, and progestin medications. These treatments won't cure endometriosis or remove the existing tissue, but it can reduce the growth of new tissue and prevent adhesions from forming.
Surgery
Women who are trying to get pregnant might elect to have their endometrial implants surgically treated. This can break up scarring and improve fertility. It can also reduce pain, but some women report that their pain has returned within a few years after the procedure. Combining surgery with hormone therapies seem to work best to combat both pain and fertility problems.
Hysterectomy
A hysterectomy is the surgical removal of the uterus and ovaries. Removing the ovaries significantly reduces the chance that the pain will come back after surgery. A hysterectomy is typically only used as a last resort because, after the procedure, you will no longer have a period or be able to become pregnant.
If you believe you are experiencing symptoms of, or suffering from Endometriosis, or have questions about it, please see your doctor.

We also invite you to establish care with Dr. Aliabadi. Please click here to make an appointment or call us at (844) 863- 6700.
Save

Latest posts by Dr. Thaïs Aliabadi
(see all)