What is polycystic ovarian syndrome?
Polycystic ovary syndrome (PCOS) refers to symptoms that affect hormonal imbalances in women and girls during reproductive age. The most common features of PCOS are oligo- or anovulation (irregular or non-existent ovulation), hyperandrogenism (elevated levels of "male" hormones), and polycystic ovaries (multiple ovarian cysts).
Patients with PCOS often do not ovulate or release eggs. Before trying in vitro fertilization (IVF) or other fertility treatment options, we usually begin treatment with lifestyle changes such as reducing weight or increasing exercise.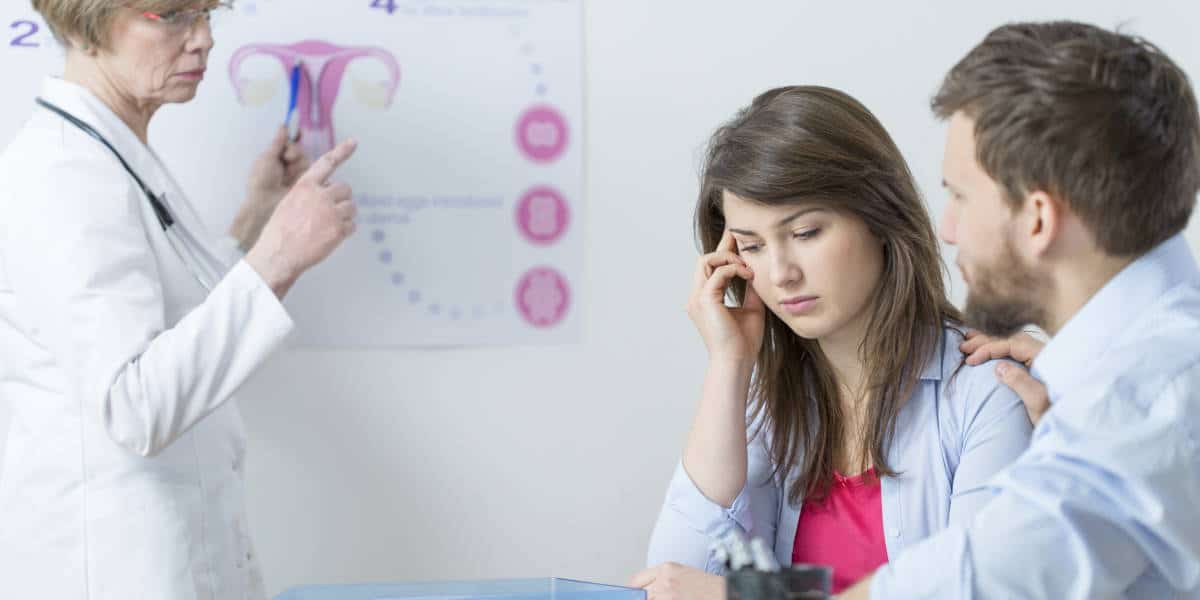 Patients with PCOS usually have at least two of the following three conditions:
An absence of ovulation or irregular menstrual cycle.
High androgen hormone levels.
Abnormal growths on one or both ovaries — these growths are ovarian follicles that have stopped developing. They are tiny sacs (cysts) of fluid along the outer edge of the ovary. The small fluid-filled cysts contain immature eggs that fail to release.
Some women diagnosed with PCOS have the first two conditions symptoms but do not have growths on their ovaries.
The exact cause of PCOS is unknown. However, early diagnosis, treatment, and weight loss may lower the risk of long-term complications.
The Centers for Disease Control and Prevention (CDC) estimate that 5 million women of childbearing age have PCOS.
What are other complications related to PCOS?
PCOS is actually the most common cause of infertility. Because symptoms can be subtle, many women don't realize they have PCOS until they try to become pregnant. Other symptoms of high androgen levels include higher-than-average amounts of face and body hair.
Because insulin resistance is a common symptom of PCOS, it can also cause weight gain. And in turn, weight gain can worsen PCOS symptoms.
Patients with PCOS may have dark patches of skin and irregular bleeding as well.
The National Institutes of Health list other complications of PCOS:
Obstructive sleep apnea — a disorder that causes pauses in breathing during sleep
Irregular insulin levels.
Abnormal hair growth.
Metabolic syndrome — a group of risk factors for heart disease and type 2 diabetes.
Obesity.
Mood disorders.
Endometrial hyperplasia — a condition in which the lining of the uterus becomes too thick.
Endometrial cancer.
Gestational diabetes.
High blood pressure during pregnancy.
Miscarriage or premature birth.
Liver problems.
Can I use IVF fertility treatment for PCOS?
Even though PCOS is a leading cause of infertility in women, IVF treatments with PCOS patients have a live birth rate of 60%.
What is the IVF process?
IVF is a popular reproductive technology option. This infertility treatment involves an intricate sequence of procedures to assist with the conception of a child.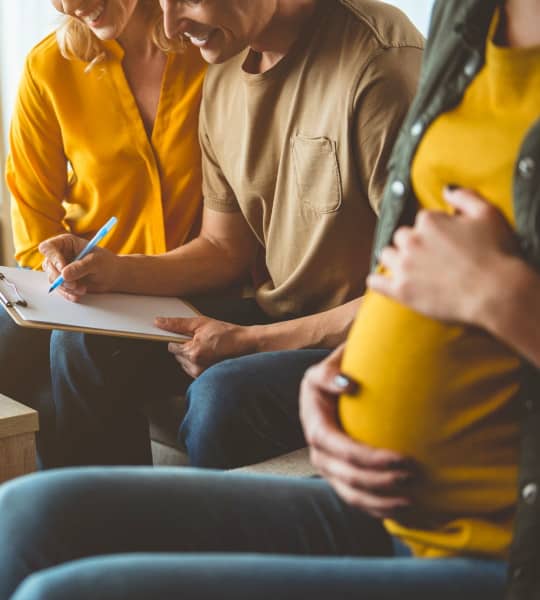 Patients undergoing IVF treatments with Dr. Aliabadi, a PCOS fertility specialist, have mature eggs retrieved from their ovaries and fertilized by sperm in a lab.
The fertilized egg (embryo) is then relocated to the uterus. The eggs or sperm may be from the couple or from a known or unknown donor. The entire process takes about three weeks.
For women with PCOS who want to become pregnant later, egg freezing — also known as oocyte preservation — is a method of  fertility preservation. The eggs are extracted now and can be thawed and used for IVF or intrauterine insemination (IUI) when you're ready to start — or continue — growing your family.
Some patients opt for a gestational carrier or IVF surrogate. Rather than being reimplanted in your uterus, the embryo transfers into a third-party's uterus.
There are several barriers involving IVF. These are:
Conception has better success with women under 35.
IVF can be extremely expensive.
The process can be invasive.
If more than one embryo is implanted, you may be a multiple pregnancy (twins, triplets, etc.)
Dr. Aliabadi will explain the IVF process to you during your consultation. She will then answer questions, explain the risks and whether IVF is the right approach for you.
How can I increase conception odds?
After making lifestyle changes to improve fertility or reduce PCOS symptoms, women with no or infrequent ovulation may decide to pursue IVF. The doctor first prescribes medication to boost ovulation induction. Oral fertility drugs, including Letrozole and clomiphene citrate (Clomid, sometimes taken with metformin), encourage ovulation.
Dr. Aliabadi may turn to injection-delivered fertility medications if oral drugs do not work. These drugs are quite effective at stimulating egg growth. However, continuous medical supervision is necessary because injections can produce several eggs, which poses a risk of multiple births.
Does IVF work for PCOS?
When neither the significant other nor mother can generate fertile eggs, egg donation may be a realistic option. If an acquaintance is unavailable to donate, the next stop would be a donor egg bank. These facilities offer high-grade eggs from donors who are thoroughly screened before IVF egg retrieval. Screening entails background checks, drug screenings, psychological evaluations, and physical examinations.
Dr. Aliabadi is well-versed in the most-reputable donor banks.
A distinct advantage of IVF with donor eggs is that no egg-stimulation drugs are required. Though patients must still take progesterone and estrogen to maintain uterine health, they avoid the risk of ovarian hyperstimulation syndrome (OHSS).
OHSS is an exaggerated response to excess hormones and causes the ovaries to swell and become painful. This condition can be dangerous for a PCOS patient.
Upon completing the implantation of a donor egg IVF cycle, the pregnancy rate of successful clinical births nearly mimics that of a patient without PCOS. The IVF success rate for PCOS is approximately 60%.
What are the risks of PCOS-IVF pregnancy?
Miscarriages and abortions because the embryo is fertilized and implanted inside a lab instead of under natural conditions. Due to this, IVF treatments have very high rates of miscarriages.
Congenital disabilities can effect babies conceived from IVF treatment
Emotional and psychological problems with IVF can be traumatizing and anxiety-producing. We suggest you have an external emotional support system during this procedure.
Why PCOS patients looking for an IVF doctor turn to Dr. Aliabadi

Highly trained and honored by the medical community, Dr. Aliabadi is certified by the American Board of Obstetrics and Gynecology and is a Diplomat of the American College of Obstetrics.
An acknowledged expert in the field of medical fertility, Dr. Aliabadi uses the most advanced, state-of-the-art technology and treatment options. She specializes in up-to-date, minimally invasive surgical techniques, promising her patients shorter recovery times, reduced pain, and minor interruption to their daily lives.
Supported by her friendly, professional team, Dr. Aliabadi treats women through all phases of life and cherishes the special one-on-one relationship between patient and doctor. She is well-known to be an excellent listener and sympathetic to women's issues and their right to have control of their bodies.
Make an appointment online or call us at (844) 863-6700.
The gynecology practice of Dr. Thais Aliabadi is conveniently located for patients throughout Southern California and the Los Angeles area. We are near Beverly Hills, West Hollywood, Santa Monica, West Los Angeles, Culver City, Hollywood, Venice, Marina del Rey, Malibu, Manhattan Beach, and Downtown Los Angeles.

Latest posts by Dr. Aliabadi Education Team
(see all)