What is Abnormal Vaginal Bleeding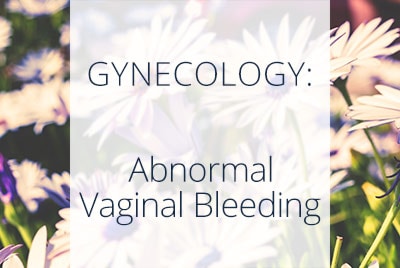 In women's health, the normal menstrual cycle occurs every 28 days, and the period of bleeding lasts anywhere from 3 – 7 days. Abnormal vaginal bleeding is bleeding that occurs outside of this pattern and sometimes indicates that there is a problem with your cervix or uterus.
Abnormal bleeding is often linked to the failure of regular ovulation. Doctors call the problem abnormal uterine bleeding or anovulatory uterine bleeding. AUB is more common in teenagers and in women who are approaching menopause.
Abnormal bleeding can be described as:
Spotting or bleeding between menstrual periods
Heavy bleeding
Bleeding for a longer period of time than normal
Bleeding after sex
Bleeding after menopause
Lack of menstrual bleeding for 3-6 months, also known as amenorrhea
Abnormal Vaginal Bleeding, Causes and Treatment Options
While abnormal bleeding may indicate that something is wrong, some irregular bleeding women experience can be normal at certain stages of life. For instance, girls ages 9-15 might experience some abnormal bleeding while their menstrual cycles are just getting started. Additionally, as women approach the age of menopause, their cycles may get longer, or they may skip a period once in a while. Vaginal bleeding is considered abnormal in postmenopausal women. Women who are taking combined estrogen and progesterone hormone therapy may experience some light, irregular vaginal bleeding during the first few months of this treatment. These are both examples of times when women's monthly cycles are adjusting to their fluctuating levels of hormones.
Possible Causes of Abnormal Bleeding
Sometimes abnormal bleeding can signal a more serious problem. Some common causes include:
Infections (cervical or uterine)
Sexually transmitted infections/pelvic inflammatory diseases
Issues with a birth control device (intrauterine device or birth control pills)
Blood clotting problems
Uterine fibroids
Polyps
Pregnancy
Ectopic pregnancy. A pregnancy where the fertilized egg begins to grow in a place other than inside the uterus, usually in the fallopian tubes.
Miscarriage
Adenomyosis (a disorder of the endometrial tissue)
Endometrial hyperplasia
Polycystic ovary syndrome
Cervical cancer
Uterine cancer
Vaginal cancer
Perimenopause. As you get closer to menopause, your hormone levels change, and the lining of your uterus gets thicker. This can sometimes lead to spotting.
If you're concerned about abnormal vaginal bleeding, please make an appointment with us, your women's health care specialist, so we can perform a full evaluation and workup. If you can, keep a log of the dates that you begin and stop bleeding, and record whether the bleeding was light, medium, or heavy, and as well as any other symptoms you may have.
Testing and Diagnosis of Abnormal Bleeding
The causes of abnormal vaginal bleeding vary widely. Again, keep a diary of your menstrual flow for discussion with your doctor. At your appointment, we'll perform a pelvic exam and ultrasound. We may ask that you take a blood test and/or a pregnancy test. Some other tests can help with diagnosis as well. Depending on the results of your exam and blood test, we may want to get a better idea of what's going on in your uterus by using:
MRI
Sonohysterography – A procedure in which an ultrasound is performed after the uterus is filled with fluid.
Hysteroscopy – a long, thin device with a light and camera at the end is inserted through the cervix to view the inside of the uterine cavity.
Endometrial biopsy – A sample of endometrial tissue is taken from the uterine lining and examined under a microscope.
Treatments for Abnormal Vaginal Bleeding
Your particular course of treatment will depend on your diagnosis, age, and family planning wishes.
Women who have abnormal, heavy periods or irregular bleeding sometimes:
Read More
Prescribed birth control pills or other hormonal birth control treatments (injections, rings, creams, or an IUD) in an effort to regulate their cycles. Your doctor can discuss your options with you. Some women have to try a few different types of hormonal treatments to address hormone imbalance before they find the one that works for them.
Recommended other drugs used to treat abnormal bleeding include antibiotics (for infections) and NSAIDs (non-steroidal anti-inflammatory drugs) like ibuprofen, which can control heavy bleeding and ease cramping.
Endometrial ablation destroys the lining of the uterus. It stops or reduces the total amount of bleeding. These surgeries will permanently reduce bleeding or stop the bleeding entirely and should only be performed when a woman is sure that she no longer wants to get pregnant.
Uterine artery embolization is a procedure used to treat fibroids. This procedure blocks the blood vessels to the uterus, which in turn stops the blood flow that fibroids need to grow. Another treatment, myomectomy, removes the fibroids but not the uterus.
Hysterectomy, the surgical removal of the uterus, is used to treat some conditions or when other treatments have failed. Hysterectomy also is used to treat endometrial cancer. After the uterus is removed, a woman can no longer get pregnant and will no longer have periods.
show less
If you believe you are experiencing symptoms of, or suffering from Abnormal Vaginal Bleeding, or have questions about it, please see your doctor.

We also invite you to establish care with Dr. Aliabadi. Please click here to make an appointment or call us at (844) 863- 6700.

Latest posts by Dr. Thaïs Aliabadi
(see all)