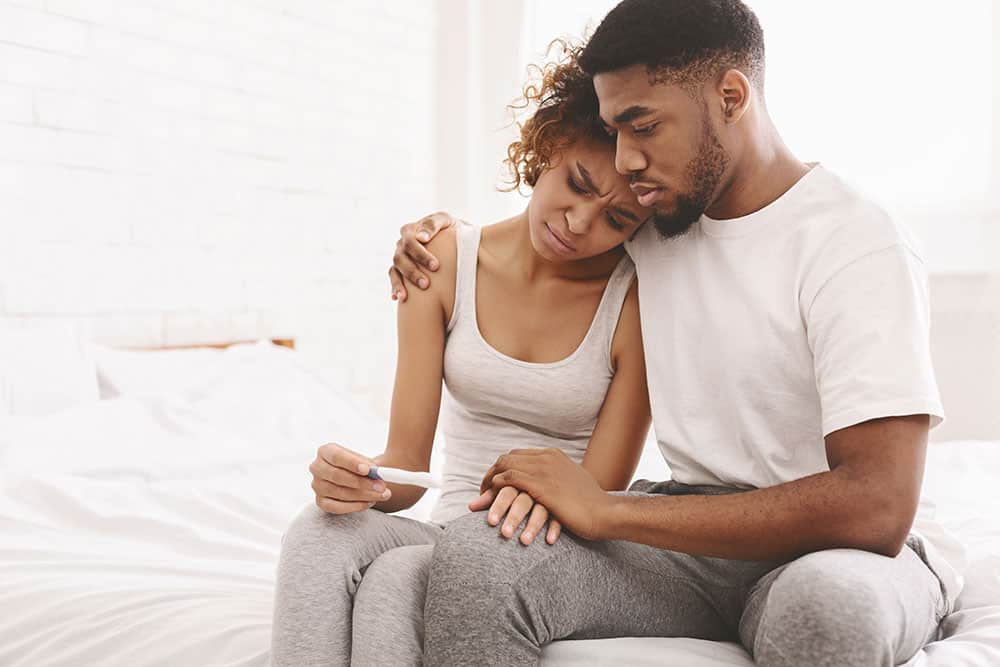 If you and your partner are having a hard time getting pregnant, you may be one of the millions of couples struggling with infertility. In the United States, infertility affects roughly 15% of couples. Fortunately, reproductive technology has advanced in recent years and couples have multiple pathways to achieve a healthy pregnancy.
What is infertility?
A couple is considered infertile if they are unable to get pregnant after actively trying for one year. About half of couples are able to get pregnant after trying for six months. According to the CDC, about 20% of married women are infertile.
However, in one-third of couples who struggle to conceive, the issue is male infertility. The couple's infertility may be due to a problem with either partner's medical conditions, reproductive system, or both. Infertility is sometimes a symptom of an underlying health problem that needs medical attention.
When should I see my OB/GYN about infertility?
If you have been trying to conceive for at least a year, make an appointment with your gynecologist. You may want to visit your doctor earlier if you are having difficulty getting pregnant and are over 35 or have any of the following:
Irregular or absent menstrual cycles.
Endometriosis, pelvic inflammatory disease (PID), polycystic ovary syndrome (PCOS), or have been treated for cancer.
Previous fertility problems or more than one miscarriage.
Some underlying causes of infertility can be treated; others may require assisted reproductive technology (ART).
What are the main causes of infertility in men?
In one-third of couples, male factor infertility is responsible for difficulties with getting pregnant. There are many potential causes for male infertility.
Low sperm count or abnormal sperm
Common causes of low production of sperm can be due to genetic defects, diabetes, infections, injuries, or past surgeries. As a man ages, sperm production decreases, along with sperm motility, thus reducing the chances of pregnancy.
Problems with sperm transference
The patient may have problems with premature ejaculation, or there may be a blockage due to a past injury or surgery. Some conditions may cause semen to flow into the bladder instead of through the penis — known as retrograde ejaculation.
Damage due to cancer treatment
Men who have undergone radiation or chemotherapy may have sustained damage to sperm production.
Chemical or toxic exposure
Abusing substances such as tobacco, alcohol, marijuana, and steroids may affect a man's fertility. Overexposure to pesticides or heat can also damage sperm production.
What are infertility tests for men?
Evaluation for male fertility will include a medical history and physical examination by their healthcare provider. In some cases, examination using trans-rectal ultrasound (TRUS) can be used to identify specific abnormalities — such as obstructions blocking the sperm from being released. The absence of sperm (azoospermia) can also be due to missing vas deferens or seminal vesicles.
Semen analysis
Semen analysis is the primary test for infertility in men. Collection and prompt evaluation of a sample of semen can help determine whether there are any defects in the number, shape, or motility (movement) of sperm.
Blood tests
Hormone levels can impact male fertility. Your doctor may order a blood test to evaluate:
Free and total testosterone
Luteinizing hormone (LH)
Follicle-stimulating hormone (FSH)
Prolactin (PRL)
Sex hormone-binding globulin
Biopsy
In some instances, a biopsy of testicular tissue can identify infertility problems such as sperm production, abnormal growths, tumors, or underdeveloped reproductive organs.
What are the main causes of female infertility?
Endometriosis
Endometriosis is a relatively common disorder in which endometrial tissue grows outside the uterus.
Disordered ovulation
Certain hormonal disorders — such as PCOS — can prevent proper ovulation. In fact, PCOS is the leading cause of infertility in women. Eating disorders, excessive exercise, tumors, or trauma can also inhibit ovulation.
Tubal factors
Some conditions cause scarring or blockages of the fallopian tubes, which prevents the egg and sperm from joining.
Your fallopian tubes, which move the mature egg from your ovaries to your uterus, may be partially or completely blocked by adhesions. Adhesions are areas of scar tissue that cause organs to become stuck together and prevent the egg's movement. Diseases such as endometriosis, salpingitis, pelvic inflammatory disease, and certain sexually transmitted infections can cause adhesions. They are also often the result of tubal surgery.
Abnormal conditions in the uterus
Some conditions prevent the fertilized egg from properly implanting in the uterus — such as uterine fibroids, uteruine septum, or an abnormally-shaped uterus.
Early menopause
Some patients experience early menopause — also known as primary ovarian insufficiency — before age 40. Perimenopause refers to the years before menopause when the ovaries gradually start to produce less estrogen. During this time, estrogen levels fluctuate, which can cause heavy, irregular menstrual cycles and cramping. If you're experiencing these symptoms, early menopause may be the cause of your infertility.
Cancer, cancer treatment, hypothyroidism or hyperthyroidism
All are known to potentially interfere with the ability to conceive. Many cancer patients take advantage of fertility preservation technology before beginning cancer treatment. Freezing eggs early improves your chances of a healthy pregnancy later. read how your general health can impact fertility.
What are fertility tests for women?
There are several tests that can be performed to evaluate the function of your reproductive system and determine what fertility care is best for your situation. In addition to a physical exam, your gynecologist can conduct:
Ultrasound
A pelvic ultrasound or a hysterosonography can help detect the presence of disease or abnormality
X-ray imaging
Hysterosalpingography is an X-ray imaging technique that can show your doctor the shape of your uterus and fallopian tubes — as well as determine if there are any blockages.
Hormone testing
Reproductive endocrinology is an entire area of medical care dedicated to the hormonal aspect of fertility. Your doctor can check your hormone levels, as well as evaluate the function of your thyroid and pituitary glands to see if they're contributing to your fertility problems.
Ovarian reserve testing
Your doctor can test the quality and quantity of your eggs with blood tests.
Genetic testing
In rare cases, a genetic defect may be affecting your ability to get pregnant.
Laparoscopy
This is a minimally-invasive surgical technique that can help your doctor diagnose problems inside your pelvis that may be causing infertility. A small incision is made in your lower abdomen, and a slender, flexible tube fixed with a camera is inserted to examine your uterus, ovaries, and fallopian tubes.
What are my infertility treatment options?
While some causes of infertility can be directly addressed or worked around, some patients may need more advanced fertility services. If your OB/GYN finds a problem, they may refer you to a fertility specialist — such as a reproductive endocrinologist — to assist you on your family building journey.
Your OB/GYN and fertility specialist will work together to develop your fertility treatment plan and monitor your progress. With recent advancements in reproductive medicine, more couples are being given the opportunity to start their families.
In vitro fertilization (IVF)
Probably the most well-known ART procedure, IVF is able to bypass many fertility problems related to sperm quality, egg quality, or ovulation irregularities. IVF is also commonly used by LGBTQ couples looking to start a family.
Sperm and egg donors make pregnancy possible for couples struggling to conceive due to sperm or egg deficiencies.
Patients preparing to undergo cancer treatment or who want to postpone family building until later in life also benefit from IVF in conjunction with egg freezing. Healthy eggs can be extracted, stored at a fertility center, and re-implanted when you're ready to start your family.
With advances in preimplantation testing, IVF is also a useful tool when genetic conditions make it difficult to carry a pregnancy to term. The fertility clinic fertilizes multiple eggs, then selects the healthiest, most viable embryo. This process can greatly increase your success rate.
Surrogacy
In addition to donor eggs and sperm, third party reproduction options also include surrogacy (also known as a gestational carrier).
For uterine factor infertility — an absent or non-functioning uterus — a third-party carrier presents a great family building option. The process is identical to IVF, but instead of the mother-to-be undergoing the embryo transfer, the gestational carrier receives the prepared embryo.
Intrauterine insemination
Intrauterine insemination (IUI) bypasses problems with sperm or the ejaculation mechanism. Also called "artificial insemination," the partner or donor sperm are processed and prepared at the fertility clinic and then inserted into the uterus at the time of ovulation. The preparation of the sperm also increases the odds of successful fertilization and implantation.
Worried about infertility? Make an appointment with Los Angeles' Dr. Aliabadi
As one of the nation's leading OB/GYNs, Dr. Thaïs Aliabadi offers the very best in women's health and well-being. Together with her warm professional team, Dr. Aliabadi provides compassionate care for women through all phases of life. She fosters a special one-on-one relationship between patient and doctor.
Highly-trained and honored by the medical community, Dr. Thais Aliabadi is board-certified and a Diplomat of the American College of Obstetrics and Gynecology. She implements the most advanced, state-of-the-art technology and treatment options. Dr. Aliabadi specializes in up-to-date, minimally invasive surgical techniques, promising her patients shorter recovery times, reduced pain, and the least interruption to their daily lives.
We also invite you to establish care with Dr. Aliabadi. Please make an appointment online or call us at (844) 863- 6700.
The practice of Dr. Thais Aliabadi is conveniently located to patients throughout Southern California and the Los Angeles area. We are near Beverly Hills, West Hollywood, Santa Monica, West Los Angeles, Culver City, Hollywood, Venice, Marina del Rey, Malibu, Manhattan Beach, and Downtown Los Angeles.
If you are experiencing infertility issues or have any questions about it, please talk to your doctor.

We also invite you to establish care with Dr. Aliabadi. Please click here to make an appointment or call us at (844) 863- 6700.
Save
Save

Latest posts by Dr. Thaïs Aliabadi
(see all)