Flushed, reddened skin, sweating, and an uncomfortable feeling that you're boiling in your skin: hot flashes are often one of the first signs of menopause. Many women find menopausal hot flashes negatively impact their quality of life, and up until recently, the primary treatment was hormone replacement therapy (HRT). This has fallen out of favor due to fears of adverse effects, such as increased risk of heart disease, stroke, and breast cancer.
Fortunately, a new treatment option may be able to treat hot flashes without the risk. Gabapentin, an anticonvulsant, may be effective for the treatment of hot flashes.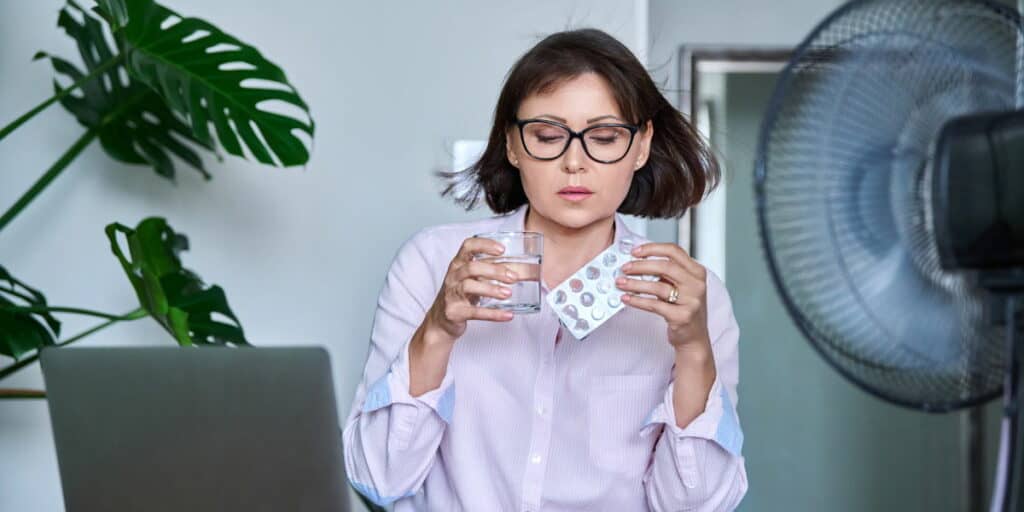 What is gabapentin?
Often sold as Neurontin, gabapentin is approved by the Food and Drug Administration (FDA) for the treatment of epilepsy. It has also been used off-label for mood disorders, fibromyalgia, insomnia, diabetic neuropathy, and, today's topic, hot flashes.
How does gabapentin work?
Gabapentin treats issues involving the gamma-aminobutyric acid (GABA) system. GABA is a naturally occurring amino acid that slows down your brain by blocking signals in your central nervous system.
GABA plays a role in:
Reducing anxiety
Blocking pain signals from damaged nerves
Lowering activity in the hypothalamus (the region of the brain that controls temperature, hunger, and heart rate)
Is gabapentin safe?
Gabapentin has been commercially available since 1993, so its side effects and drug interactions are well-understood. Common side effects of gabapentin include sleepiness, drowsiness, dizziness, diarrhea, blurred vision, and dry mouth. These usually go away a few weeks after starting treatment.
In rare cases, gabapentin can have more severe side effects, such as swelling of the extremities and increased suicide risk. It may also cause sexual dysfunction, which is already common among postmenopausal women.
On the whole, gabapentin is a perfectly safe, non-hormonal intervention for reducing hot flash frequency.
Gabapentin and hot flashes
Gabapentin is commonly used in neurology but rarely in gynecology. As it's mainly used to prevent seizures, it's difficult to see how it could help with hot flashes or night sweats. To understand how it could relieve your hot flashes, let's look at what causes menopause.
During menopause, your production of estrogen, progesterone, and testosterone reduces, and you eventually stop ovulating. Estrogen and progesterone all help regulate metabolism, mood, bone density, and brain function, so with lower levels of these hormones, your body undergoes many changes.
How does gabapentin help with hot flashes?
As GABA slows down activity in the part of the brain that controls body temperature, it stands to reason that gabapentin could have the same effect. Although the FDA has not approved Neurontin for hot flashes, there's some good evidence that it's effective.
A study from the University of Rochester showed that gabapentin was effective in reducing hot flashes in patients with a damaged hypothalamus, and there have been over 20 studies on menopausal women that show similar results.
What is the gabapentin dosage for hot flashes?
As the FDA hasn't approved gabapentin for menopause, doctors must consider study results or their own clinical experience. The American Association of Family Physicians reports success with dosages between 900 and 2,400 mg daily.
However, higher doses aren't always necessary to reduce the severity of hot flashes. Some studies show that just a 300 mg dose of gabapentin can be an effective treatment for hot flashes in patients who don't want or can't have hormone therapy.
Are there any special precautions?
The most common adverse event reported in gabapentin testing is drowsiness, but this has proven helpful in reducing menopausal sleep disturbances, especially when taken before bed.
While use of gabapentin is generally safe, make sure to follow-up with our OB/GYN if you notice any disruptive side effects.
Is gabapentin better than the alternatives?
There are many treatments for hot flashes, but gabapentin may be a better choice for some women. Studies have found gabapentin to be effective in relieving severe hot flashes after just 12 weeks of treatment.
Other treatments for hot flashes include:
Hormone replacement therapy (HRT)
While there are some concerns about HRT, it is still considered the primary treatment for menopause. Oral estrogen and estrogen creams are the first line of treatment for menopause symptoms but may increase your risk of blood clots and breast cancer.
For many patients, the benefits outweigh the risk, but the risk does make some people hesitant.
Nonhormonal therapies
Common nonhormonal treatment for hot flashes includes:
Selective serotonin reuptake inhibitor (SSRI) antidepressant medications such as venlafaxine, fluoxitine, and paroxetine.
Pregabalin, an anticonvulsant medication similar to gabapentin, has also shown promise in reducing menopausal symptoms.
Blood pressure medication clonidine is also used (albeit uncommonly) to help reduce hot flashes.
Lifestyle changes
Generally, healthy women seem to have less severe menopausal symptoms. If you're suffering from hot flashes, exercising, reducing stress, giving up smoking, and maintaining an active sex life could help.
Do you live near LA and suffer from hot flashes? Talk to Dr. Aliabadi
For Dr. Aliabadi, healthcare must always be rooted equally in empathy and scientific evidence. For this highly trained, board-certified OB/GYN, the lifelong partnership between a woman and her doctor is worth going the extra mile. This may mean diving deep into The Lancet to keep up with the latest developments or clearing an extra slot to meet with a patient and address their concerns.
We invite you to establish care with Dr. Aliabadi. Please make an appointment online or call us at (844) 863-6700.
Dr. Thaïs Aliabadi's practice and the Outpatient Hysterectomy Center are conveniently located for patients throughout Southern California and the Los Angeles area. We are near Beverly Hills, West Hollywood, Santa Monica, West Los Angeles, Culver City, Hollywood, Venice, Marina del Rey, Malibu, Manhattan Beach, and Downtown Los Angeles.
Sources
North American Menopause Society. Nonhormonal management of menopause-associated vasomotor symptoms: 2015 position statement of The North American Menopause Society. Menopause. 2015.
Pandya KJ, Morrow GR, Roscoe JA, et al. Gabapentin for hot flashes in 420 women with breast cancer: a randomized double blind placebo-controlled trial. Lancet 2005; 366:818–24. DOI 10.1016/S0140-6736(05)67215-7
Pockaj BA, Gallagher JG, Loprinzi CL, et al. Phase III double-blind, placebo-controlled, crossover trial of black cohosh in the management of hot flashes: NCCTG trial NOICC. J Clin Oncol 2006; 24:2836–41.
Reddy, S.Y., Warner, H., Guttuso, T.et al. Gabapentin, estrogen, and placebo for treating hot flushes: a randomized controlled trial. Obstet Gynecol 2006; 108: 41–8.