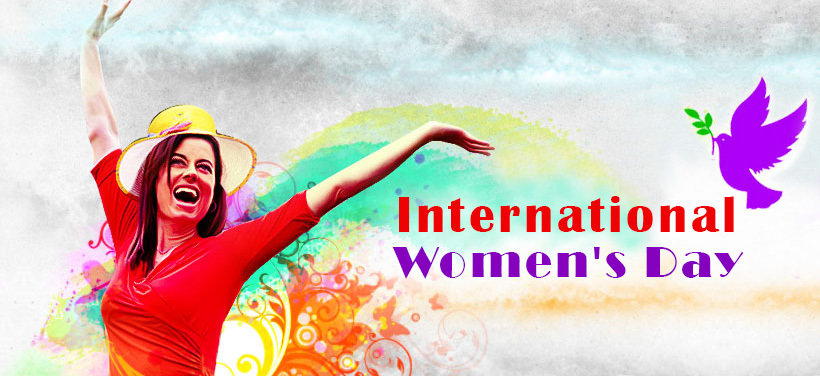 International Women's Day is celebrated annually on March 8 in many countries around the world.  It's a day to recognize acts of courage and determination by women who have played an extraordinary role in the history of their countries and  communities.
For over 100 years, International Women's Day has been celebrated on March 8. Every year the world comes together to support and inspire women from all walks of life and fields of work.
What we see today is a remarkable gathering of strength among women all over the world
This year's focus continues to mark a global recognition of the female activists whose passion and commitment have won women's rights over the generations. All around the world, women are making significant positive gains each and every day. It's a time to reflect on progress made and to continue to call for change. It's a time to celebrate acts of courage and determination by ordinary women who have played an extraordinary role in the history of their countries and communities.
What is #PressForProgress?
In addition to recognizing past gains, IWD issues a call to accelerate global gender equality. The World Economic Forum's 2016 Global Gender Gap Report informed us that the goal of true gender parity was 83 years away. But the 2017 Gender Gap Report estimates that the pace of equality has slowed. At the 2017 rate, equality won't be reached for over 100 years. This discouraging news means there has never been a more significant time to discard complacency and press ahead on women's rights, equality, safety and justice. These considerations have led to IWD's theme for 2018: "Press for Progress".
The UN also has a theme for International Women's Day
The United Nations formally celebrated IWD for the first time in 1975. In 1996 the UN began to adopt an annual IWD theme. The theme for 2018 is "Time is Now: Rural and Urban Activists Transforming Women's Lives".
The UN has adopted IWD as a strategic pillar of its 2030 Agenda. The Agenda is working pledge to accelerate achievement of gender equality for women and girls and the provision of inclusive high-quality education for all. Some of the 2030 Agenda goals are to:
 Ensure that all girls and boys have access to free, equitable, and high-quality education.
 End all forms of discrimination against all women and girls everywhere.
 Eliminate all forms of violence against all women and girls, in both public and private spheres.
 Eliminate harmful practices such as child marriages, forced marriages, and female genital mutilation.
How did IWD grow to be such a powerful movement?
In the early 1900s, inequality and oppression motivated women to find their voices and campaign for change. In 1908, 15,000 women marched through New York City, demanding shorter work hours, more wage equity, and the right to vote.
The Socialist Party of America observed a National Woman's Day in New York on February 28, 1909. A National Woman's Day was observed throughout the United States on the last Sunday of February until 1913.
In 1910, an International Women's Conference of Working Women was held in Copenhagen, Denmark. The 1909 demonstration in New York inspired delegates to the 1910 Copenhagen Conference to propose the establishment of an annual International Women's Day. It was a strategy to promote the then far distant goals of universal equal rights for women and worldwide achievement of women's right to vote.
The first celebrations of IWD were held on March 19, 1911, in Austria, Denmark, Germany, and Switzerland. More than 1 million women (and men) attended IWD rallies striving for women's rights to work, vote, be educated, hold public office, and end discrimination.
In 1913, the date of March 8 was proposed as the permanent chronological home for IWD. It has been celebrated on March 8 every year since then.
Why on March 8?
Historians link IWD's celebration on each March 8 with the story of Hypatia of Alexandria, a fourth century A.D. woman who was one of the world's first female mathematicians and inventors. A local patriarch (Cyrus) accused Hypatia of sorcery, and she was publicly murdered. Some accounts, perhaps apocryphal, report her date of death as March 8.
Unity, celebration, reflection, advocacy and action
"The story of women's struggle for equality belongs to no single feminist nor to any one organization but to the collective efforts of all who care about human rights," says world-renowned feminist, journalist and social and political activist Gloria Steinem.
And on March 8, 2018, New York City is expecting thousands of people to march in observance of International Women's Day. The rally will include many special guest speakers and other events planned throughout the city.
UN Secretary-General, Antonio Guterres says, "On International Women's Day, let us pledge to do everything we can to overcome entrenched prejudice, support engagement and activism, and promote gender equality and women's empowerment."
International Women's Day is all about unity, celebration, reflection, advocacy and action. Be it personal or public, one thing is for certain. IWD has been a regular event for well over a century and I expect it will only continue to grow. Let me know what you think!  Thaïs
Read the full article at: www.womensdaycelebration.com

Latest posts by Dr. Thaïs Aliabadi
(see all)
Reader Interactions