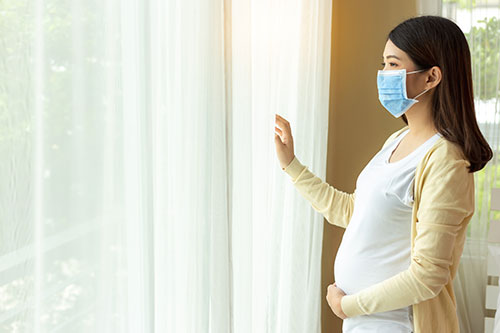 The COVID-19 outbreak raging in our country is leaving expectant mothers with a lot of difficult questions and not many reliable answers.
And that uncertainty has caused behavioral health experts and health care providers to warn of a virtual tidal wave of increased maternal mental problems.
6 FAQs about pregnancy in the time of COVID-19
Techniques for avoiding the novel coronavirus are the same for pregnant people as for the non-expectant according to the Centers for Disease Control and Prevention. Professional levels of handwashing, diligent social distancing, and consistent mask-wearing will work for anyone and everyone.
But even the most conscientious adherence to these practices can't guarantee a pregnancy that is free from the coronavirus infection. And pregnant women, of course, have to worry about two.
There's no question that the fear of coronavirus disease is adding significantly to the worry load generally imposed on pregnant women. COVID-19 related questions that are unique to pregnant women abound, and the answers are a mixed bag, often concluding with "We don't know that answer yet."
But there are some things that we are pretty sure about, and here are six of the most popular questions OB-GYN's are asked:
1. Does my pregnancy make me more likely to contract the virus?
No evidence currently shows that being pregnant increases a woman's risk of getting COVID-19.
2. If I do get the virus, will my pregnancy make my case more severe than other people's?
There is little evidence that pregnancy tends to make a COVID-19 case more severe.
3. Does contracting COVID-19 make complications of pregnancy more probable?
Having the virus does seem to increase the risks of miscarriage and preterm births. And the statistics indicate that cesarean births are significantly more common among women with the virus.
4. Will I be able to have my husband or another support person with me in the delivery room?
In the early stages of the pandemic, some hospitals underestimated a pregnant woman's need for tangible support during labor. Many women were forced to go through delivery without family members and with only the hospital staff for company.
Thankfully, that practice has all but disappeared, so Facetime, Zoom and Skype deliveries are basically a thing of the past.  You'll almost certainly be able to have at least one person of your choice with you throughout delivery.
5. If I do have COVID-19, am I likely to pass it on to my baby?
Based on the currently available evidence, it seems highly unlikely that a mother can transmit the virus to her baby in the womb.
6. If I have the virus, will my baby be immediately taken away for quarantine?
Given the current state of knowledge, it seems advisable to err on the side of caution. So, babies are being quarantined away from new mothers with the virus.
A little good news for pregnant women with coronavirus
There is some relatively encouraging news for mothers-to-be who have contracted the coronavirus. Most pregnant women who do catch the virus tend to have cases that are asymptomatic to moderate. So far, the more severe cases are showing up in senior and health-compromised populations, and pregnant women tend to be young and healthy.
COVID-19 has created a parallel pandemic of maternal mood anxiety disorders
Even before the presence of the viral pandemic, it was practically impossible for a pregnant woman to avoid anxiety about childbirth. And more severe mental symptoms of 
postpartum depression 
were not at all uncommon.
According to the California Health Care Foundation (CHCF), maternal mental health disorders are the most common medical complication in the timeframe surrounding childbirth (the perinatal period).
At least one of every seven perinatal women in the United States is affected by a maternal mental health disorder. And this was true even before the advent of the coronavirus pandemic's stressful times.
All the ordinary uncertainty that accompanies every pregnancy, when compounded by the additional pressures resulting from the pandemic, has caused a parallel pandemic of maternal mental health problems.
Conditions once called maternal depression and baby blues, or known as postpartum mood disorders, are now more inclusively described as perinatal mood and anxiety disorders (PMADs). Experts are warning that COVID-19 is causing a virtual tsunami of PMADs.
What causes perinatal mood and anxiety disorders?
PMADs are caused by neurobiological factors and environmental stressors. Risk factors include a prior history of depression, anxiety, or bipolar disorders, as well as psychosocial factors, like a conflict with a partner, poor social support, and ongoing stressful life events.
The perinatal period is already a vulnerable time for women. The hormonal fluctuations that accompany pregnancy and induce delivery converge with the sleep deprivation all too common in the early postpartum period.
When the additional stress from the coronavirus (and the strict public measures necessary to combat it) are all stirred into that mix, a witches' brew of mental difficulty ensues.
One physician's response to treating perinatal depression and mood disorders
Poona Lakshmin, a psychiatrist who specializes in the treatment of perinatal depression, has seen a startling increase of intrusive worry, obsessions, compulsions, feelings of hopelessness, and insomnia in her patients. She has heard her patients voice fears about a number of anxiety-producing scenarios:
Delivering without a support partner
Having her baby "disappeared" immediately after delivery
Recovering from COVID-19 with a brand-new baby, but without the help of family or friends
Being unable to breast-feed
An online perinatal mental health group
Lakshmin's response has been to join with two other woman doctors to co-found an online COVID-19 Maternal Well-Being group. This behavioral health group is private. Only members can see who is present in the group and what is being posted. The group currently has over 6,000 members addressing mental health care for new moms.
Useful information and tips about pregnancy, COVID-19, and mental health services are also available at this link.
About Dr. Thaïs Aliabadi
As one of the nation's leading OB-GYNs, Dr. Thaïs Aliabadi offers the very best in gynecological and obstetric care. Together with her warm professional team, Dr. Aliabadi supports women through all phases of life. She fosters a special one-on-one relationship between patient and doctor.
We invite you to establish care with Dr. Aliabadi. Please click here to make an appointment or call us at (844) 863-6700.
We take our patients' safety very seriously. Our facility's Covid-19 patient safety procedures exceed all CDC and World Health Organization recommendations. Masks are required in our office at all times during the coronavirus pandemic.
The practice of Dr. Thais Aliabadi and the Outpatient Hysterectomy Center is conveniently located to patients throughout Southern California and the Los Angeles area. We are near Beverly Hills, West Hollywood, Santa Monica, West Los Angeles, Culver City, Hollywood, Venice, Marina del Rey, Malibu, Manhattan Beach, and Downtown Los Angeles, to name a few.

Latest posts by Dr. Aliabadi Education Team
(see all)