What is HPV?
HPV, also known as the human papillomavirus, is the most common STI (sexually transmitted infection) in the United States. Learning more about the virus, the HPV vaccine's effectiveness in protecting you against infection, and the prevalence of this infection in our society today can help you make smart choices moving forward.
About 79 million Americans have HPV. It is so common that 80% of women will get at least one type of HPV at some point in their lifetime.
Is HPV curable?
HPV is not curable after you already have it in your system. So the best approach with HPV is to prevent it through a full dose of HPV vaccine. Although an HPV vaccine cannot cure a strain that you already have, it can protect against future strains and protect non-infected individuals from getting it in the first place.
Since HPV is so common, and you can't cure it once you've contracted it, it's important to make sure your kids are getting their full round of human papillomavirus vaccinations as early as possible.
How common is HPV in males?
While HPV is commonly thought of as a woman's disease, men are at risk too.
According to the Centers for Disease Control and Prevention (CDC), 40% of males between the ages of 15 and 59 years old will have the virus. Men can contract HPV by having sex with someone who has the virus, whether anally, vaginally, or orally. The most common transmission method of HPV is through anal or vaginal sex with an infected person.
So, if you're wondering "should my son get the HPV vaccine?" The answer is 100% yes.
Can HPV cause cancer?
Almost all cervical cancer is caused by HPV. Some cancers of the vulva, vagina, anus, and oropharynx (back of the throat, including the base of the tongue and tonsils) are also caused by HPV.
Although HPV is not cancerous itself, it can grow into cancer if it stimulates unwanted changes within the body. Untreated HPV can lead to cervical cancer, anal cancer, and oropharyngeal cancer from HPV infections that stay present within the body.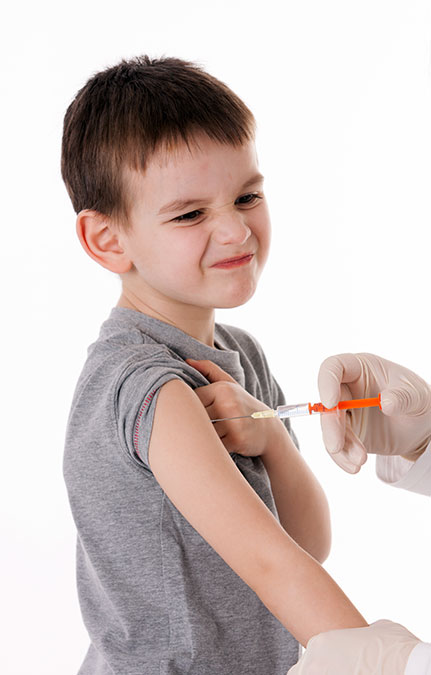 While HPV infections often go away on their own and do not lead to any serious health problems, there are over 200 related viruses. According to the National Cancer Institute, there are 14 high-risk HPV types. HPV16 and HPV18 – the ones responsible for most HPV-related cancers – are the ones HPV vaccines protect against.
The common HPV symptoms include warts, growths, sores, or lumps. Individuals who have the symptoms mentioned above should go to a doctor to examine and obtain a diagnosis.
What cancers does HPV cause in males?
If HPV causes cervical cancer, then people without cervixes are fine right? Wrong. Anal and throat cancers have no gender divide, and HPV can also lead to penile cancer.
What are HPV vaccines?
The HPV vaccine (like any other vaccination) teaches your body how to fight a specific infection. The vaccine stimulates the immune system to produce antibodies; if a vaccine-type HPV strain enters the body, these antibodies prevent it from infecting cells.
There are currently three Food and Drug Administration (FDA)-approved HPV vaccines available in the US:
Gardasil 9 (the 9-valent vaccine)
Gardasil (the quadrivalent HPV vaccine)
Cervarix (the bivalent vaccine)
All three vaccines grant immunity to HPV variants 16 and 18, but the two Gardasil variants protect against additional HPV variants as well. (The 9-valent protects against nine total variants while the quadrivalent vaccine protects against four.)
Who should get the HPV vaccine?
Current U.S. guidelines recommend the HPV vaccination for girls and boys at age 11 or 12, and catch-up vaccination for people through age 26.
Some parents are resistant to the idea of immunizing their 11-year-old against an STI, and of course, a child seeking vaccination needs parental permission. Young people have the best immune response and only require a 2-dose schedule. Older children and young adults need a 3-vaccine series to obtain similar immunogenicity.
There is a common misconception that the number of sexual partners can influence the likelihood of contracting HPV. Unfortunately, it is possible to contract HPV after having sex with only one person who has been infected. For this reason, it's best to get young women and men vaccinated against HPV early, before they've had a chance to get infected.
So, how effective is the HPV vaccine? Should you trust it?
The HPV vaccine is one of the best — if not THE best — tool for protection against cervical cancer from HPV and other cancers, such as anal, oropharyngeal, and vulvar.
Clinical trials have shown high vaccine efficacy with (so far) no sign of decreased effectiveness over time.
There are numerous HPV vaccine benefits. For those who have had the required dosage of the HPV vaccine, the presence of HPV infections decreased by 85% in female teens between 14-19 years old and 71% in women in their 20s. Studies have also proven that teens have less of a risk of getting genital warts and cervical pre-cancer after receiving the HPV vaccine.
HPV vaccine side effects
There are some reported HPV vaccine side effects that can deter some people from getting the vaccine. However, the majority of the side effects are very short-term and not serious. Most people who experience side effects after the vaccine have only minimal symptoms, such as headache, fatigue, nausea, and redness at the injection site.
In terms of the HPV vaccine's long-term effects, there is a very minimal chance that individuals have any long-term side effects after the shot. There is no evidence that the HPV vaccine can cause infertility or autoimmune virus, two common misconceptions surrounding the long-term effects of the vaccine.
Can you still get HPV if you have had the vaccine?
The HPV vaccine offers long-term protection against HPV infection. Although there may be HPV vaccine hesitancy due to the potential to catch HPV in the future, studies have shown that protection does not decrease over time. Therefore, individuals who want consistent protection against this STI should receive the vaccine.
Cervical Cancer Screening
While the HPV vaccine will protect you against HPV-caused cervical cancer, it isn't a replacement for regular screenings. Women aged 21 to 29 should follow up with their doctor for a Pap smear every three years to check for HPV and precancerous cervical lesions; women aged 30 to 64 should have a Pap test every five years.
Should the HPV vaccine be mandatory?
There's been much discussion over whether the HPV vaccine should be mandatory. There are already mandatory vaccinations required for school enrollment for the benefit of public health. Since HPV vaccination programs started up in 2006, there has been a 90% decrease in the incidence of cervical cancer in those vaccinated at 12 or 13-years-old. The incidence decreased by 62% in those vaccinated aged 14-16 and 34% in those who were vaccinated in the 16-18 age group.
Mandatory vaccination would increase HPV vaccine uptake and decrease rates of certain cancers; it's also been shown that the earlier a person gets vaccinated the better the results. However, studies have shown that the HPV vaccine does not meet the mandate threshold since it is not an epidemic infectious virus among children and teenagers. So it is up to parents and healthcare providers to
Why should my child get the HPV vaccine?
For parents, the choice of whether to give their child the HPV vaccine can be confusing and overwhelming. You want to make sure that you make the right decision for your child's health and wellness. If you have a young adolescent teenager who can be sexually active in the near future, getting the HPV vaccine can safeguard him and others from contracting and spreading HPV.
So should you or your children receive the HPV vaccine? Yes. Although it will not cure any type of HPV you already have, receiving the HPV vaccine can help protect against future infection, lessen current symptoms, and provide peace of mind. After all, if you are sexually active, you want to protect your loved ones from the spread of HPV.
About Dr. Thaïs Aliabadi
As one of the nation's leading OB/GYNs, Dr. Thaïs Aliabadi offers the very best in gynecological and obstetric care. Together with her warm, professional team, Dr. Aliabadi supports women through all phases of life. She fosters a special one-on-one relationship between patient and doctor.
We invite you to establish care with Dr. Aliabadi. Please click here to make an appointment or call us at (844) 863-6700.
We take our patients' safety very seriously. Our facility's Covid-19 patient safety procedures exceed all CDC and World Health Organization recommendations. Masks are required in our office at all times during the coronavirus pandemic.
The practice of Dr. Thais Aliabadi and the Outpatient Hysterectomy Center is conveniently located for patients throughout Southern California and the Los Angeles area. We are near Beverly Hills, West Hollywood, Santa Monica, West Los Angeles, Culver City, Hollywood, Venice, Marina del Rey, Malibu, Manhattan Beach, and Downtown Los Angeles.
References
Bogaards JA, Wallinga J, Brakenhoff RH, Meijer CJ, Berkhof J. Direct benefit of vaccinating boys along with girls against oncogenic human papillomavirus: bayesian evidence synthesis. BMJ. 2015;350:h2016. Published 2015 May 12. doi:10.1136/bmj.h2016
Drolet M, Bénard É, Pérez N, Brisson M; HPV Vaccination Impact Study Group. Population-level impact and herd effects following the introduction of human papillomavirus vaccination programmes: updated systematic review and meta-analysis. Lancet. 2019;394(10197):497-509. doi:10.1016/S0140-6736(19)30298-3
Trimble CL, Morrow MP, Kraynyak KA, et al. Safety, efficacy, and immunogenicity of VGX-3100, a therapeutic synthetic DNA vaccine targeting human papillomavirus 16 and 18 E6 and E7 proteins for cervical intraepithelial neoplasia 2/3: A randomised, double-blind, placebo-controlled phase 2b trial. Lancet 2015; 386(10008):2078–2088.

Latest posts by Dr. Aliabadi Education Team
(see all)