A healthy environment in the vagina is an essential part of your health and wellness. Maintaining the proper balance of vaginal bacteria helps perpetuate a healthy environment for the rest of the reproductive system and the surrounding tissues.
Unfortunately, messages about their gynecologic health can be contradictory and confusing, and many people feel uncomfortable asking questions about their vaginal health. So, let's set the record straight by looking at 10 vagina health tips.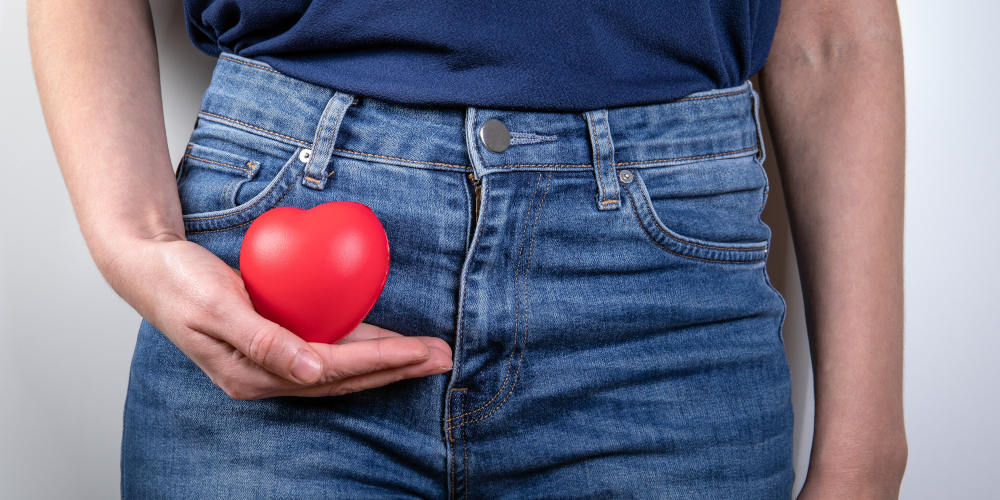 1) Healthy diet and daily exercise
A healthy vagina starts with a healthy diet rich in fruits, vegetables, and other nutritious foods. These foods include cranberries, apples, avocados, and plenty of dark leafy greens. Fermented foods like Greek yogurt, sauerkraut, and kombucha are delicious ways to add beneficial probiotics to your diet. Probiotics are full of healthy bacteria that help maintain your vagina's pH level.
Participating in 30 minutes of moderate exercise four or more days a week is excellent for the cardiovascular system, keeping blood vessels healthy and functioning correctly. Kegel exercises help keep the pelvic floor muscles strong and keep the bladder and uterus from dropping into the vagina as we age.
2) Ensure you are getting your annual exams
Annual examinations by your primary care physician or OB/GYN provide a robust first line of defense for catching minor issues before they grow and turn into big problems. Your doctor will perform regular Pap smears to check for signs of cervical cancer and can test for sexually transmitted diseases (STDs) and infections (STIs).
Breast cancer and sexual health screenings are critical parts of your gynecologist's annual exam. Many women regard their annual exam as a safe space to discuss sensitive topics with their doctor, as well as mention any bodily changes they have noticed.
3) What to do instead of douching
The vagina is self-cleaning, and exposure to harsh cleansers or douching is not only unnecessary, but it can also harm the vagina's delicate pH balance and lead to yeast infections. The area around the vagina, the vulva, and the anus should be cleaned front to back daily with warm water. Yes, just water. While mild, unscented soaps should be fine, you don't need them.
4) Natural lubricants are best
Many women wisely choose natural lubricants to solve vaginal dryness or general dryness in the genital area. While many over-the-counter lubricant preparations advertise themselves using words like "natural" and "organic," it's a great idea to check the ingredients list for any items that don't seem familiar, especially if you have sensitive skin or are prone to allergies.
Although, chances are you have a great lube right in your kitchen. Unrefined coconut oil, sweet almond oil, and avocado oil are all excellent for the skin, unlikely to cause allergic reactions, and are probably already in your house. These oils can degrade latex, so it's best not to use them with condoms.
Some products, like glycerin or Vaseline, should not be used in the vaginal area due to their tendency to foster bacterial growth that can cause yeast infections or bacterial vaginosis.
5) Postmenopausal bleeding
Any vaginal bleeding occurring a year or more after your last menstrual period is cause for further investigation. The growth of polyps or fibroids, changes to the endometrial lining, and certain medications are possible reasons for postmenopausal bleeding. If you experience vaginal bleeding or bloody vaginal discharge after menopause, it is vital to contact your gynecologist as soon as possible to rule out other conditions.
6) Use condoms
Condoms are the only form of birth control that also protects against sexually transmitted infections or diseases when having vaginal sex. As a bonus to safe sex, using condoms during intercourse allows women to maintain their vagina's level of good bacteria and slightly acidic pH. This PH can be disrupted by alkaline sperm cells. Do be aware that condoms with added spermicides can cause irritation for some people.
Condoms can also be used with sex toys to decrease clean up. However, a new condom should always be used when switching between anal and vaginal sex.
7) The truth about thongs
Not only are thongs uncomfortable, they're a menace to women's health. Many thongs are manufactured using non-breathable synthetic fabrics that trap moisture and give bacteria the perfect environment to flourish, increasing the chances of infection and irritation.
The back part of the thong fabric can also host harmful e.coli bacteria that eventually reach the urethra and vagina through vaginal discharge, where a urinary tract infection (UTI) or vaginal infection is more likely to occur.
8) The importance of a healthy pelvic floor
Earlier, we discussed the importance of Kegels when it comes to vaginal health. Many women are not aware of the risks involved with pelvic organ prolapse caused by a weak pelvic floor and the impact this condition can have on their day-to-day life. Pelvic organ prolapse occurs when one or more pelvic organs fall from their normal position and bulge into the vagina.
This condition happens when the tissues and muscles of the pelvic floor can no longer support pelvic organ placement. While organ prolapse is not life-threatening, it can be very uncomfortable and cause a diminished quality of life. A prolapse often leads to problems emptying your bladder and nerve damage in the pelvic region.
9) Cotton underwear
The bacteria trapped by synthetic fabrics against the skin in the pelvic region can be responsible for vaginal yeast and urinary infections. Synthetic materials don't allow the skin to breathe and cause moisture to pool in vulnerable areas. Cotton underwear allows air to circulate and provides a surface area to absorb the healthy vaginal discharge indicative of a healthy self-cleaning organ.
This is also a good time to mention swimsuits: don't hang around in a wet swimsuit. Just like synthetic underwear, a wet swimsuit can throw off your vagina's pH balance and cause a yeast infection.
Period panties and other menstruation underwear are relatively new to the market and provide backup protection for pads or tampons. However, some people have raised concerns regarding the use of toxic chemicals found in the linings in some brands. If you are using these or are interested in purchasing them, please do your homework beforehand to ensure that they don't contain things you wouldn't want near your vagina.
10) See your doctor if something seems wrong
Stay as healthy as possible by taking charge of your sexual health. Pregnancy, aging, stress, and other life events can cause havoc with your body's hormone levels. If you begin to experience unusual symptoms such as sores, warts, or unusual discharge, make an appointment with your doctor to get checked out.
Don't overlook the importance of good vaginal health!
Dr. Thais Aliabadi the Best Gynecologist in Los Angeles
As one of the nation's leading OB/GYNs, Dr. Thaïs Aliabadi offers the very best in gynecological and obstetric care. Together with her warm professional team, Dr. Aliabadi supports women through all phases of life. She fosters a special one-on-one relationship between patient and doctor.
Dr. Aliabadi is a recognized leader in endometriosis treatment and has even taught minimally invasive laparoscopic surgery to other surgeons across the country.
We invite you to establish care with Dr. Aliabadi. Please click here to make an appointment or call us at (844) 863-6700.
We take our patients' safety very seriously. Our facility's Covid-19 patient safety procedures exceed all CDC and World Health Organization recommendations. Masks are required in our office at all times during the coronavirus pandemic.
The practice of Dr. Thais Aliabadi and the Outpatient Hysterectomy Center is conveniently located to patients throughout Southern California and the Los Angeles area. We are near Beverly Hills, West Hollywood, Santa Monica, West Los Angeles, Culver City, Hollywood, Venice, Marina del Rey, Malibu, Manhattan Beach, and Downtown Los Angeles, to name a few.

Latest posts by Dr. Aliabadi Education Team
(see all)