Dr. Thais Aliabadi voted best Los Angeles OBGYN six years in a row by Los Angeles Magazine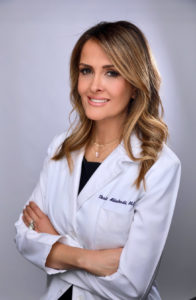 Dr. Aliabadi, a Los Angeles board-certified doctor of obstetrics and gynecology who is nationally recognized for her cutting edge minimally invasive gynecologic surgery techniques. Dr. Thais Aliabadi has also been selected as the best Los Angeles gynecological surgeon six years in a row by Los Angeles Magazine.
Surgical procedures that used to involve pain and multiple days in the hospital are now completed in a surgical suite with less discomfort and patients always go home the same day.
Voted 2020's top obstetrician and gynecologist by her peers in Los Angeles Magazine (for the fifth year in a row).
A gynecological surgery center for women, now in Los Angeles
Dr. Aliabadi also opened The Outpatient Hysterectomy Center of Los Angeles to spare women from invasive open surgeries that often lead to great discomfort, terribly long recoveries, and hospital stays, as well as unsightly scarring.
The surgical practice is dedicated exclusively to addressing women's surgical needs. The Outpatient Hysterectomy Center of Los Angeles understands how profound a difference a greatly experienced gynecological surgery can make.  Their state-of-the-art surgical procedures include:
Laparoscopic Hysterectomy
The hysterectomy is the second most-commonly performed women's surgery and involves the removal of a woman's uterus — the medical name for womb.
Dr. Aliabadi's laparoscopic approach is minimally invasive and allows her to make small incisions in the abdomen and remove the uterus in pieces. Her approach is still 100 percent safe even if cancer may be present.
Common conditions necessitating a laparoscopic hysterectomy include uterine fibroids, endometriosis treatment, uterine prolapse, uterine, cervical or ovarian cancer, uterine, chronic pain. abnormal bleeding between menstrual periods, and abnormal thickening of the uterus.
Myomectomy
A myomectomy is a minimally invasive surgery to remove fibroid tumors. The procedure allows your uterus to remain intact so pregnancy remains an option.
Dr. Aliabadi applies conservative treatments prior to surgery. However, if a woman is still facing painful intercourse, heavy or long periods, pelvic pain, frequent urination, persistent vaginal discharge, or infertility, a myomectomy may be indicated.
 Dr. Aliabadi is one of a handful of surgeons with enough experience to remove a tumor laparoscopically, regardless of its size. This effectively avoids a hospital stay, painful post-surgery, and scarring.
Several benefits of an outpatient minimally invasive myomectomy include less blood loss, reduced pain, faster recovery, and fewer post-op complications.
A common reaction from a woman who has just undergone a minimally invasive myomectomy and is no longer experiencing discomfort is, "Why did I wait so long?"
Endometriosis surgery
A woman's health can be compromised by endometriosis, a condition where the lining of the uterus grows in the fallopian tubes, ovaries, bladder, or elsewhere in the pelvis.
Though no one knows the exact cause of endometriosis, doctors most often diagnose the condition in women in their late thirties, though it can occur in children as young as eight.
OB/GYN experts such as Dr. Aliabadi theorize that the cause is triggered by the retrograde flow of menstrual debris. When the endometrial tissue ends up in unusual locations endometriosis symptoms may occur.
Possible warning signs of endometriosis surgery include heavy menstrual cramping, intense bleeding, and pain during sexual intercourse. In some cases, the foreign tissue can leave harmful scars in the pelvic organs that can lead to infertility.
If Dr. Aliabadi determines that your condition is being caused by endometriosis she may order a laparoscopy to inspect your pelvic organs. This diagnostic test will determine with 100 percent accuracy if you require surgery.
Minimally invasive endometriosis surgery involves only two tiny incisions, one at your pubic hairline and another at your belly button. The doctor inserts instruments to remove abnormal tissue and any ovarian cysts.
Though almost three-quarters of patients say they have less pain during the first few months following surgery, more than half of those women say symptoms return within two years.
The doctor may start you on hormone therapy after surgery to enhance the symptom relief gained from surgery.
Post-surgery you may experience some pain, which is typically treated with mild pain relievers. Most women return back to work within two days and are fully recovered after a month.
The first period after surgery is usually more painful and heavier so be prepared with extra sanitary pads and take the time to rest.
Uterine Septum Resection
Some women, when family planning, find that they have trouble getting pregnant or carrying the pregnancy to term. Dr. Aliabadi may suggest a uterine septum resection to increase fertility chances.
Normally, a woman's uterus is formed from two separate parts that merge into a whole. However, sometimes this process is obstructed during development and a septum is formed. Most women don't even know they have this condition unless they are having trouble conceiving.
If a woman is doing an infertility study the doctor may perform a hysteroscopic removal of a uterine septum. This procedure increases circulation so a fertilized egg will have an adequate blood supply.
After a hysteroscopy procedure, 50 percent to 80 percent of women are able to attain a full-term, healthy pregnancy. About 20 percent of women who have been unable to become pregnant are able to conceive.
The outpatient procedure is relatively painless, does not require hospitalization, and leaves no visible scarring.
Pelvic Relaxation Surgery
Sometimes, as women age or experience vaginal delivery, the muscles and ligaments that compose the pelvic floor become weakened. When this occurs the pelvic organs may drop and press against the vagina, which can create a bulge.
This condition is known as pelvic relaxation or pelvic organ prolapse when your support system becomes deteriorated enough that your pelvic organs may slip downward and press against the vagina. Some women may experience urinary incontinence during or after intercourse.
Dr. Aliabadi practices a minimally invasive surgical approach to repairing pelvic relaxation. After six months of healing the three small (5mm), incisions are barely discernable.
Using a laparoscopic approach, a specialized instrument is inserted to examine your pelvic organs. The doctor may use synthetic mesh or your own tissue to create support for the sagging organ.
The advantages of this minimally invasive approach include less pain, less blood loss, fewer complications, a lower chance of damaging the surrounding organs, and faster recovery times, averaging no more than two weeks.
Click here for a detailed explanation of how Dr. Aliabadi approaches pelvic relapse surgery at The Outpatient Hysterectomy Center of Los Angeles.
Experience the best minimally invasive surgery in Los Angeles, exclusively for women
With an on-site surgical team and state-of-the-art equipment, the doctor is adept at treatment options for reducing pain and suffering typically associated with gynecological procedures.
Dr. Aliabadi treats every type of surgical treatment with kindness and care, using modern equipment and minimally invasive procedures. Conveniently located in Los Angeles at the Cedars-Sinai Medical Center Office Towers near Beverly Hills, West Hollywood, West Los Angeles, Santa Monica, and throughout Los Angeles County.
Dr. Aliabadi attended the University of California at Berkeley for her bachelor's degree and Georgetown for medical school where she received her medical degree. She now helps train students from both the University of Southern California's Keck School of Medicine, LAC+USC medical center as well as UCLA.
Dr. Aliabadi is a member of the prestigious American College of Obstetrics and Gynecology (FACOG). Members are doctors devoted to the practice of obstetrics & gynecology, which also include fertility, family planning, prenatal care, sexually transmitted diseases, gynecologic oncology (for gynecologic cancer detection), and breast cancer risk screenings, and other health issues and health services covering all areas of women's health.
You can request an online consultation here, or call us at (844) 541-7900.
The Outpatient Hysterectomy Center of Los Angeles
8631 West 3rd St
Suite East 1110
Los Angeles, CA 90048
Dr. Aliabadi is accepting new patients
Telehealth appointments (due to the Covid-19 coronavirus) available

Latest posts by Dr. Thaïs Aliabadi
(see all)