Dr. Thais Aliabadi, the nationally recognized endometriosis expert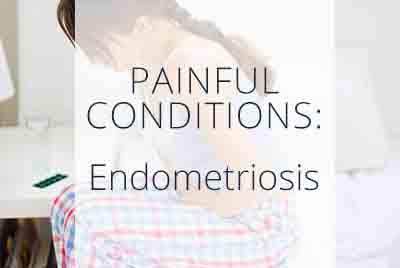 Endometriosis is a fairly common disorder that can cause terribly painful periods and affects over 10% of American women during their childbearing years. Most patients I diagnose are between the ages of 30-40.
Dr. Aliabadi has more patients than she could ever count who have come to her after seeing a dozen or more doctors, all of whom failed to diagnose them properly. It is one of the tragedies of modern women's health that so many women must suffer needlessly for years from painful periods.
Remember, painful periods are not normal! 
Because endometriosis is so difficult for most doctors to diagnose, most women who come for a diagnosis and care have been suffering for an average of eleven years before being properly diagnosed!
What is endometriosis?
In normal cases, endometrial tissue lines the inside of a woman's uterus. However, when that same tissue grows rampantly on the outside of the uterus, it is known as a medical condition called endometriosis.
This runaway tissue growth is driven as a woman's hormones gradually build-up and is then cleared through the vagina as menstrual blood.
There are several areas where endometrial tissue can grow: the fallopian tubes, bladder, ovaries, outer lining of the uterus, or anywhere else in the pelvis.
Regardless of where it grows, symptoms of endometriosis include:
severe pelvic pain
irregular bowel movements
intense cramping during menstruation
spotting or bleeding between periods
difficulty emptying the bladder
scarring on the pelvic organs
fertility issues
One thing is certain, endometriosis can interfere with a woman's quality of life.
Dr. Thais Aliabadi, Los Angeles's best endometriosis expert
Dr. Thais Aliabadi is a well-known expert in endometriosis care and has been named the best Los Angeles OBGYN and Surgeon for six years in a row. Those seeking women's health visit the doctor from worldwide to seek medical advice and typically take an active role in developing their treatment plan.
Dr. Aliabadi has a personal approach to patient care and has the ability to address each woman's individual symptoms to provide the best treatment at her endometriosis center. These options range from minimally invasive laparoscopic surgery for endometriosis to birth control pills and hormone replacement therapy.
If the doctor suspects you have endometriosis, she will likely recommend exploratory surgery to confirm the diagnosis. Endometriosis cannot be diagnosed until the doctor directly views endometrial tissue growing outside the uterus.
Dr. Aliabadi uses state-of-the-art minimally invasive gynecologic surgery, promising her patients shorter recovery times, reduced pain, and the least interruption to their daily lives.
Highly-trained and honored by the medical community, Dr. Aliabadi is certified by the American Board of Obstetrics and Gynecology and a Diplomat of the American College of Obstetrics.
She is extremely involved in her community. When COVID struck, she raised more than $1 million to purchase and distribute PPE to local hospitals.
Dr. Aliabadi has been a practicing gynecologist in Los Angeles since 2002. She serves as an official gynecologist for a number of royal families and many celebrities, as well as instructing residents at Cedars Sinai Medical Center and medical students at the University of Southern California.
Endometriosis treatment
Although endometriosis can sometimes be managed with medication, it is often treated by an endometriosis surgeon. During this outpatient surgery, Dr. Aliabadi laparoscopically removes abnormal tissue, including endometrial implants, cysts, and adhesions. Endometriosis surgery can significantly improve your symptoms and can also increase fertility outcomes.
Three typical goals of endometriosis excision surgery  include removing an endometriosis cyst growing on an ovary, relieving acute menstrual pain, and taking out adhesions that may interfere with fertility or be causing difficulty with urination.
Laparoscopic endometriosis surgery explained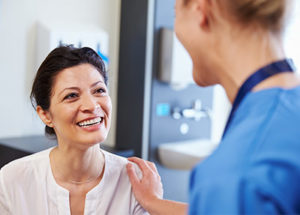 A laparoscope is a long fiber optic cable system with a light and camera that allows viewing of the pelvic area by making a few tiny incisions in the abdomen. Through this method, Dr. Aliabadi can remove harmful tissue.
Dr. Aliabadi typically performs laparoscopies at the Outpatient Hysterectomy Center, a dedicated facility that she operates with another physician. A minimally invasive laparoscopy is not near as invasive as traditional open surgery and carries less risk of infection and scarring. Patients are put under general anesthesia during the 45-minute procedure.
Potential risk factors of laparoscopy
To be sure, laparoscopic endometriosis surgery is a much safer treatment option than open abdominal surgery, which also typically requires several days' stay in the hospital.
It is, however, important to mention areas of possible risk with laparoscopic surgery.
These include damage to your bladder, bowel, uterus, ureter, ovaries, or Fallopian tubes; internal bleeding that may require a larger incision; internal scarring; and infection.
Prior to your procedure, Dr. Aliabadi will go over potential risks and answer any questions you may have.
The long-term effectiveness of laparoscopic surgery
Laparoscopic endometriosis surgery serves as an excellent method of achieving symptom relief. However, it should not be mistaken for a cure. Surgery to treat endometriosis may improve symptoms, but it should not be thought of as a cure, it is not. Occasionally, symptoms may linger, or return after months or years — unless you incorporate hormonal therapy.
Hormone therapy can lengthen relief from pain by preventing endometrial tissue from regrowth.
Recovering from endometriosis surgery
Because laparoscopic surgery is far less invasive than a traditional open-abdomen operation, your recovery time is greatly reduced. Performed as an outpatient procedure, patients are typically able to return to work after a day or so. Complete recovery takes between two weeks and a month.
In the 24 hours after surgery, call Dr. Aliabadi or a member of her staff if you experience vomiting, chills, or fever.
Endometriosis surgery and infertility
More endometriosis is better when it comes to how effective surgery can be in improving fertility. Studies clearly indicate that women with moderate to severe endometriosis fare better than those with mild cases.
Age also plays a factor in endometriosis surgery. Women over the age of 35 may find that their chances of fertility may improve without surgery at all. Other methods of fertility treatments include in-vitro fertilization (IVF), insemination, or fertility drugs.
If you would like to establish care with Dr. Aliabadi, please click here to make an appointment or call us at (844) 863-6700.
Dr. Aliabadi offers a wide range of healthcare, including endometriosis treatment, obstetrics, menopause guidance, PCOS treatment, and infertility.
The practice of Dr. Thais Aliabadi is conveniently located to patients throughout Southern California and the Los Angeles area. We are near Beverly Hills, West Hollywood, Santa Monica, West Los Angeles, Culver City, Hollywood, Venice, Marina del Rey, Malibu, Manhattan Beach, and Downtown Los Angeles.
To contact Dr. Aliabadi
Call (844) 863-6700 or request a consultation..
Dr. Aliabadi is accepting new patients.
Our location:
433 N. Camden Drive
Suite 1130
Beverly Hills, CA 90210
If you are suffering from Endometriosis and are considering Endometriosis Surgery, it is very important to discuss any questions or concerns you have with your doctor. That is what we doctors are there for!

We also invite you to establish care with Dr. Aliabadi. Please click here to make an appointment or call us at (844) 863- 6700.

Latest posts by Dr. Thaïs Aliabadi
(see all)