Estrogen is the primary female sex hormone and is responsible for many bodily functions. Because estrogen plays a role in everything from fertility to weight management to heart health, fluctuations in the hormone can have wide-ranging symptoms.
To address the symptoms of estrogen imbalance, I recently contributed to a Giddy article on the symptoms of high and low estrogen levels. Here are some highlights from the article.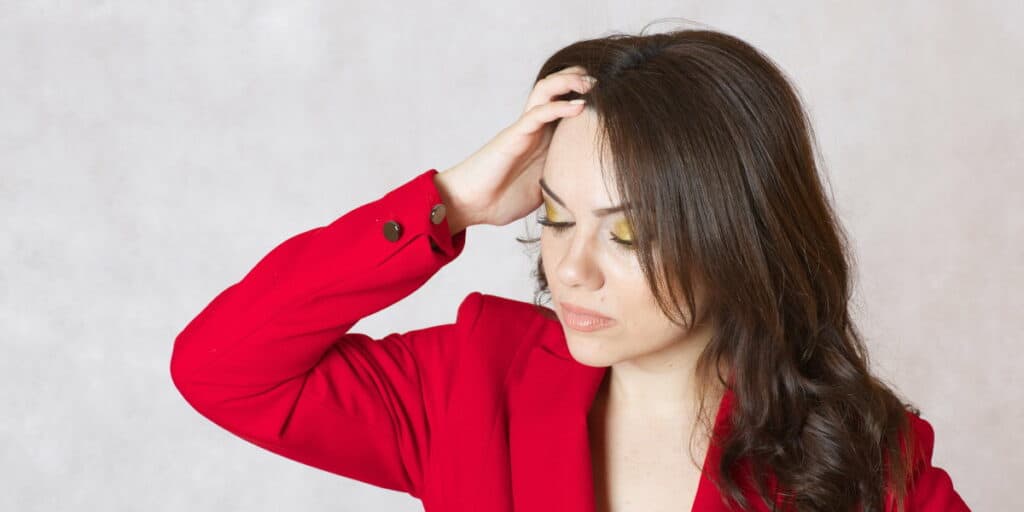 The Various Symptoms of High Estrogen and Low Estrogen
While it's normal for estrogen levels to fluctuate over a life span and during a menstrual cycle, an imbalance in estrogen can create various symptoms.
But what are the differences in the symptoms of high estrogen and low estrogen?
Symptoms of high estrogen levels
"Too much or too little of something is never a good thing," explained Thais Aliabadi, M.D., a board-certified OB-GYN at Cedars-Sinai in Los Angeles and the founder of Trimly, a supervised weight-loss treatment. "When estrogen levels are too high, hormonal imbalances in your body can occur. An elevated estrogen level can cause you to have a variety of different symptoms."
Aliabadi listed the following symptoms associated with high estrogen levels:
Irregular menses
Breast swelling and tenderness
Mood problems
Decreased sex drive
Weight gain
Hair loss
Fatigue or insomnia
Too much estrogen in the body can also cause many reproductive health conditions, such as painful periods, polyps, polycystic ovary syndrome (PCOS), dense breast tissue, fibroids and increased endometriosis pain.
Sometimes excess estrogen does not cause a disease like endometriosis or breast cancer but may worsen the condition.
A number of factors can influence excess estrogen levels. Medications such as steroids and oral contraceptives can create estrogen dominance. Lifestyle factors such as weight gain can also increase estrogen in the body.
For people who have PCOS, estrogen dominance is a pattern.
"In my practice, PCOS remains a big issue for women of childbearing age," Aliabadi said. "With PCOS, women produce a higher level of androgens, a male hormone, which disrupts estrogen levels, leading to irregular periods, weight gain issues, hair thinning, acne and infertility down the road."
Symptoms of low estrogen
As with excess estrogen, too little of it can produce adverse symptoms. Aliabadi listed the following as symptoms associated with low estrogen:
Hot flashes
Night sweats
Irregular menses
Vaginal dryness
Dry skin
Fatigue or insomnia
There's a reason some of the symptoms of low estrogen sound just like the symptoms of menopause.
"Menopause is the leading cause of decreased estrogen levels in women," Aliabadi explained.
During menopause, the ovaries stop producing as much estrogen. People with low estrogen can experience increased rates of depression.
While menopause is a leading cause of low estrogen, other factors can cause decreased production of the sex hormone.
"There are many medical conditions that can contribute to women having low estrogen levels," Aliabadi said. "Eating disorders, such as anorexia and bulimia, may cause low estrogen levels."
Eating disorders are often associated with the absence of periods, otherwise known as amenorrhea, which is related to lower estrogen levels.
"Genetic conditions such as Turner syndrome can cause low estrogen levels," Aliabadi added.
Autoimmune conditions and cancer treatments, such as chemotherapy and radiation therapy, can also be a culprit in terms of creating lower estrogen levels.
Essentially, any medical treatment that can affect the ovaries, including removing them, can equate to lower estrogen levels because estrogen is predominantly produced in the ovaries.
Read the rest of the article on Giddy.com.
Have questions about estrogen levels? Talk to Dr. Aliabadi
As one of the nation's leading OB/GYNs, Dr. Thaïs Aliabadi offers the very best in women's health and well-being. At her advanced gynecological clinic, Dr. Aliabadi and her team are able to test hormone levels and address symptoms of estrogen imbalance. If your hormonal imbalance is caused by PCOS or menopause, she can also treat and manage those conditions.
Even people without current problems should establish care with a talented OB/GYN. Don't wait until there's a problem to start taking care of your health!
We invite you to establish care with Dr. Aliabadi. Please make an appointment online or call us at (844) 863-6700.
The practice of Dr. Thais Aliabadi and the Outpatient Hysterectomy Center is conveniently located for patients throughout Southern California and the Los Angeles area. We are near Beverly Hills, West Hollywood, Santa Monica, West Los Angeles, Culver City, Hollywood, Venice, Marina del Rey, Malibu, Manhattan Beach, and Downtown Los Angeles.

Latest posts by Dr. Thaïs Aliabadi
(see all)