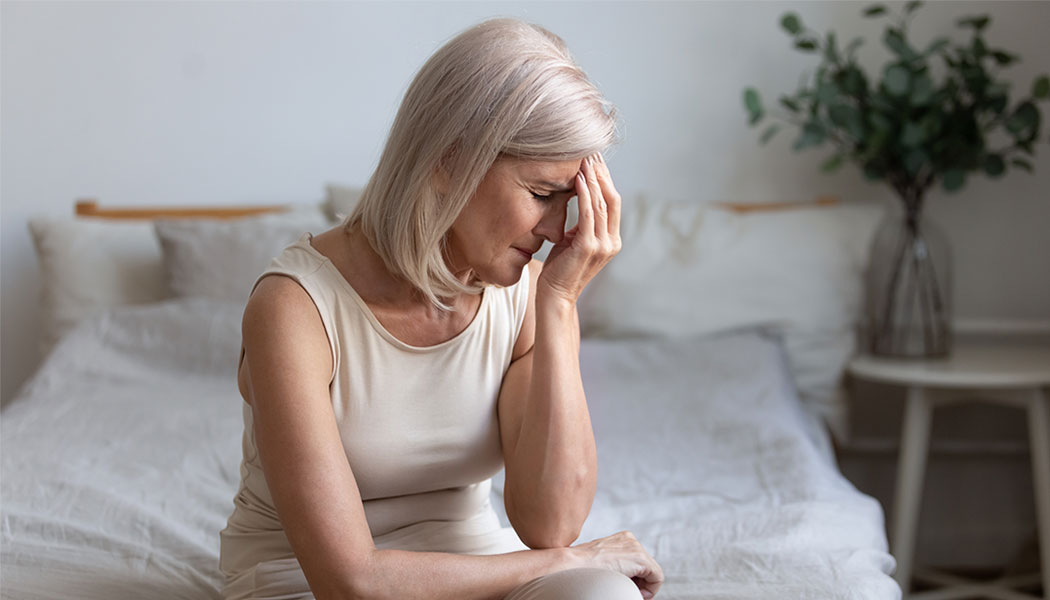 There is no way around it. It is inevitable and it can thoroughly disrupt a woman's life. Sometime during her midlife, every woman is going to encounter first perimenopause, and then menopause. (There are some undeniably positive consequences to menopause, but they arrive on the other side after it's all over).
There is some good news about this process. The scientific study of women's health has significantly advanced. The options available to women in their combat with menopause have been greatly expanded and improved. We'll discuss one of those scientific enhancements later, but let's first focus on one component of menopause: vaginal atrophy.
What is vaginal atrophy?
Vaginal atrophy (it is also called atrophic vaginitis, vaginal dryness, vulvovaginal atrophy, and genitourinary syndrome of menopause, or GSM) is a condition that causes the lining of the vagina to become thinner and drier. Dry vaginal skin can result in both vaginal and urinary tract problems.
What causes vaginal atrophy?
Like most other aspects of menopause, vaginal atrophy is triggered by a reduction in the ovaries' production of the hormone estrogen.
Among its many other vital tasks, estrogen plays a key role in keeping vaginal tissues lubricated and healthy. Low levels of estrogen make the vaginal tissues thinner, drier, less elastic, and more fragile.
A reduction of estrogen can occur from:
Menopause, when normal, age-related body changes cause the

ovaries to decrease their estrogen

output.

Surgical removal of the ovaries before natural menopause. This often happens at the same time as a hysterectomy (removal of the uterus).

Medications used to intentionally reduce estrogen production, as a treatment for conditions such as uterine fibroids or endometriosis.

Chemotherapy for cancer, hormonal cancer treatment, and/or radiation cancer treatment. 

Premature menopause.

Breast-feeding can cause the ovaries to make less estrogen. 
Risk factors contributing to vaginal dryness
Some factors which may contribute to the development of vaginal atrophy are:
Smoking. Smoking tobacco negatively affects a woman's blood circulation and lessens the flow of blood and oxygen to the vagina and urinary tract. Smoking also makes naturally produced estrogen less effective.

No vaginal births. Women who have not given birth vaginally are more likely to develop vaginal atrophy than women who have had one or more vaginal deliveries.

Absence of sexual activity. Any sort of sexual activity, with or without a partner, increases blood flow and makes vaginal tissues more elastic. And it feels good.
What are the symptoms of vaginal atrophy?
The signs and symptoms of vaginal atrophy include:
Vaginal irritation or burning

Vaginal infections

Vaginal discharge

Genital itching

Burning with urination

Urgent and/or frequent urination

Recurrent urinary tract infections (UTIS)

Urinary incontinence

Pain or discomfort during sexual activity (a.k.a.

dyspareunia

)

Light bleeding after intercourse

Decreased vaginal lubrication during sexual activity

Shortening and tightening of the vaginal canal
How is vaginal atrophy diagnosed?
Vaginal atrophy is identified through:
Pelvic exam. A doctor will palpate the patient's pelvic organs and visually examine her external genitalia, vagina, and cervix.

Urine test. If urinary symptoms exist, a sample of urine will be analyzed.

Vaginal smear test. A sample of vaginal fluid will be collected and examined microscopically for certain types of cells and bacteria that are related to vaginal atrophy.

Acid balance test. This involves collecting a sample of vaginal fluid to test the ambient pH balance.

Blood test. This can determine the prevailing 

estrogen levels

. 
When to seek treatment for vaginal atrophy
Many, maybe even most, postmenopausal women experience some level of vaginal atrophy and dryness. But few seek treatment. That reluctance may be caused by embarrassment at discussing the problem, even with a doctor.
Or a "what's the use?" attitude may have been handed down through a long line of ancestors. But no woman has to live with the pain, discomfort, embarrassment, and decreased quality of life that inevitably accompany vaginal atrophy.
See your doctor for treatment options if you have any unexplained vaginal spotting or bleeding, unusual discharge, burning, or soreness.
Make an appointment if you have any painful sexual intercourse that is not resolved by using a vaginal moisturizer or water-based lubricant. Effective help is available.
Treatment of vaginal atrophy
Some treatments directly address the symptoms of atrophy. Another set deals with the underlying loss of estrogen. (If estrogen deprivation is remedied, the symptoms will disappear, or at least diminish.)
Symptoms can be addressed by over-the-counter topical lotions which reduce dryness by adding moisture. The lotions can be an effective short-term remedy, but they won't restore vaginal health.
Localized hormone therapy, i.e., a medication that is directly applied to the affected area, addresses the dryness issue and can also bring back the health of the vaginal tissue by restoring the normal acid balance, thickening the vaginal walls, and improving bacterial balance.
These topical estrogen therapies deliver estrogen only to the vagina, and thus won't help with the hot flashes, insomnia, etc., which the rest of the body (and mind) suffer during menopause. 
On the plus side, however, local therapies won't produce the risky side effects that may accompany systemic hormone replacement therapy, as discussed below.
Local vaginal estrogen therapy comes via a variety of applications. It is available as an estrogen cream (either estradiol or conjugated estrogen), as a vaginal suppository, or as an estrogen ring, which is left in the vagina for 90 days before being replaced. 
Regular sexual activity as a treatment for vaginal atrophy
As Dr. Aliabadi stated on The Doctors TV show, "Vaginal sexual activity is very important. It helps with stimulating blood flow to the vagina, keeping vaginal muscles toned, and helps to maintain elasticity and the length of the vagina."
Systemic estrogen treatment 
It's only logical. Estrogen is essential for a great many aspects of a woman's health, including her vaginal health. Menopause causes the ovaries to stop producing estrogen. So why not simply replace all that missing estrogen with a robust systemic program of hormone replacement therapy?
Well, it's complicated. For a while, hormone replacement therapy (HRT) was routinely used as a treatment for menopausal symptoms, including vaginal atrophy, as well as a protector of long-term overall health.
Then large-scale clinical trials showed that HRT appears to carry an increased risk of breast cancer, heart disease, and stroke. So there was a general exodus away from HRT among health professionals.
Now the pendulum has begun to swing back. The risks of HRT are properly seen as conditional. The level of risk depends on the type and severity of the patient's symptoms, the type of hormone therapy, the dosage, the duration of the treatment, and the patient's individual health history.
Systemic hormone therapy is now viewed as a potentially viable tool for the improvement of a woman's health. But each HRT program must be intimately tailored to each individual patient, and then constantly reevaluated, to make sure that the benefits continue to outweigh the risks.
MonaLisa Touch is a new, non-hormonal treatment for vaginal atrophy
Menopause is unavoidable, and vaginal atrophy is often an equally inevitable aspect of menopause. But science has now provided a way to ameliorate the symptoms of vaginal atrophy, without the risks inherent in systemic HRT.
A minimally invasive, non-surgical technique, known as MonaLisa Touch, is now available to revitalize vaginal tissue. The MonaLisa Touch utilizes the most advanced laser technology to restore lubrication and vaginal elasticity, and thereby relieve discomfort during intercourse.
How does MonaLisa Touch work?
A tiny carbon dioxide (CO2) fractional laser is directed at the walls of the patient's vagina. The laser removes desiccated skin, which stimulates the production of collagen. This enables the vaginal tissue to regenerate, growing healthier and more elastic. Vaginal lubrication is improved, which provides a more comfortable and more enjoyable sexual experience.
In addition to the enhancement of the patient's sex life, the non-sexual symptoms of vaginal atrophy, like irritation, burning, and itching, are also effectively treated.
The course of laser treatment consists of three sessions, spaced six weeks apart. Each session takes no longer than five minutes, and most patients experience no pain or discomfort whatsoever. (If the patient wishes, a local anesthetic can be applied prior to the procedure.)
MonaLisa Touch is practically risk-free. The laser device is precisely designed so as to virtually eliminate any risk of harm to the treated tissue. The procedure is among the safest medical procedures in existence.
About Dr. Thaïs Aliabadi
As one of the nation's leading OB-GYNs, Dr. Thaïs Aliabadi offers the very best in gynecological and obstetric care. Together with her warm professional team, Dr. Aliabadi supports women through all phases of life. She fosters a special one-on-one relationship between patient and doctor.
We invite you to establish care with Dr. Aliabadi. Please click here to make an appointment or call us at (844) 863-6700.
We take our patients' safety very seriously. Our facility's Covid-19 patient safety procedures exceed all CDC and World Health Organization recommendations. Masks are required in our office at all times during the coronavirus pandemic.
The practice of Dr. Thais Aliabadi and the Outpatient Hysterectomy Center is conveniently located to patients throughout Southern California and the Los Angeles area. We are near Beverly Hills, West Hollywood, Santa Monica, West Los Angeles, Culver City, Hollywood, Venice, Marina del Rey, Malibu, Manhattan Beach, and Downtown Los Angeles, to name a few.

Latest posts by Dr. Aliabadi Education Team
(see all)