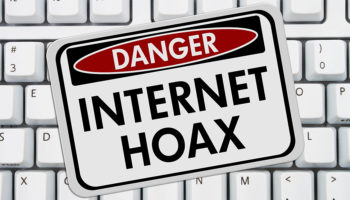 This story is about sexually transmitted diseases. It's about the need for more comprehensive sex education. And it's also about how the internet can perpetuate nonsense.
A young woman we know remembers back 10 years, to when she was in middle school. The girls sometimes whispered to each other about "blue waffle." As she recalls, blue waffle was something vague and scary from the internet. It happened to you if you had sex too soon, or too often, or with too many people. The primary symptom was your genital area turning blue.
Although her classmates' knowledge about blue waffle was vague and sketchy, none of them doubted the reality of its existence.
Our bookworm friend had just read Hawthorne's "The Scarlet Letter." She thought there might be an anti-women connection between the crimson letter A (for adultery) emblazoned on Hester Prynne's forehead and the blue genitalia ascribed to the blue waffle disease.
The blue waffle disease hoax continues, even in 2022
Fast forward 10 years and you can readily find an apparently reputable website like this one, with a stated goal of presenting "accurate, up-to-date information on childbirth practices and outcomes in the United States and internationally." The credentials of the website's founder are impeccable. He is a professor of obstetrics and gynecology at the Boston University School of Medicine. 
Blue waffle symptoms
The site describes blue waffle as being a "sexually transmitted disease," characterized by "bacterial growth on the vagina," which causes a woman's vulva to turn shocking shades of blue. The ailment is said to be caused by "multiple sex partners," "unprotected sex," and "poor personal hygiene." (Just like all those scary middle school rumors).
Although the site states that "no treatment is available so far," it does offer advice on how to avoid or mitigate blue waffle. "Proper diet is a must" and "tea tree oil may help a little."
Also note that in 2013, a Councilwoman for the city of Trenton, New Jersey, sounded the blue waffle alarm.
"It is a disease that's already claimed 85 lives and it is the case here in the city of Trenton," she proclaimed. "Blue waffle disease is supposed to be a virus that is 10 times greater at this point than the AIDS virus."
The Councilwoman's information was from an anonymous phone call, which she received on April 1, 2013. 
That April Fool's timing is a tipoff. Waffle is a slang term for vagina and blue waffle disease is a misogynistic hoax. However, even though blue waffle does not exist, it continues to be spread on the internet. 
How did the story of blue waffle originate?
It appears an innocuous photo of a blue-colored waffle, with text that read: "Bet you can't find me on Google image search" was posted in 2010. 
Those who took the bait were treated to the full-screen impact of a very graphic photo. It depicts what is purported to be a brand new sexually transmitted disease, that only women can get, named "blue waffle". The blue waffle images are obviously photoshopped.
The blue waffle disease is refuted by medical professionals
The hoax gained enough traction that it has required refutation by multiple acknowledged experts. In a 2017 speech presented on the Annals of Internal Medicine website, Anita Ravi, MD, confirmed that the disease is not real. "It is an elaborate internet hoax by someone who has extensive photoshopping skills." 
When the Women's Health Foundation asked Dr. Amy Whitaker, an assistant professor of obstetrics/gynecology at the University of Chicago Hospital, about blue waffle, she responded:
"There is no disease such as 'blue waffle disease' in the medical world. There is no disease that causes a blue appearance on the external genitalia. I had never heard of it until you wrote to our section and asked about it." 
Sexually transmitted diseases are real
While the blue waffle is nothing more than a nasty prank, sexually transmitted diseases continue to be an unfortunate reality.
"STD" refers to more than 35 infectious organisms that are transmitted primarily through sexual activity. The CDC estimates that there are approximately 20 million new STD infections each year – almost half of them among young people aged 15 to 24.
The cost of STDs to the US healthcare system is estimated to be as much as $16 billion annually. Many cases of STDs go undiagnosed – and some common viral infections, such as human papillomavirus (HPV) and genital herpes, are not reported to the CDC at all. The reported cases of chlamydia, gonorrhea, and syphilis represent only a fraction of the true burden of STDs in the US. 
For more specific information on STDs, their prevention, and their treatment, visit our website here. 
Sexual health information in schools needs improvement
The Centers for Disease Control and Prevention has recommended that high school students be taught specific sexual health topics. This includes information about safe sex, sexual partners, herpes simplex virus, and sexually transmitted infections.
According to the 2016 Schools Health Profiles issued by the CDC, less than half of high school students, and less than one-quarter of middle school students across the US are being taught all recommended sexual health topics.
Given the blue waffle example of the internet's broad and pervasive reach, and the fact that apparently credible sites are still presenting false information about blue waffle as if it were true, it appears that more comprehensive sex education is urgently required.
About Dr. Thaïs Aliabadi
As one of the nation's leading OB-GYNs, Dr. Thaïs Aliabadi offers the very best in gynecological and obstetric care. Together with her warm professional team, Dr. Aliabadi supports women through all phases of life. She fosters a special one-on-one relationship between patient and doctor.
We invite you to establish care with Dr. Aliabadi. Please click here to make an appointment or call us at (844) 863-6700.
We take our patients' safety very seriously. Our facility's Covid-19 patient safety procedures exceed all CDC and World Health Organization recommendations. Masks are required in our office at all times during the coronavirus pandemic.
The practice of Dr. Thais Aliabadi and the Outpatient Hysterectomy Center is conveniently located to patients throughout Southern California and the Los Angeles area. We are near Beverly Hills, West Hollywood, Santa Monica, West Los Angeles, Culver City, Hollywood, Venice, Marina del Rey, Malibu, Manhattan Beach, and Downtown Los Angeles, to name a few.

Latest posts by Dr. Aliabadi Education Team
(see all)