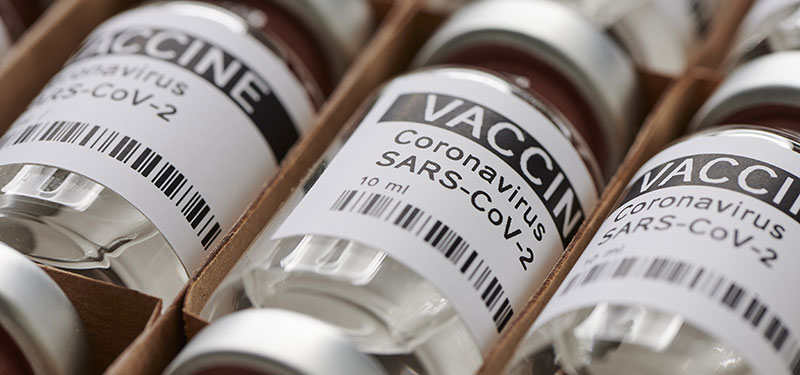 The last 10 months seem to have lasted a decade. While we have been holding our collective breath, hoping for a light at the end of the tunnel that isn't an oncoming locomotive, the Covid-19 pandemic has flowed, ebbed, and flowed again.
The latest flood tide has been consistently breaking records for cases, hospitalizations, and deaths, on a near-daily basis nationwide. The nation's human services are strained past the breaking point.
Well, here's some good news. It may allow you to (cautiously) release that long pent sigh of relief. Clinical trials of two new Covid-19 vaccines have shown that each has an efficacy rate of over 95%.
It is reasonable to expect that over 20 million doses of vaccine will be available before the end of the year. (We're cheering for a very happy 2021 New Year!)
Vaccination should be available, to all of us that want it, well before the end of next spring. So, it's not too early to invite all of your family and friends back to the traditional 4th of July picnic, the one you had to cancel this year.
How did all this good news on a Covid-19 vaccine happen?
About 30 years ago a Hungarian-born scientist named
Katalin Kariko
began attempting to harness mRNA to fight disease. Kariko was on the faculty of the University of Pennsylvania. She had her Ph.D., and she was on the path to a full professorship.
The theory underlying her vaccine research made sense. The human system depends on millions of proteins to keep itself alive and healthy, and it uses mRNA to tell cells which proteins to make.
Anyone who could create custom made mRNA should be able, at least hypothetically, to get the body to create any protein she wanted. Such a system should be able to educate cells to make antibodies to fight infection, enzymes to reverse a rare disease, or growth proteins to mend damaged heart tissue.
But Kariko kept running into dead ends. mRNA was too vulnerable to the human autoimmune systems. It kept getting destroyed before it could get to the cells it needed to educate. And it tended to activate responses that could themselves be problematic.
By 1995, Kariko had been demoted, and her career seemed to have arrived at its own dead end.
Wait a minute. What is mRNA?
The human genome is the 6 feet of coded genetic material that is coiled in the nucleus of each of the 37,000,000,000,000 (or so) cells that comprise each cell in each human body.
The genome functions as a sort of blueprint/operations manual that controls every aspect of the development and function of the human body.
The genome is made of a nucleic acid known as DNA. DNA has that distinctive double helix structure that we have become used to seeing in ads for science fiction movies.
mRNA is short for messenger RNA
And RNA is short for ribose nucleic acid, another acid that also resides in every human cell. It functions as a messenger (hence the "m"). mRNA transmits instructions from the DNA to the area of the cell that serves as a protein creation factory.
A multitude of proteins is produced for various functions throughout the body. Some serve as weapons deployed by our immune system against microscopic alien invaders known as pathogens. These enemy agents include the novel coronavirus that is causing the current worldwide pandemic.
We're using cellular weapons against invading coronavirus disease
B cells, killer T cells, and helper T cells are three of the most potent immune cell weapons used by our immune system against viruses. They will each play a vital role in defeating SARS-COV-2, the virus that causes the coronavirus disease now known as Covid-19.
How do traditional vaccines work?
Traditional vaccines, like a flu vaccine, use weakened or killed viruses, that are too impotent to initiate a truly threatening antigen. These virus remnants are used to provoke the immune system into identifying an invading pathogen and then elicit an immune response.
The immune system will then be prepared to marshal the weapons that will be most effective against the real thing, if and when a fully potent virus appears in the human host's system.
What makes the mRNA vaccine different?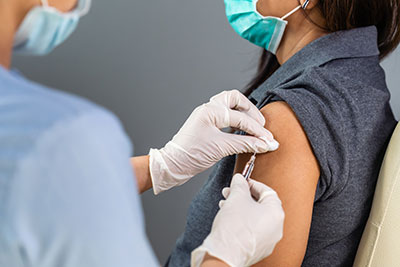 mRNA vaccines use a synthetic simulation of a virus to acquaint the autoimmune system with a specific viral threat.
Vaccination using mRNA synthetic virus works somewhat like a mug shot of a wanted criminal. The synthetic virus is not a real threat in itself, but it alerts the immune defense system to the precise nature of the real threat.
Once the immune system is aware of the virus's presence, it can deploy cell warriors to chop up the spike proteins that encrust the virus's surface. Those viral proteins are the key that the virus uses to sneak into the host's system. Once they are destroyed, the virus is effectively denied entry.
mRNA vaccines are much easier to make than traditional vaccines because there is no need to produce weakened or dead viruses.
mRNA vaccines are also safer to administer. Side effects are often serious real-life responses to vaccines made from weakened or killed viruses. Just as a mug shot can't commit a crime, a synthetic replication of a virus can't cause either a disease or disease side effects.
But mRNA vaccines have been very difficult to stabilize and even harder to produce on a scale that would be effective against even a small epidemic, let alone against a worldwide pandemic.
Back to the story of Dr. Katalin Kariko
All the dead ends in her vaccine research, together with her increasing inability to raise grants sufficient to underwrite her biotechnology explorations, nearly drove Kariko to abandon her search for potential vaccines.
Nevertheless, she persisted. And, just like a Hollywood ending, the lightbulb eventually came on. She, and her longtime collaborator at Penn, Drew Weissman, discovered a way to make a hybrid mRNA that can sneak its way into cells without setting off harmful autoimmune responses.
Fast forward to 2013. A German startup, BioNTech, had licensed the technology developed by Kariko and Weissman, and Kariko was hired as senior vice president to supervise BioNTech's mRNA work.
BioNTech partners with Pfizer
In March of this year, BioNTech formed a partnership with the pharmaceutical giant Pfizer. Major assistance from the U.S. government (via the National Institute of Allergy and Infectious Diseases [NIAID], a branch of the National Institutes of Health [NIH]), enabled clinical trials of a vaccine based on an mRNA platform to begin.
This month, BioNTech/Pfizer announced that its phase 3 clinical trial had produced an efficacy rating of 95%. In the world of vaccines, an efficacy rating of 95% is astonishingly high. FDA officials have indicated that they would have approved any safe vaccine with an efficacy rating of more than 50%.
Moderna creates a coronavirus vaccine called mRNA-1273
Meanwhile, Moderna, a brash start-up based in Cambridge MA in the United States had managed to raise $2 billion in funding without ever producing a usable product.
Moderna's clinical trials, with an enrollment of 30,000, followed a parallel research trail to the same successful conclusion. The result was a coronavirus vaccine candidate labeled mRNA-1273. Moderna's vaccine, coincidentally enough, equaled the 95% efficacy achieved by the BioNTech/Pfizer partnership.
The new coronavirus vaccines of Moderna and Pfizer will be the first-ever authorized mRNA vaccines.
Hurdles in the home stretch for vaccines against Covid-19
There are still logistical problems to solve. mRNA vaccine is fragile. To achieve stability, the molecules are packaged in tiny protective lipid bubbles.
The Pfizer mRNA vaccine needs to be stored at an extremely low temperature, at most -70°F. It will not be dispensed from the refrigerator at your local drugstore.
The Moderna product is stable at much warmer temperatures, giving it a significant advantage in terms of distribution.
Each product requires two successive doses. The Pfizer doses are to be administered three weeks apart, while the Moderna interval is four weeks.
A massive coronavirus vaccine roll-out is about to begin
It won't take long for large-scale production and distribution to begin. Pfizer and Moderna have collectively stated that, given the governmental green light, they can distribute approximately 22.5 million doses before the end of 2020.
Each of the companies promises to provide hundreds of millions of doses throughout 2021. And there are eight more vaccines in various clinical trial phases.
Both Pfizer and Moderna will be soon asking the Food and Drug Administration for an emergency use authorization, which will allow the immediate commencement of distribution of all those millions of doses.
Who gets the first mRNA vaccines?
The final decisions are yet to be made about the sequential order in which various demographics will be vaccinated. But it is anticipated that frontline medical workers will be the first to be protected, with vulnerable populations, such as seniors with otherwise compromised health also meriting a high priority.
We can hear the bugles, but the cavalry isn't here yet, so don't drop your weapons
Dr. Tony Fauci, the nation's leading immunologist, has celebrated the wonderful news of successful vaccines. But he also warns against a natural reaction of relaxing our adherence to the public health practices which prevent the spread of Covid-19.
Fauci counsels that we should be even more diligent about wearing a mask, maintaining social distance, and washing our hands.
Nobody wants to be the last person to die just before this catastrophic pandemic is eradicated. There is no statue commemorating the last person to die of smallpox, and the last victim of Covid-19 will be similarly unrewarded. So let's all be even more dedicated to the rules which save lives.
About Dr. Thaïs Aliabadi
As one of the nation's leading OB-GYNs, Dr. Thaïs Aliabadi offers the very best in gynecological and obstetric care. Together with her warm professional team, Dr. Aliabadi supports women through all phases of life. She fosters a special one-on-one relationship between patient and doctor.
We invite you to establish care with Dr. Aliabadi. Please click here to make an appointment or call us at (844) 863-6700.
We take our patients' safety very seriously. Our facility's Covid-19 patient safety procedures exceed all CDC and World Health Organization recommendations. Masks are required in our office at all times during the coronavirus pandemic.
The practice of Dr. Thais Aliabadi and the Outpatient Hysterectomy Center is conveniently located to patients throughout Southern California and the Los Angeles area. We are near Beverly Hills, West Hollywood, Santa Monica, West Los Angeles, Culver City, Hollywood, Venice, Marina del Rey, Malibu, Manhattan Beach, and Downtown Los Angeles, to name a few.

Latest posts by Dr. Aliabadi Education Team
(see all)