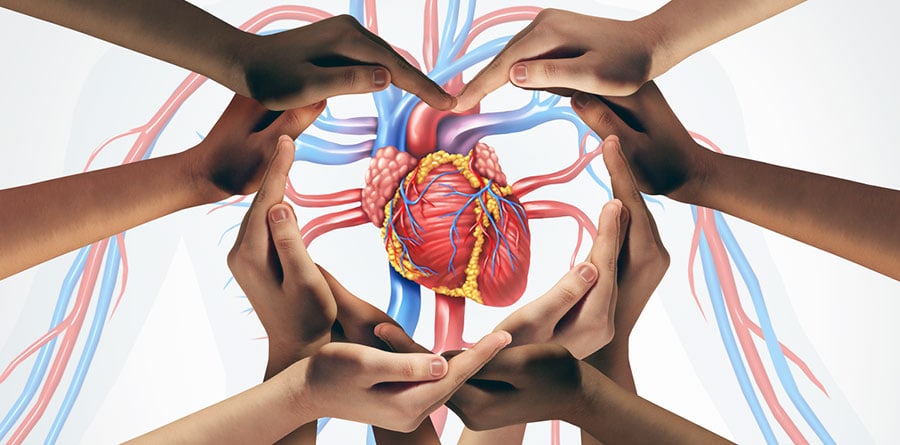 In 1964 (nine years after he had his first heart attack) President Lyndon Johnson designated February as a national heart health month.
Why February? Well, Valentine's Day is in February and lovers want their sweethearts to have healthy hearts! (Or maybe all the other months were taken:)
So after 56 proud years as American Heart Month, February is still helping heart health advocates promote lifestyles and habits that lead to healthy American hearts.
Awareness of heart disease in women is more needed than ever

For example, only one in five millennials polled in a recent survey identified heart disease as a woman's greatest health threat.
It remains true that heart disease is the number one killer of women in America. In 2017, 418,655 women died of cardiovascular disease in the United States.
What are women's heart disease risk factors?

90% of women have at least one of the risk factors for developing heart disease. Those risk factors include:
Diabetes – diabetes causes a build-up of sugar in the blood. This can damage both blood vessels and the nerves that help control heart muscles. Women with diabetes are more likely to develop heart disease than are diabetic men.
Mental stress and/or depression – these mental conditions affect women's hearts more than men's hearts. And depression can make a woman wonder if it's worth it to maintain a healthy lifestyle.
Smoking – if you don't smoke tobacco, don't start. If you do smoke, stop. Try to avoid secondhand tobacco smoke.
Inactivity – a lack of physical activity is a major risk factor for women's heart disease (and some research has found women to be generally less active than men.)
Menopause – the decreased estrogen levels that accompany menopause can heighten the risk of vascular disease.
Pregnancy – high blood pressure and/or diabetes are more likely during pregnancy. This can increase the mother's risk of cardiovascular disease.
Women's heart health is different than men's

And being more true isn't the only difference. Since 1984, more women than men have died each year from heart disease. The gap between men's and women's rates of survival from heart attack continues to widen.
The symptoms of a woman's heart disease are often different than those of a man. This fact, coupled with decades of research devoted solely to men's cardiovascular issues, has led to disparate treatment of women's cardiovascular diseases.
A 2012 paper published in the American Journal of Medicine found that women were less likely than men to receive cardiovascular care that conforms to established guidelines. The same study found that such unequal treatment means that women are more likely to die from heart attack than are men.
10 times more American women die from heart disease then die from breast cancer.
Healthy heart tips to prevent heart disease

Here's some behavior that will lessen your chances of incurring heart disease between now and next February:
Check your family tree – Family history is one of the leading risk factors for heart disease. Learn the history of heart disease in your immediate family (your brothers, sisters, parents, and grandparents). Make sure your healthcare provider is fully aware of that family history. This will help ensure prompt and appropriate treatment.
Eat healthy foods – Go for whole grains and a variety of fruits and vegetables. Avoid high-fat dairy products. Limit your intake of both salt and sugar.
Get up and get active – Regular exercise, even if moderate, will significantly lessen your risk of developing cardiovascular conditions. If you really want to seriously reduce your chances of heart disease, you will follow the Department of Health and Human Services' recommendation to exercise vigorously 30 minutes a day, five days a week.
Manage your other health conditions – team up with your healthcare provider to deal with high blood pressure, high cholesterol, and incipient diabetes.
Drink alcohol responsibly, if at all.
Learn what a body mass index (BMI) is. Make sure yours is normal or better.
About Dr. Thaïs Aliabadi

As one of the nation's leading obstetricians, Dr. Thaïs Aliabadi offers the very best in gynecology and obstetrics care. Together with her warm professional team, Dr. Aliabadi supports women through all phases of life. She fosters a special one-on-one relationship between patient and doctor.
We invite you to establish care with Dr. Aliabadi. Please click here to make an appointment or call us at (844) 863-6700.

Latest posts by Dr. Aliabadi Education Team
(see all)