Research has suggested that women who develop diabetes — a chronic health condition affecting the body's production and use of insulin — at a young age may be more likely to begin menopause early. While menopause is a natural process, early onset menopause can come with risks like cardiovascular disease and osteoporosis. How can diabetes and menopause affect one another? This article will explore their link.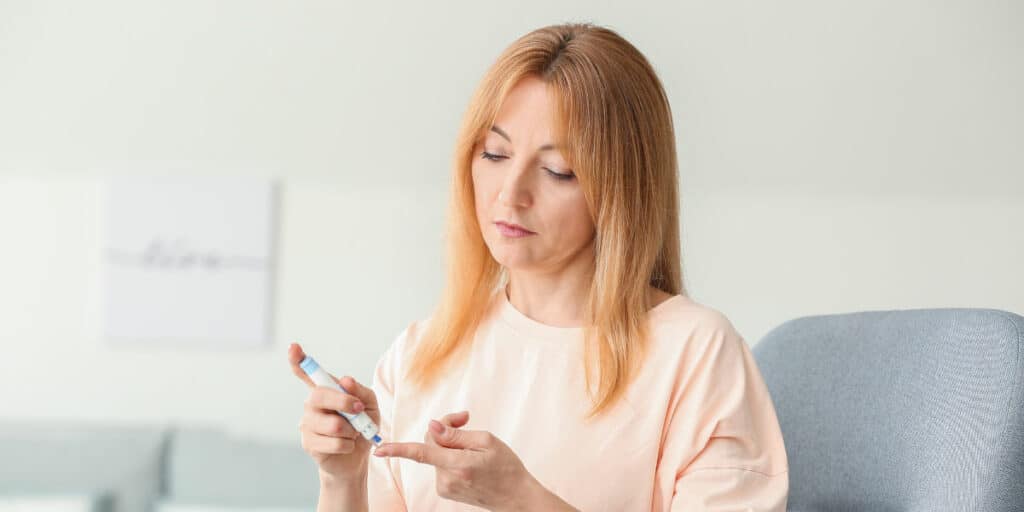 What is the link between diabetes and menopause?
A retrospective cohort study has found a possible link between diabetes and early menopause. They used data from more than 11,000 women to conclude that women who have a diagnosis of type 1 or 2 diabetes mellitus at a younger age are more likely to go through menopause early. Specifically, the researchers theorized that the age at which diabetes is diagnosed can predict the age of natural menopause onset.
The American Diabetes Association (ADA) notes that women with type 1 diabetes or who are diagnosed with type 2 diabetes between 30 and 39 years of age are at risk of starting the menopausal transition earlier than those without diabetes. Interestingly, they also state that diabetic women who received a diabetes type 2 diagnosis later in life, around age 50 or beyond, often have a later start to menopause.
However, gestational diabetes (diabetes that occurs during pregnancy) doesn't appear to impact the age of menopause onset.
Can diabetes cause early menopause?
Clearly, there is a link between diabetes and early menopause. Still, more research is needed into whether one condition directly affects the other. Some scientists think the link between diabetes and early menopause could be related to inflammation and chronically higher glucose levels caused by diabetes.
In one study, researchers found that women with diabetes started menopause anywhere from four to six years earlier than those without it. Many of the participants in the study also had poor glycemic control.
Certain levels of insulin in the blood can sometimes "confuse" the ovaries; it can be hard for the ovaries to distinguish insulin from reproductive hormones that trigger ovarian growth and maturation. Elevated insulin could give false signals to the ovaries, possibly leading to ovarian dysfunction, which scientists also believe can trigger early perimenopause.
What do ovarian aging and dysfunction have to do with menopause? Everything!
What is menopause?
Menopause is a natural part of life. It occurs when the menstrual cycle becomes irregular and eventually ceases. This is because your ovaries stop producing the hormones progesterone and estrogen, which means they also stop releasing eggs. This time in your life is known as perimenopause. You are officially in menopause when you've gone 12 months without a period. Because menopause is directly related to ovarian aging, premature ovarian aging caused by diabetes could accelerate the onset of menopause.
Is early menopause bad?
According to the National Institute on Aging, the average age of menopause is between 45 and 55. Perimenopause starts around ages 40 to 44. Unfortunately, because so much of your body depends on estrogen to function properly, menopausal changes can elevate your risk of certain health conditions. For example, low estrogen due to menopause can contribute to weight gain, increasing the chances of stroke or heart disease.
However, early-onset menopause that occurs before age 40 is associated with a higher risk of health issues. It's thought that going through menopause early, sometimes called premature menopause, may produce more severe menopause symptoms.
One of the most alarming risks of early menopause is heart disease. Other disadvantages of early menopause include increased risk of:
Osteoporosis
Heart disease
Infertility
Depression and anxiety
Dementia
Parkinsonism (a term for degenerative brain/nervous system conditions)
Postmenopausal women aren't in the clear either. Persistent symptoms, like weight gain, may put them at risk of developing health issues like type 2 diabetes.
How is diabetes affected by menopause?
Just as diabetes can affect your reproductive system, early menopause can impact diabetes. The relationship between diabetes and menopause is a two-way street.
Fluctuations in hormone levels caused by menopause can affect:
Insulin production and regulation
Body weight
Weight distribution
All of these factors play a role in properly managing your diabetes.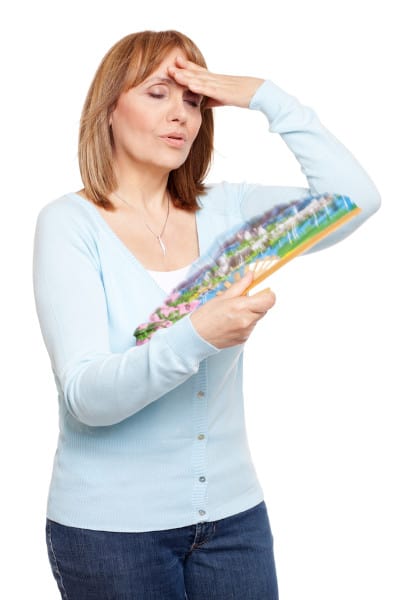 Changes in estrogen and progesterone specifically can adversely affect one of the most important diabetes factors – blood glucose levels. Progesterone and estrogen alter how the cells in your body respond to insulin levels. Lower estrogen triggers night sweats, hot flashes, and mood swings which are also associated with swings in blood sugar levels Additionally, progesterone fluctuations can make it harder for women to fall and stay asleep, and poor quality sleep has also been linked to insulin resistance (also called impaired insulin sensitivity) which is attributed to higher blood sugar levels.
Ultimately, fluctuating hormones due to menopause may result in fluctuating blood sugar levels that can be detrimental for both those with diabetes and those at risk of developing diabetes. Individuals with nondiabetic hypoglycemia who are going through menopause may have difficulty adequately regulating their blood sugar levels, while those with uncontrolled diabetes can face even more elevated risks of severe complications from too high or low insulin levels, such as vision loss or nerve damage.
It's important to note, though, that according to Diabetes UK, early menopause and menopause aren't believed to be primary causes of diabetes. But the changes a woman experiences during menopause can heighten her diabetes risk. For example, weight gain and high blood pressure are typical side effects of menopause and are also risk factors for type 2 diabetes.
What can you do about going through early menopause with diabetes?
Managing your diabetes and menopause symptoms is the best way to handle both conditions. Sometimes, your doctor may suggest a homeopathic supplement for menopause and diabetes. Alternatively, they might recommend even more invasive options such as medical weight loss or hormone replacement therapy to help control high blood sugar levels, ease hormone fluctuations, and reduce the risk of severe diabetes complications.
However, lifestyle changes and diet can be quite beneficial and easier to implement at home. Nutrition changes like limiting alcohol and sugar consumption while ingesting more omega-3 fatty acids can help manage blood sugar levels and symptoms of changing hormone levels. While making these positive changes to your routine and diet, it's essential to work with a healthcare professional to keep track of your blood sugar levels, menopause symptoms, and things like weight, sleep habits, and bone health to monitor your risk of complications and maintain your diabetes care regime.
Have questions about menopause? Talk to Dr. Aliabadi
Dr. Aliabadi and her talented, compassionate team are experts on all aspects of women's health. If you're worried about symptoms or side effects of menopause or just want to get ahead of your gynecological health, this is the place to be.
We invite you to establish care with Dr. Aliabadi. Please make an appointment online or call us at (844) 863-6700.
The practice of Dr. Thais Aliabadi is conveniently located for patients throughout Southern California and the Los Angeles area. We are near Beverly Hills, West Hollywood, Santa Monica, West Los Angeles, Culver City, Hollywood, Venice, Marina del Rey, Malibu, Manhattan Beach, and Downtown Los Angeles.

Latest posts by Dr. Aliabadi Education Team
(see all)