What are hyperpalatable foods?
Have you ever found yourself saying "I just couldn't help myself" after overeating unhealthy food? Well, you're not alone–and you may be surprised to learn that the outcome is designed to be that way.
Hyperpalatable food tastes exceptionally good. These delicious foods that are termed "hyperpalatable "are all processed or highly processed and contain a higher percentage of sugar, fat, and salt than other food.
Food companies use well-designed formulas for their food that are intended to specifically enhance consumption. The increased palatability encourages people to eat highly processed junk food regardless of the harmful health consequences.
As with so many business sectors, the goal of the food industry is to optimize profit. Product development of food manufacturers is sophisticated–relying on psychology and neuroscience–and foods are rigorously tested before being marketed to consumers.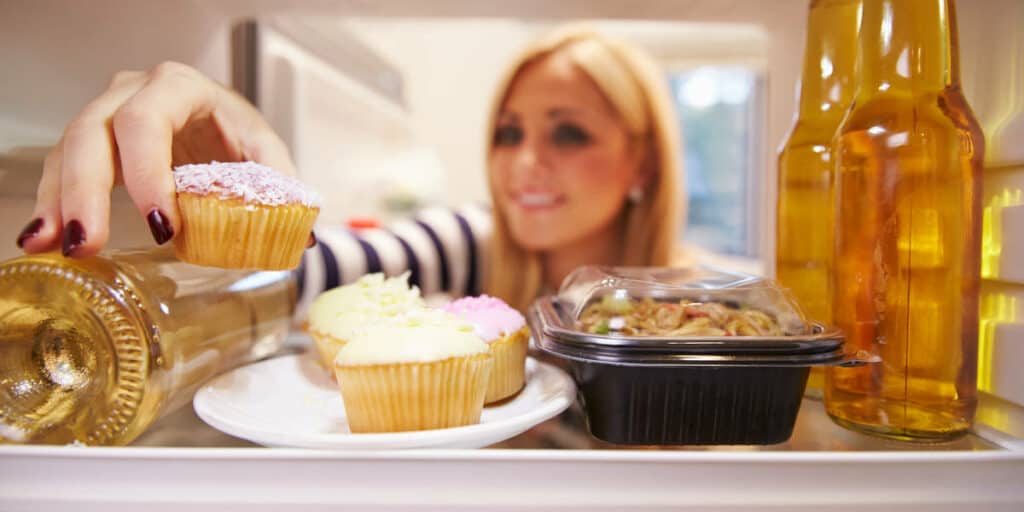 Why is junk food so addictive?
There are a few reasons for the overconsumption of hyperpalatable food beyond their tasty goodness including:
Hyperpalatable food alters brain chemistry
Fast food triggers the brain to release dopamine and serotonin — neurotransmitters that are an important part of the brain's "reward system." Eating hyperpalatable food that stimulates the reward circuit can lead to food cravings and food addiction such as binge eating or emotional overeating.
Junk food is addictive because it elicits feelings of pleasure, satisfaction, and comfort just like addictive drugs. These feelings may compel a person to seek junk food again and again.
Desirability
When there is a choice between eating whole foods, such as vegetables and fruits, or addictive foods, like potato chips and chicken wings, it's very easy to choose the latter—especially when it can be ordered with a few clicks and delivered to the door. And for many people, hyperpalatable foods are more desirable to the taste buds—they're designed to be!
Widely available & inexpensive
Hyperpalatable food is widely available and inexpensive. Grocery store aisles are stocked with a full complement and a wide array of chips, candy, and soda. On almost every other block you'll come across a drive-thru for a burger and french fries.
In comparison, organic, healthy food is often more expensive, and it takes more planning and preparation to make a healthy meal than it does to order a pizza.
What do they put in food to make it addictive?
Prior research found that food with two or more key ingredients–specifically, sugar, salt, fat, or carbohydrates–activates pleasure receptors in the brain like addictive substances such as cocaine and opioids. It's possible this combination of ingredients may be able to bypass mechanisms in our body that make us feel full and stop eating.
The synergy of these key ingredients creates an enhanced palatability that's greater than any key ingredient would produce alone, predisposing people to junk food addiction.
Some examples of hyperpalatable foods are:
Pizza
Ice cream
Cake
Sugary soda
Cheeseburgers
Potato chips
Cereal
Chocolate
Fried chicken
Muffins
Bagels
Corporate food scientists aim to find the "bliss point"—the optimal ratio of salt, sugar, and fat. There are also chemicals and additives in most junk food. Food companies developed this combination to make their food even more palatable.
Michael Moss, a journalist for the New York Times, wrote a book, "Hooked," which studied the science behind addiction and built a case that food companies have carefully engineered processed foods to hijack the brain's reward circuits causing us to overeat.
He reported that our brains remain evolutionarily designed to reward behaviors that seek out high-fat, high-salt, and high-sugar food–we're biologically wired for it.
Is hyperpalatable food directly linked to weight and fat gain?
Using previous study data, researchers from the National Institutes of Health (NIH) and the University of Kansas found that the consumption of hyperpalatable food may be linked to fat and weight gain.
Researchers found that when hyperpalatable food was included in a meal, there was an overall increase in calorie consumption. The link was consistently found no matter the eating style. Hyperpalatable foods increased the number of calories consumed across four diet patterns:
Low carbohydrate
Low fat
A diet based on unprocessed foods
A diet based on ultra-processed foods
A protein diet normally increases fullness after meals. Even that didn't limit the consumption of hyperpalatable foods—they ate even more! This suggests that no eating behavior is exempt from the effect of hyperpalatable food.
What are the dangers of eating hyperpalatable food?
If not addressed, food-addictive behaviors can contribute to health problems such as:
Obesity
Diabetes
Heart disease, and
Mental health problems
Binge eating disorder
Healthy eating habits include a diet rich in whole food — such as fresh fruit and vegetables — with few or no additional ingredients. The consumption of hyperpalatable food should be limited.
Understanding the connection between highly processed foods and eating behavior helps guide healthcare providers and patients toward making informed decisions about healthy eating and weight.
Trimly, Dr. Aliabadi's personalized medical weight-loss program brings effective, lasting change to people who have been struggling with a spectrum of weight issues, has made it her mission to help patients achieve a healthier lifestyle, gain confidence, and avert future health issues.

Trimly graduates have said they experienced a treatment that is more than just losing weight–it's a new lifestyle and becoming their best selves.
Weight loss treatment w/ Dr. Aliabadi your Los Angeles OB/GYN
As one of the nation's leading OB/GYNs, Dr. Thaïs Aliabadi offers the very best in women's health and well-being. Together with her warm professional team, Dr. Aliabadi supports women through all phases of life. She fosters a special one-on-one relationship between patient and doctor.
An expert in obstetrics and gynecology, Dr. Aliabadi has been a practicing OB/GYN in Los Angeles since 2002. Her medical weight loss program factors in each patient's individual body, hormones, and needs.
We invite you to establish care with Dr. Aliabadi. Please make an appointment online or call us at (844) 863-6700.
The practice of Dr. Thais Aliabadi and the Outpatient Hysterectomy Center is conveniently located for patients throughout Southern California and the Los Angeles area. We are near Beverly Hills, West Hollywood, Santa Monica, West Los Angeles, Culver City, Hollywood, Venice, Marina del Rey, Malibu, Manhattan Beach, and Downtown Los Angeles.

Latest posts by Dr. Aliabadi Education Team
(see all)