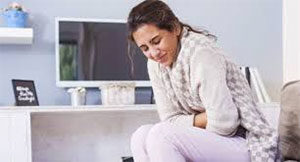 When Liz Corwin's gynecologist prepped her for her IUD insertion, he included a warning.
"He said that most patients tell him it feels like the worst cramp they've ever had, so I braced myself for a lot of pain."
But when the procedure was over? "I just laughed! I've had cramping worse than that literally every month since I was 14 years old."
Liz may be one of an estimated 10% of child-bearing age women who suffer from endometriosis. It is a painful disease in which endometrial tissue – the bloody uterine lining that is shed during menstruation – grows outside of the uterus.
But Liz was never officially diagnosed with the condition. After 13 years of extreme pelvic pain and heavy periods, she finally decided to seek help.
After listening to her symptoms, "My doctor said that I probably have endometriosis, but that I'd have to have surgery if I wanted to know for sure." Instead, he recommended an IUD to regulate her hormones. With nothing to lose, Liz agreed to the IUD, which she says has helped with the pain.
Delayed Diagnosis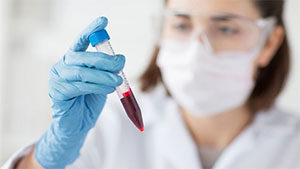 Endometriosis is notoriously difficult to diagnose: it's done with an invasive procedure called a laparoscopy. During a laparoscopy, a surgeon inserts a slender, flexible, lighted camera through an incision in the abdomen. The surgeon needs to physically view the endometrial tissue growing abnormally to make a diagnosis.
That's why so many women suffer through "bad cramps" and flows worthy of the term "Shark Week" year after year, with no clear answers.
In fact, a 2012 study found that the lag time between the onset of symptoms and time of diagnosis averages 3.84 years. Some women in the study waited 12, 13, and even 27 years to get their diagnosis.
A New Screening Tool for Endometriosis
But with a new diagnostic blood test, Liz's experience could be a thing of the past.
Dot Laboratories, a start-up based in San Francisco, has developed a blood test that can detect when endometrial tissue is growing outside the uterus in as little as 24 hours.
With the success of the initial clinical trials, Dot Laboratories is now looking to market their product. CEO and founder Heather Bowerman says that at least two global pharmaceutical companies have taken a keen interest.
During endometriosis, abnormal tissue covers the outside uterine surface, the fallopian tubes, ovaries, intestines, rectum, and/or the urinary organs. The tissue responds to menstrual hormones, causing severe cramping and heavy bleeding every month. Over time, this cycle can leave scars called adhesions, which could impact a woman's ability to conceive naturally.
Diagnosing endometriosis earlier could prevent complications from the disease, including chronic pain and infertility. The Dot Labs blood test is a welcome innovation towards the search for a faster, cheaper, and less invasive diagnostic tool for endometriosis.
If you have symptoms of, or suffer from endometriosis and are in need of expert care, we invite you to establish care with us. Please call us at (844) 863- 6700 to make your appointment.

Latest posts by Dr. Thaïs Aliabadi
(see all)
Reader Interactions