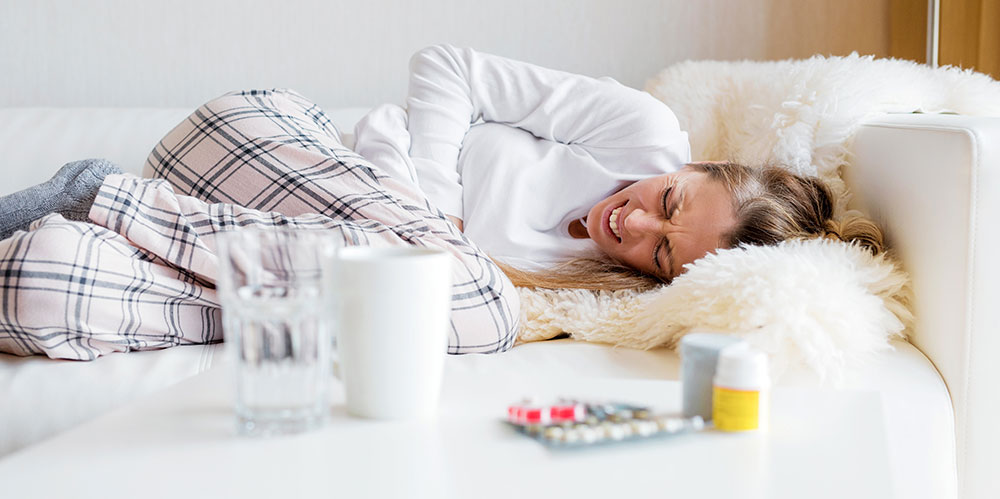 About 11% of American people between 15 and 44 who have a uterus also have endometriosis (that's over 6.5 million people). With those kinds of numbers, you'd think finding treatment would be a piece of cake!
However, according to the Endometriosis Foundation of America, out of over 40,000 OB/GYNs in the US, there are only about 100 endometriosis specialists skilled in the most up-to-date treatment options. Tragically, it takes endometriosis patients an average of 7 – 10 years to get a diagnosis.
How are we supposed to find treatment for this terribly painful women's health disorder?
Thankfully for patients in Southern California (or those who travel here) Dr. Aliabadi is one of America's top endometriosis specialists and (along with her patients) has been featured on numerous television shows including "The Doctors," "Dr. Phil," and "Seeking the Cure," to name just a few.
What is endometriosis?
First and foremost: what is endometriosis?
The endometrium is what lines the inside of your uterus. In some people, this endometrial tissue grows rampant outside of the uterus – in the Fallopian tubes, bladder, ovaries, outer lining of the uterus, or elsewhere in the pelvis – this is known as endometriosis.
Endometriosis Symptoms
No matter where the rogue endometrial tissue is growing, the symptoms of endometriosis often include:
severe pelvic pain
irregular bowel movements
intense menstrual cramping
spotting or bleeding between periods
severe pain during menstruation
pain during or after intercourse
fertility issues or infertility
Unfortunately, the wide variety of symptoms not only negatively impact the patient's quality of life, but also contribute to why endometriosis can be so difficult to diagnose!
Endometriosis Diagnosis
I've heard all sorts of stories from my patients about their struggles before finally coming to me for endometriosis diagnosis and treatment. Knowing what exactly to look for when diagnosing endometriosis takes years of experience.
Patients with bloating and trouble with bowel movements are sometimes misdiagnosed with irritable bowel syndrome (IBS). Or, endometriosis may be misdiagnosed as another condition that causes pelvic pain, such as pelvic inflammatory disease (PID), fibroids, or ovarian cysts.
The most heart-breaking (and infuriating) story that I hear far too often is patients having their pain belittled or dismissed. Some patients suffer needlessly for years before getting a proper diagnosis because their gynecologist dismissed their intense endometriosis pain as "normal period pain."
Diagnosing endometriosis can also be a tricky process. Blood tests, pelvic exams, and ultrasounds will not give a definitive diagnosis. The only way to properly diagnose endometriosis is through laparoscopy.
Diagnostic laparoscopy for endometriosis
Laparoscopy is a minimally invasive surgery conducted through a 3 to 5 millimeter incision in the belly button. Through this small incision, lesions can be identified and collected for analysis.
Endometriosis Treatment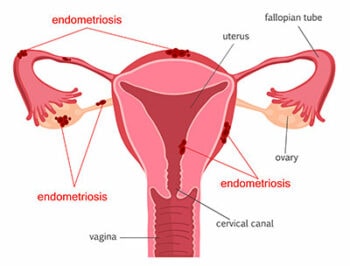 There are a number of treatment options for managing endometriosis or mitigating the pain depending on your exact condition, but only one that provides long-term relief. And unfortunately, that's part of the problem with finding treatment.
As previously mentioned, only about 100 endometriosis specialists in the US are skilled in advanced laparoscopic surgery, even though it provides the greatest relief to patients. (Lucky for you, I am one of them.)
Other treatment options for managing endometriosis include:
Hormone Therapy
Because endometrial tissue growth is triggered by hormones and follows the same cycle as your period, hormone therapy can be helpful in slowing tissue growth. Treatment may take the form of shots, intrauterine devices (IUDs), or even oral contraception.
Hormone therapy is sometimes prescribed after laparoscopic surgery to prevent endometrial tissue regrowth.
Endometriosis Pain Management
For some patients, over-the-counter painkillers provide sufficient relief from endometriosis pain. Prescription-strength pain relievers are also helpful for some patients. Because hormones impact endometrial tissue growth, birth control can actually relieve pain in some circumstances.
Is endometriosis curable?
Sadly, no. Laparoscopic surgery can grant some relief, but there is always a chance of symptoms returning. If your doctor does not include hormonal therapy with endometriosis surgery, as many sadly don't, your odds of recurrence are terribly high.
Some patients experience symptom relief after menopause when they no longer have menstrual cycles.
How to find an endometriosis specialist near me?
For those who are not in Southern California or cannot travel here, the first step is searching for an OB/GYN or medical center that specializes in endometriosis treatment. Unfortunately, there will often not be one near you, so be prepared to travel.
Finding an endometriosis support group online might also help, both with emotional support as well as recommending a good doctor!
Questions to ask your doctor
Once you've found a healthcare provider trained in endometriosis, it's time to make sure they're a good fit.
Important things to note during your initial consultation include:
Does the doctor make you feel heard and understood? Do they provide clear, honest answers to your questions?
Does the doctor have training or experience in endometriosis treatment?
Do they work with a team of specialists? Because endometriosis can affect multiple areas, other specialized surgeons may need to consult or assist on your surgery.
Was the office staff rude or unprofessional?
If the doctor dismisses or trivializes any of your symptoms or concerns, leave and find another doctor.
Why is Dr. Aliabadi the Best Endometriosis Specialist Los Angeles?
As one of the nation's leading OB/GYNs, Dr. Thaïs Aliabadi offers the very best in gynecological and obstetric care. Together with her warm professional team, Dr. Aliabadi supports women through all phases of life. She fosters a special one-on-one relationship between patient and doctor.
Dr. Aliabadi is a recognized leader in endometriosis treatment and has even taught minimally invasive laparoscopic surgery to other surgeons across the country.
We invite you to establish care with Dr. Aliabadi. Please click here to make an appointment or call us at (844) 863-6700.
We take our patients' safety very seriously. Our facility's Covid-19 patient safety procedures exceed all CDC and World Health Organization recommendations. Masks are required in our office at all times during the coronavirus pandemic.
The practice of Dr. Thais Aliabadi and the Outpatient Hysterectomy Center is conveniently located to patients throughout Southern California and the Los Angeles area. We are near Beverly Hills, West Hollywood, Santa Monica, West Los Angeles, Culver City, Hollywood, Venice, Marina del Rey, Malibu, Manhattan Beach, and Downtown Los Angeles, to name a few.

Latest posts by Dr. Aliabadi Education Team
(see all)