Infertility can be difficult and even heartbreaking, but it doesn't have to stop you from starting your family. According to the American Society for Reproductive Medicine (ASRM), over 73,000 babies were born using assisted reproductive technology (ART) in 2020. Over the last 30 years, IVF has helped couples conceive over eight million babies.
With the continued progress of reproductive technology, family building is now available to more couples than ever — even those struggling with infertility.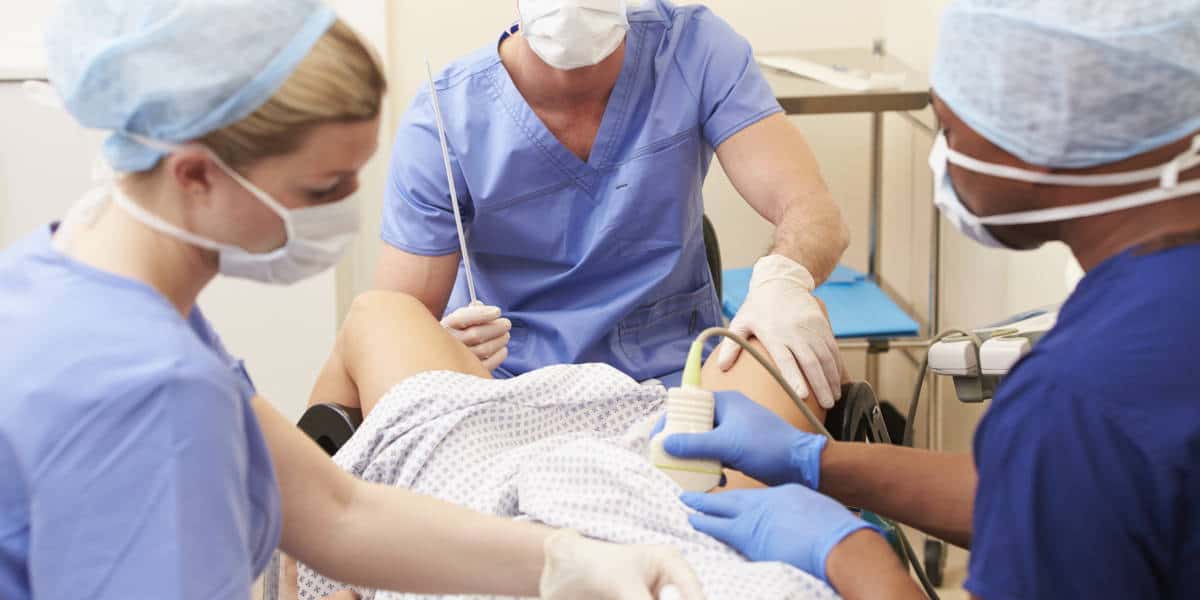 What is IVF?
In vitro fertilization, or IVF, is a series of medications and surgical procedures that assist with fertility and reproduction. During a cycle of IVF, fertility specialists combine sperm and egg cells in a lab, then implant one or more fertilized eggs in the woman's uterus.
Those with fertility issues or who want to prevent genetic problems may use IVF to conceive. IVF makes family building available to many couples who would otherwise be unable to carry a successful pregnancy on their own.
IVF can bypass physical causes of infertility through manual collection, fertilization, and implantation of the couple's eggs and sperm.
Donor eggs and/or sperm are available for couples unable to provide their own functioning eggs or sperm.
The embryo can be implanted into the uterus of a gestational carrier (also known as a surrogate) if the couple does not have a functioning uterus.
Pre-implantation genetic testing allows couples with a risk or history of genetic diseases to select the embryo with the best chance of success.
What are IVF success rates?
IVF is the most common form of ART (assisted reproductive technology) and has a relatively high success rate.
The Society for Assisted Reproductive Technology (SART) reports that in women under 35, 55% of IVF cycles result in live births. As women age, success rates for IVF lower, but it's still the most effective optional available.
When should you use IVF for infertility?
The success rate of IVF may make you believe it's the best option for infertility. However, every couple is unique, and other — often less invasive — infertility treatment options may work.
Intrauterine insemination (IUI) or fertility drugs may be viable alternatives to IVF. So, working with a knowledgeable OB/GYN or specialist is crucial to determine the cause of infertility and your best treatment option.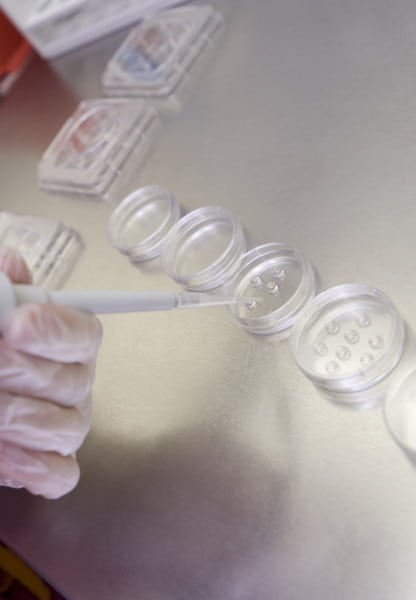 If you've already tried other fertility medications and treatments, IVF may be the best choice. IVF may also be the best option when you have any of the following health conditions:
fallopian tube damage
ovulation disorders
endometriosis
uterine fibroids
previous tubal sterilization
impaired sperm motility or sperm abnormalities
genetic disorders
unexplained infertility
cancer or other conditions that require fertility preservation
How in vitro fertilization works
IVF treatments involve a series of procedures that typically take around three weeks. Below, we trace a typical cycle from start to finish.
Timing ovulation
The first step in IVF is timing ovulation. For an IVF cycle to succeed, your doctor needs to know when your or your partner's ovaries will have mature eggs to retrieve. That means your OB/GYN will likely prescribe birth control with progesterone and estrogen or estrogen-only pills to control your menstrual cycle.
Ovarian stimulation
The next step to IVF is ovarian stimulation. Your doctor will prescribe injectable medications that encourage all the eggs in a cycle to mature. Normally, only one egg becomes mature enough to ovulate, but we want as many healthy eggs as possible for your best chance at success.
The ovarian stimulation phase of IVF lasts about two weeks. During this time, you'll go through regular monitoring — daily or every few days.
At monitoring appointments, your doctor will measure your blood hormone levels and use an ultrasound to measure the size and number of follicles growing in your ovaries. Follicle size lets your doctor know when an egg is mature.
When your eggs are close to maturation, they'll prescribe human chorionic gonadotropin (hCG) — what's known as the "trigger shot." This injectable finalizes egg maturation and has to be given exactly 36 hours before egg retrieval.
Sperm and egg retrieval
Thirty-six hours after the trigger shot, your doctor will use an ultrasound-guided needle to retrieve mature eggs from the ovaries. After retrieval, the eggs will go into an incubator while they wait for fertilization.
If you're using your partner's sperm, they'll need to provide a semen sample the morning of egg retrieval. Other options are using previously frozen or donor sperm.
Fertilization and embryo development
In IVF, an embryologist will fertilize your mature eggs. Typically, they can fertilize about 70% of the mature eggs.
Of those fertilized eggs, 50% usually reach the blastocyst phase. The blastocyst phase is the most suitable for transfer to the uterus.
When sperm quality is poor, eggs can be fertilized using intracytoplasmic sperm injection (ICSI). This technique individually injects a single sperm into a mature egg.
Embryo transfer
Once the eggs are fertilized and embryos have developed, one or more embryos will be implanted into the uterus. Developed embryos can also be frozen for future IVF cycles.
Fresh embryo transfer has to occur between four and seven days after fertilization. Frozen embryo transfer can occur even years later.
Leading up to the transfer, you'll take hormones to prepare your uterus for accepting the embryo or embryos. Pregnancy rates increase by increasing the number of embryos, but so does the risk of multiple births.
During the transfer, your doctor will insert a catheter through the the cervix and into the uterus. Then they'll inject the embryo through a syringe at the end of the catheter.
After embryo transfer, you can expect mild bloating and cramping. You may also experience breast tenderness and spotting.
Once the embryo implants in the uterus, you're pregnant! Your doctor will confirm pregnancy with a blood test 9-14 days after the transfer.
What are IVF risks and side effects?
Of course, as with any medical procedure, IVF treatments have risks and side effects. You should discuss these with your doctor before starting IVF. Risks and side effects include:
multiple births (including twins, triplets, and more)
higher risk for premature birth and low birth weights
miscarriage
egg retrieval complications
ectopic pregnancy
medication side effects include abdominal pain, bloating, headaches, and mood swings
IVF can also bring about significant stress, physically, emotionally, and financially. It's crucial to have a good support team on hand. That includes a caring OB/GYN, IVF counseling services, and others who can support you on your fertility treatment journey.
How much does IVF cost?
IVF clinics frequently quote a cost of $15,000 or more for one IVF cycle. IVF costs with insurance coverage may be lower, but your insurance probably won't cover everything. It's important to check your insurance coverage and prepare financially before starting IVF.
IVF frequently asked questions
If you're considering IVF, you probably have a lot of questions. We'll answer a few below, but know an IVF consultation with a doctor experienced in fertility and obstetrics is the best way to determine your treatment plan.
What are the endometriosis and IVF success rates?
If you have endometriosis, getting pregnant can be difficult, even with IVF. Studies have shown a lower live birth rate amongst IVF endometriosis patients.
What's the IVF egg donor success rate?
The success rate of IVF with egg donation depends on the individual fertility clinic, but often IVF with an egg donor has a relatively high success rate of 50% or more.
Can you do IVF without fertility issues?
Sometimes a couple cannot conceive for unknown reasons or reasons unrelated to fertility. IVF has expanded family building options for LGBTQ couples. Patients who cannot carry a pregnancy for medical or psychological reasons also benefit from IVF with a gestational carrier.
While IVF isn't the best option for everyone, it is a good option for many.
Has infertility increased?
Yes, according to the CDC, infertility rates are rising.
Why choose Dr. Aliabadi for your infertility treatment?
As one of the nation's leading OB/GYNs, Dr. Thaïs Aliabadi offers the very best in gynecological and obstetric care. Together with her warm, professional team, Dr. Aliabadi supports patients through all phases of life. She fosters a special one-on-one relationship between patient and doctor.
We invite you to establish care with Dr. Aliabadi. Please make an appointment online or call us at (844) 863-6700.
We take our patients' safety very seriously. Our facility's Covid-19 patient safety procedures exceed all CDC and World Health Organization recommendations. Masks are required in our office at all times during the coronavirus pandemic.
The practice of Dr. Thais Aliabadi and the Outpatient Hysterectomy Center is conveniently located for patients throughout Southern California and the Los Angeles area. We are near Beverly Hills, West Hollywood, Santa Monica, West Los Angeles, Culver City, Hollywood, Venice, Marina del Rey, Malibu, Manhattan Beach, and Downtown Los Angeles.

Latest posts by Dr. Aliabadi Education Team
(see all)