What is urinary incontinence?
Urinary incontinence is a topic many don't want to discuss or think about. Who wants to discuss bladder control problems? But that doesn't negate the fact that it's a problem that needs attention. Urinary incontinence (UI) is the unintentional passing of urine or bladder leakage. It is a reality for at least 10% of women between 19 and 30 years old, according to a study published in Female Pelvic Medicine & Reconstructive Surgery.
According to the National Association for Continence, over 25 million adult Americans experience temporary or chronic urinary incontinence. UI can occur at any age, but it is more common among women over 50, as it's a normal part of aging.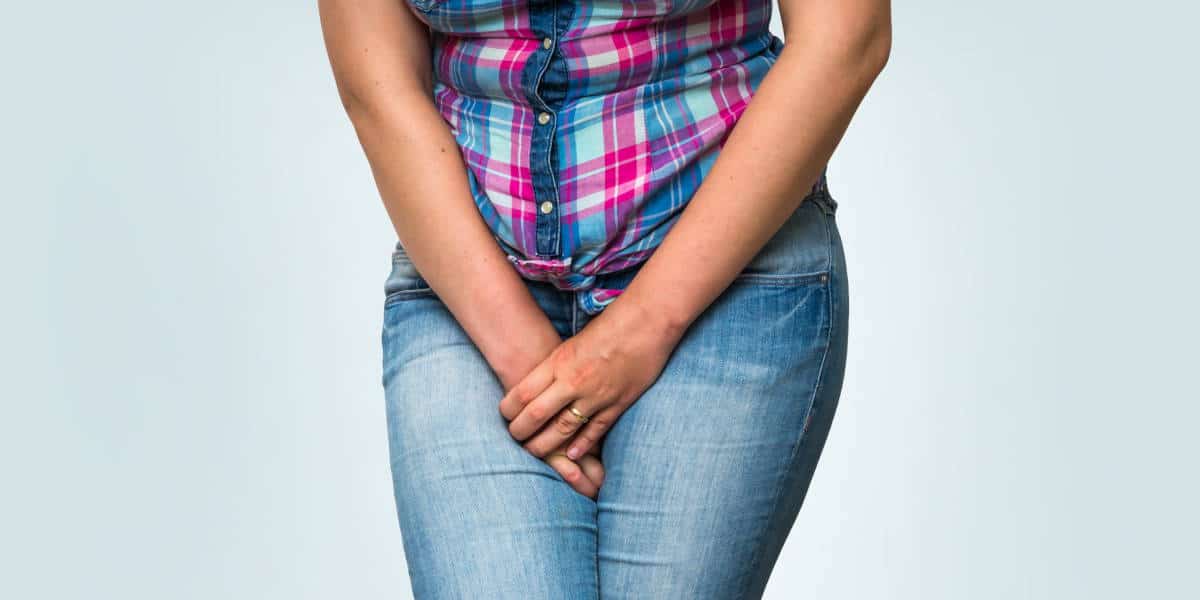 What are the symptoms of urinary incontinence?
Signs and symptoms of urinary incontinence can include:
Leaking urine during everyday activities, such as lifting, bending, coughing, or exercising.
Being unable to hold in urine after feeling a sudden, strong urge to urinate.
Leaking urine without any warning or urge.
Being unable to reach a toilet in time.
Wetting your bed during sleep.
Leaking during sexual activity.
What are the different types of urinary incontinence?
Many women experience occasional, minor leaks of urine. Others may lose small to moderate amounts of urine more frequently.
Types of temporary urinary incontinence include:
Stress urinary incontinence
Stress incontinence is the result of weakened or damaged muscles used to prevent urination. These are the pelvic floor muscles and the muscles of the urethral sphincter (a ring-shaped muscle that relaxes or tightens to open or close the urethra). As a result, urine leaks occur when pressure is exerted on the bladder due to coughing, sneezing, laughing, exercising, or lifting.
Urge urinary incontinence
Urge incontinence — also known as overactive bladder (OAB) — is a sudden, intense urge to urinate followed by an involuntary loss of urine. Frequent urination is common, especially at night.
Overflow urinary incontinence
Overflow incontinence is the frequent or constant leakage of urine because some urine remains in the bladder even after urination. It's usually caused by an obstruction or blockage in the bladder that prevents emptying.
Functional urinary incontinence
Functional incontinence is a physical or mental impairment that causes a person to not make it to the bathroom in time. For example, if a person has severe arthritis, they might not be able to unbutton their pants in time.
Mixed urinary incontinence
Mixed incontinence is when a person experiences more than one type of urinary incontinence. This most often refers to a combination of stress incontinence and urge incontinence.
What causes urinary incontinence?
There are many things that can cause urinary incontinence. Different types of UI also have different causes and triggers.
Temporary incontinence
Temporary incontinence can range from a slight loss of urine to severe, frequent wetting. It can be caused by certain drinks, food, and medication that may act as diuretics; diuretics stimulate the bladder, increasing urine volume. They include:
Alcohol
Caffeine
Carbonated drinks and sparkling water
Artificial sweeteners
Chocolate
Chili peppers
Foods that are high in spice, sugar, or acid, especially citrus fruits
Heart and blood pressure medications, sedatives, and muscle relaxants
Large doses of vitamin
Overdoing fluid intake
Temporary urinary incontinence may also be caused by a temporary medical condition, such as:
Urinary tract infection
Urinary tract infections can irritate the bladder causing strong urges to urinate and sometimes leakage. These can be the first and only symptoms of a urinary tract infection.
Constipation
The rectum is located near the bladder and shares many of the same nerves. Hard, compacted stool in the rectum causes the nerves in this area to be overactive and increases urinary frequency.
Persistent urinary incontinence
Urinary incontinence can also be a persistent condition caused by specific changes in bodily function as the result of disease or the onset of an illness. Diseases and medical conditions that are risk factors for urinary incontinence include: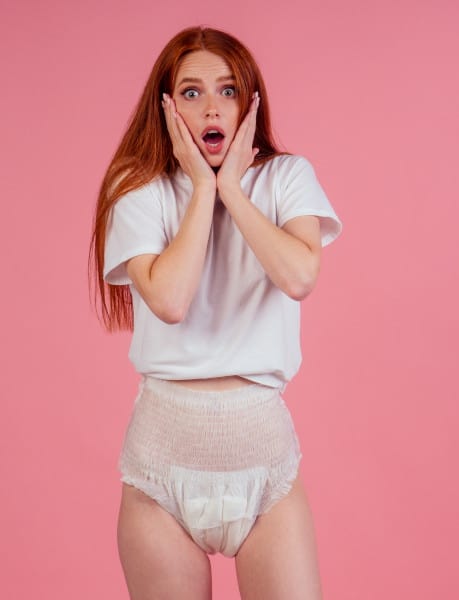 Pregnancy
Hormonal changes and the increased weight of the fetus can lead to stress incontinence.
Childbirth
Vaginal delivery can weaken the muscles needed for bladder control and damage bladder nerves and supportive tissue. This can lead to a pelvic organ prolapse — meaning the bladder, uterus, rectum, or small intestine gets pushed down from the usual position and protrudes into the vagina. Such protrusions may be associated with incontinence.
Changes with age
Aging can weaken the bladder muscle, decreasing the bladder's capacity to store urine. Aging may also cause more frequent involuntary bladder contractions. Although incontinence is not an inevitable result of aging, it is particularly common in older people.
Menopause
During menopause, women produce less estrogen causing a thinning in the lining of the bladder and urethra (the tube that allows urine to pass outside the body). Thinning of these structures can aggravate incontinence.
Obstruction
A tumor along the urinary tract can block the normal flow of urine, leading to overflow incontinence. Urinary stones are hard, stonelike masses that form in the bladder and sometimes cause urine leakage.
Neurological disorders
Multiple sclerosis, Parkinson's disease, stroke, a brain tumor, or a spinal injury can interfere with nerve signals involved in bladder control, causing urinary incontinence.
What do I do if I'm struggling with incontinence?
If you're struggling to control your urination or experiencing leakage, get in touch with a healthcare provider. While UI is generally benign and treatable, it can also indicate something more severe, such as kidney disease.
After reviewing your medical history, your doctor can discuss treatment options, refer you to a urologist, or recommend further testing — such as urodynamic testing or stress tests.
What is the treatment for urinary incontinence?
Lifestyle changes and treatments can alleviate symptoms. Dr. Aliabadi can assist you with an individualized treatment plan for symptom relief.
Behavioral options
There are several behavioral options to try at home to have more control over bathroom visits:
1. Limit caffeine — Caffeine can cause the muscles in the bladder to contract. This can trigger the urge to urinate more often.
2. Avoid spicy, acidic food
3. Lose weight — Losing just 5 – 10% of body weight can cut the number of bathroom accidents by half. Obesity places extra pressure on the bladder. Your doctor may refer you to a dietitian or physical therapist to create a healthy eating and exercise plan.
4. Stop smoking — Smokers are twice as likely to have pelvic problems. Over time, smokers may develop a chronic cough that places increased pressure on the pelvic muscles, causing them to weaken and increasing the chance of stress incontinence.
5. Timed voiding and bladder training — Create a diary that records the time you urinate and the time you leak. A pattern should begin to emerge so you can plan to empty your bladder before an accident happens. This allows for bladder retraining, gradually increasing the time between bathroom visits.
6. Kegel muscle exercises — Kegel exercises strengthen the pelvic floor muscles (muscles that support the uterus, bladder, small intestine, and rectum) and can be done at any time. Biofeedback is used with Kegel exercises as a learning tool to gain awareness and control of pelvic floor muscles.
7. Incontinence pads — Absorbent pads are another option while undergoing treatment and accidents are still occurring. A wide range of absorbent pads are available to purchase at pharmacies and supermarkets to suit your needs.
Medications
When other options don't work, medications are available. Some medications have side effects, and they should be discussed with your doctor to find the right one for you. The following medications may help with urinary incontinence, including:
Anticholinergics — these drugs block the action of a chemical messenger (acetylcholine) in the brain. This chemical messenger triggers bladder contractions, triggering an urge to urinate even when the bladder isn't full.
Botox injections — Botox injected into the bladder muscle causes it to relax. This increases its storage capacity and reduces accidents. It can be used for adults who do not respond to medication.
Mirabegron — a medication that relaxes the bladder muscle and can increase how much urine the bladder can hold. It might also increase the amount you're able to urinate at one time and this may help to empty the bladder more completely.
Estrogen — in older women going through menopause, the body produces less estrogen. This decrease in estrogen may weaken the supportive tissues around the bladder and urethra. Estrogen may help restore the tissue in the vagina and urinary tract to relieve some symptoms.
Imipramine — an antidepressant that relaxes the bladder muscle while causing the smooth muscles at the bladder neck to contract. It may be used to treat mixed incontinence, which is a combination of urge and stress incontinence.
Duloxetine — an antidepressant that can help relax the muscles that control urination and improve bladder leaks.
Medical Devices and nonsurgical treatment
Medical device options include:
Vaginal insert — a disposable device inserted into the vagina like a tampon. It puts pressure on the urethra to prevent leakage. This product can be found at pharmacies without a prescription.
Urethral insert — inserted before activity and taken out when ready to urinate.
Pessary — a rigid ring inserted into the vagina and worn all day. It helps hold the bladder up and prevent leakage.
Radiofrequency therapy — tissue in the lower urinary tract is heated using radio waves. When it heals, it's usually firmer, often resulting in better urinary control.
Bulking agent — injected into the tissue around the urethra, keeping the urethra closed.
Sacral nerve stimulator (neuromodulator) — implanted under the skin of the buttock to provide electrical stimulation to the nerve that runs from the spinal cord to the bladder. The wire emits an electrical pulse that stimulates the nerve, helping with bladder control.
Surgical Treatments
Surgery may be considered but the procedural options depend on the type of incontinence you have:
Stress incontinence – A sling procedure may be used for stress incontinence to reduce pressure on the bladder or to strengthen the muscles that control urination.
Urge incontinence – Surgery may involve enlarging the bladder or implanting a device that stimulates the nerve that controls the detrusor muscle.
Bladder problems can affect the quality of life and cause other health problems. Dr. Aliabadi can assist you in recommending lifestyle changes, changes in medication, and other treatment options.
Make Dr. Aliabadi your Los Angeles OB/GYN
As one of the nation's leading OB/GYNs, Dr. Thaïs Aliabadi offers the very best in women's health and well-being. Together with her warm professional team, Dr. Aliabadi supports women through all phases of life. She fosters a special one-on-one relationship between patient and doctor.
An expert in obstetrics and gynecology, Dr. Aliabadi has been a practicing OB-GYN in Los Angeles since 2002. She serves as an official gynecologist for many royal families and "celebrities," as well as instructing Cedars Sinai Medical Center residents and medical students at the University of Southern California.
We invite you to establish care with Dr. Aliabadi. Please make an appointment online or call us at (844) 863-6700.
We take our patients' safety very seriously. Our facility's Covid-19 patient safety procedures exceed all CDC and World Health Organization recommendations. Masks are required in our office at all times during the coronavirus pandemic.
The practice of Dr. Thais Aliabadi and the Outpatient Hysterectomy Center is conveniently located for patients throughout Southern California and the Los Angeles area. We are near Beverly Hills, West Hollywood, Santa Monica, West Los Angeles, Culver City, Hollywood, Venice, Marina del Rey, Malibu, Manhattan Beach, and Downtown Los Angeles.