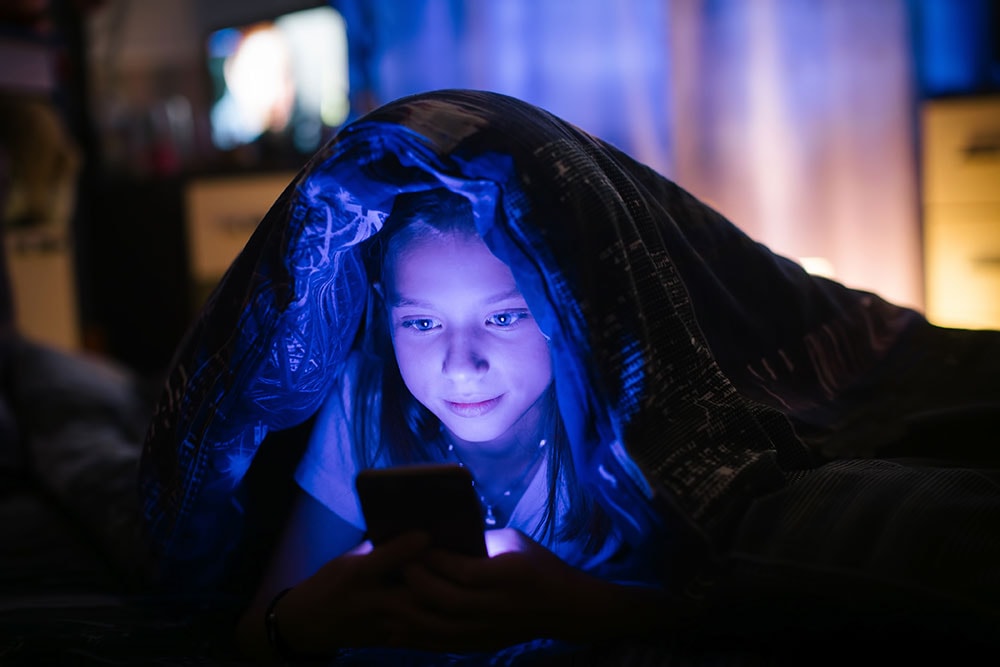 Electronic media devices can cause sleep problems in children. How serious is this? And what can we do about it?
Smartphones and tablets are changing the way we access media, learn about the world, and communicate with friends. But for all the good they do, these powerful devices can also drive us to the point of distraction – and do harm to our health as well.
Researchers are just beginning to understand the extent to which our brains are being "reprogrammed" by our phones. The lights and sounds our phones emit while we're interacting with them stimulate our brains in ways that never existed 20, 10, or even 5 years ago.
For most American children, phones are not relatively new technological tools; they're facts of life
In many homes, the smartphone or tablet has replaced the TV as the primary medium of learning and entertainment. According to Dr. Gwen Dewar, founder of ParentingScience.com, this reliance on phones may be harming children's sleep patterns, especially when used near bedtime.
In one study of over 600 preschoolers, researchers found "a clear link" between media devices and sleep problems, including nightmares, fatigue, and trouble falling asleep. The longer kids used the devices, the more likely they were to have difficulty sleeping.
There are two primary concerns: Artificial light, and content.
Electronic screens may be turning up the dial on kid's brains, keeping them from sleep
"For a long time," Dewar writes, "scientists have known that exposure to bright light before bedtime can delay the brain's production of melatonin, the hormone of drowsiness."
Blue light, in particular, tends to have this waking effect. Light in the wavelengths of 460-480 appears blue to our eyes, and as Dewar explains, "it's the range that can trigger alertness, even when lighting levels are dim."
Neurons in our retinas are hyper-sensitive to this wavelength. "They send a message to the brain," she says. "Wake up, be alert. It's daytime."
What's more, children may be more susceptible to artificial light than adults
In one 2014 study, researchers found that normal levels of indoor lighting had little effect on adults, but the same lighting devastated production of melatonin in kids. "The emerging picture isn't good," Dewar writes. "Would you pour your kid a cup of coffee an hour before bedtime?"
Waking nightmares
Another piece of the puzzle is content. Scary, violent, or disturbing content may be steering children away from a good night's sleep.
The larger-than-life characters and exciting scenarios that thrill kids in their waking lives make guest appearances in their nightmares, researchers say.
In one 2012 study, researchers split parents and their pre-K children into two groups. One group watched their typical, everyday television shows, while the other group replaced all their normal shows with non-violent content, like Sesame Street.
Within six months, the kids in the non-violent group were less likely to experience sleep problems than their counterparts in the control group.
Dewars says we may not even realize how disturbing our normal TV content can be, when viewed through younger eyes. "Something that doesn't strike you as frightening or particularly violent may bother your child."
Nightmares can wake your child up throughout the night, and make it more difficult to fall back asleep. Bundled together, the artificial light and stimulating content may be hurting your child's chances of getting all 40 winks.
Tips for a better bedtime for your kids
So what can be done? Based on mountains of evidence, Dr. Dewars formulated some tips to help parents get their tech-savvy kids back on a healthy sleep schedule.
Keep your kids away from violent or disturbing media content. This is especially important right before bedtime, but daytime consumption counts, too. The right parental control app can help you do this without hovering over your child's shoulder.
Start a "black out" period. At least one hour before bed, turn off your kids' devices. Try to find relaxing activities that will sooth your kids to sleep, like playing soft music or reading a bedtime story.
Get a blue light filter. If your kids can't or won't be able to follow a black out rule, you can download an app that filters out blue light from the display.
Check your child's room for blue lights. Does your child use a nightlight? Make sure the light isn't blue.
This is a fascinating study on electronic media devices and sleep disruption. Who knows – maybe shutting down our devices well before bedtime may help us get a better night's sleep too! Read more and let me know what you think.  Thaïs
Read the full article at: www.parentingscience.com

Latest posts by Dr. Thaïs Aliabadi
(see all)
Reader Interactions