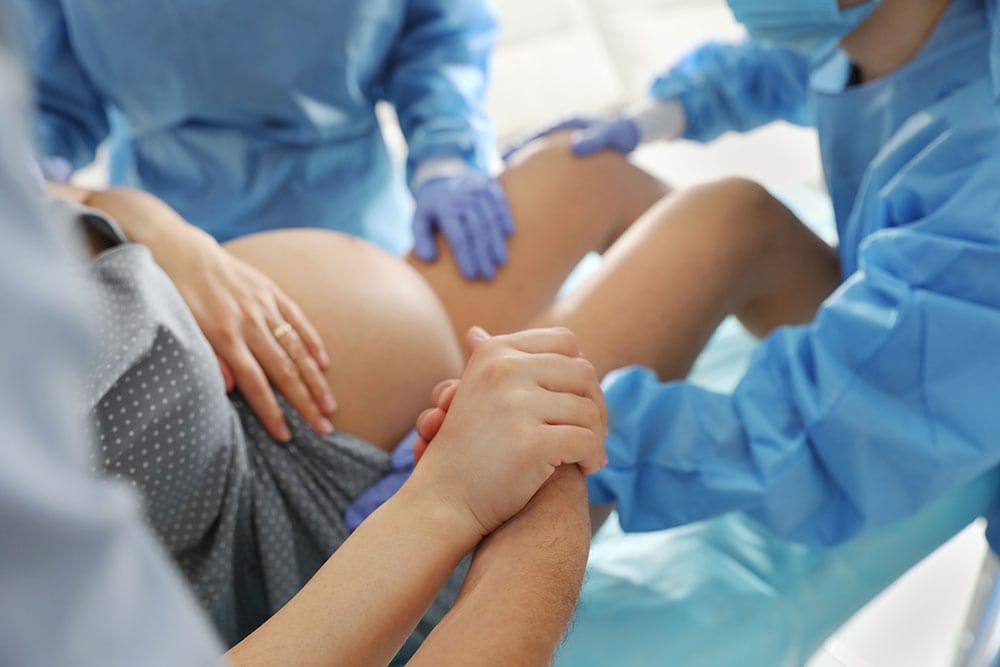 First U.S. Baby Born After Successful Uterus Transplant
A medical breakthrough has allowed a woman to receive a transplanted uterus at Baylor University Medical Center in Dallas. The donated uterus amazingly helped her to produce a healthy infant.
The living donor of the uterus is Taylor Siler
She's a registered nurse who lives in Dallas and has two children of her own. After Siler and her husband had decided that a family of four is plenty large enough, she randomly read a news item about Baylor's uterus transplant program. Siler decided to offer her uterus to give a previously infertile woman a new chance to be a mother. "I have family members who struggled to have babies, and it's not fair," Siler said. "I just think that if we can give more people options, that's an awesome thing."
After rigorous testing and analysis of both her physical and mental condition, Siler was approved to participate in the trial. The surgical procedure to remove her uterus took about five hours. The subsequent surgery, to install the uterus in its new owner, took another five hours. Siler's recovery took about three months to complete.
After the recipient had completed her own recovery, and after her first postsurgical menstrual period, she used in vitro fertilization to achieve pregnancy. (The recipient, at least for now, is remaining unidentified, to preserve her family's privacy.)
The pregnancy itself was relatively uneventful
But it was continuously and intensely monitored by members of Baylor's multi-disciplinary clinical trial team, from conception until the mandatory cesarean delivery.
Giuliano Testa, the primary researcher of the program, called the birth "a milestone". He said it was "a beautiful moment of love and hope for a mother who had been told she would never be able to carry her own child."
What's absolute uterine infertility?
All the participants in the Baylor program have absolute uterine infertility (AUI). It's a condition that may affect 50,000 women in the United States. The uteruses of AUI women are either nonfunctioning or they were born without one. The ages of the uterus recipients in the program must be between 20 and 35, while the ages of the donor participants range from 30 to 60.
The first successful birth from a transplanted uterus took place in Sweden in 2014, in a program that has since produced seven other successful births. Dr. Liza Johannesson, a leading researcher in the Swedish team, moved to Dallas to join the Baylor program in time for its first successful pregnancy. "It was a very exciting birth," said Dr. Johannesson. "I've seen so many births and delivered so many babies, but this was a very special one."
The Baylor program has transplanted eight uteruses
The trial is scheduled to include two more. One of the transplant patients is currently pregnant, and two others are trying to conceive. The other four transplants, unfortunately, failed, requiring removal of the organs.
No surprise, uterus transplants are quite expensive
The costs are estimated to approach $500,000. Insurance coverage is rarely available; health insurers consider the process to be both experimental and elective. Baylor is providing the first 10 transplants free of charge, but the program is currently looking for funding, from both institutions and private donors.
A transplanted uterus is not a permanent installation
In addition to the high cost, other factors tend to prevent a "miracle cure" label from being prematurely attached to the procedure. The transplant surgeries, like any internal organ transplant, are complicated and risky. Because keeping the transplanted uterus in good working order requires continual use of heavy-duty anti-rejection drugs, with their significant negative side effects, the transplants are only temporary. They are meant to be removed after no more than two pregnancies. The pregnancies themselves are also high risk, and always require a cesarean delivery.
The most common remedies currently in use for absolute uterine infertility are adoption and surrogacy. When asked why uterus transplantation may someday become a viable alternative to adoption and surrogacy, Dr. Johannesson said: "A lot of people underestimate the impact that infertility can have on a person's well-being. It can have such a profound impact."
This is all very exciting news for some infertility patients. Read more about these new developments and let me know what you think. Thaïs
Read the full article at: time.com

Latest posts by Dr. Thaïs Aliabadi
(see all)