Most people struggle to cope after being diagnosed with a chronic condition, even if it's not fatal. And when it comes to a confusing condition that will impact your fertility, metabolism, and appearance, the time needed to adjust is even longer.
If you've been diagnosed with PCOS (polycystic ovary syndrome), there's no need to try and cope alone; PCOS support groups are available to help you. These groups are a great source of information for advocates, and they're an excellent place for you to meet other women with the same diagnosis and discuss therapies and treatments, helping smooth your road to wellness.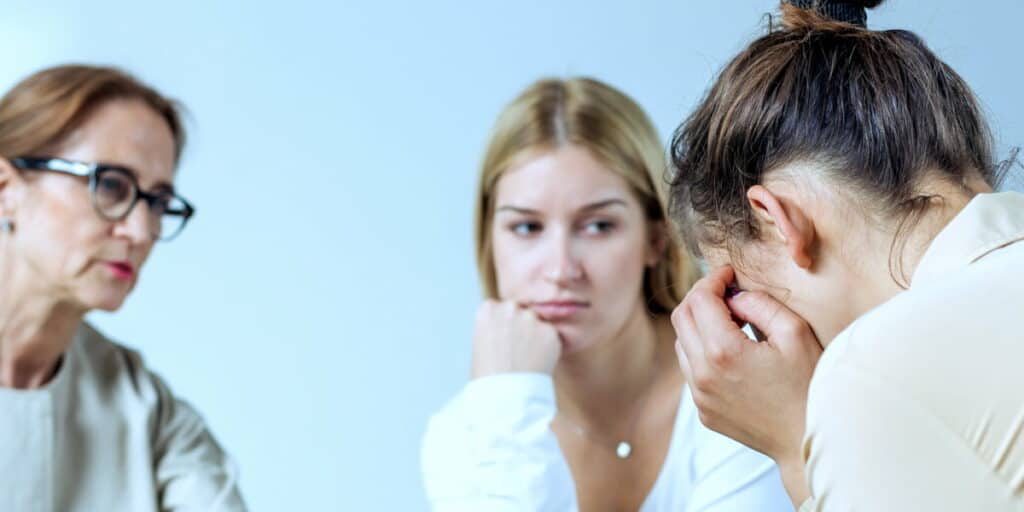 What is PCOS?
PCOS — or polycystic ovarian syndrome — is a serious health concern for many women. It's a hormonal disorder characterized by high levels of androgens ("male" hormones) and may also involve small cysts in one or both ovaries.
Common PCOS symptoms include hirsutism (excess hair growth, especially on the face and thighs), early head hair loss, painful or irregular periods, and problems with ovulation that may result in infertility. The hormonal imbalance from PCOS also increases your chances of weight gain, makes weight loss more difficult, and sharply raises your risk of developing type 2 diabetes or cardiovascular disease.
Do you need a PCOS support group?
If you have been diagnosed with PCOS and feel you'd like to talk to other people in the same situation, you'll likely benefit from joining a support group.
PCOS is a complex condition that could negatively impact your quality of life, be that through physical symptoms or its mental health impact. As it has so many symptoms and negative effects, it's hardly surprising that many women seek a support network shortly after diagnosis.
However, not everyone immediately seeks support. Some women may believe that other sufferers have it worse than them, that support groups could be depressing, or that they're full of scammers. However, most women who join PCOS support groups find them helpful, providing them with things such as:
A forum to compare experiences and discuss treatment options
Whether you're wary about changing your birth control prescription or can't decide if a new ovulation tracker is worth the money, support groups allow you to talk to women who have been through the same process.
Information about the best specialist doctors in your area
Perhaps your local fertility clinic isn't currently accepting new patients, or you're having trouble finding a nutritionist; most support groups can advise you on contacting the best specialist in your area, and many have a database of suitable health professionals.
Meet-ups and social events
Sometimes, emotional support means talking to someone who knows how it feels without trying to fix anything; support groups are ideal for this.
The opportunity to assist with fundraising or research
PCOS is not a new condition, but we're far from discovering a cure. For doctors researching the condition, PCOS support groups offer an opportunity to raise funding or recruit volunteers for clinical trials.
How can I find PCOS support groups near me?
Traditionally, PCOS support groups were tied to larger charities or non-profit organizations. These groups still exist and are often well-established and tied to a local hospital.
Many PCOS support groups exist in a large city like Los Angeles. However, if you can't find anything right away, consider alternative examples of support groups:
Support groups for related conditions
Because PCOS has such a wide variety of symptoms, some patients find support in forums and groups for people experiencing infertility or obesity.
Online support groups
Although PCOS support groups online may feel a little impersonal, they can still offer support. You could also get information or support from the following online resources:
The PCOS Awareness Association hosts a vast collection of useful articles.
The PCOS Challenge from The National Polycystic Ovary Syndrome Association is great if you want to get involved in grants for local projects or clinical trials.
My PCOS Team is a small, intimate social media network exclusively for women with PCOS. It's free to use and works largely like Facebook but without the "noise."
Are you seeking a compassionate, science-based, holistic approach to PCOS?
Dr. Thaïs Aliabadi is a board-certified obstetrician and gynecologist with a unique, patient-centered care philosophy. Her approach is particularly suitable for patients with PCOS, as it considers weight, menstrual cycle, and other chronic health conditions.
For Dr. Aliabadi, the key to a patient's well-being isn't in an off-the-shelf treatment plan. As an expert in women's health, she believes each patient deserves individualized treatment and a doctor who will consider their long-term goals. She is also happy to liaise with family doctors, endocrinologists, and other healthcare providers to ensure each patient consistently progresses.
Schedule an appointment with Dr. Aliabadi online or call us at (844) 863-6700.
Dr. Thaïs Aliabadi's practice is conveniently located for patients throughout Southern California and the Los Angeles area. We are near Beverly Hills, West Hollywood, Santa Monica, West Los Angeles, Culver City, Hollywood, Venice, Marina del Rey, Malibu, Manhattan Beach, and Downtown Los Angeles.

Latest posts by Dr. Aliabadi Education Team
(see all)