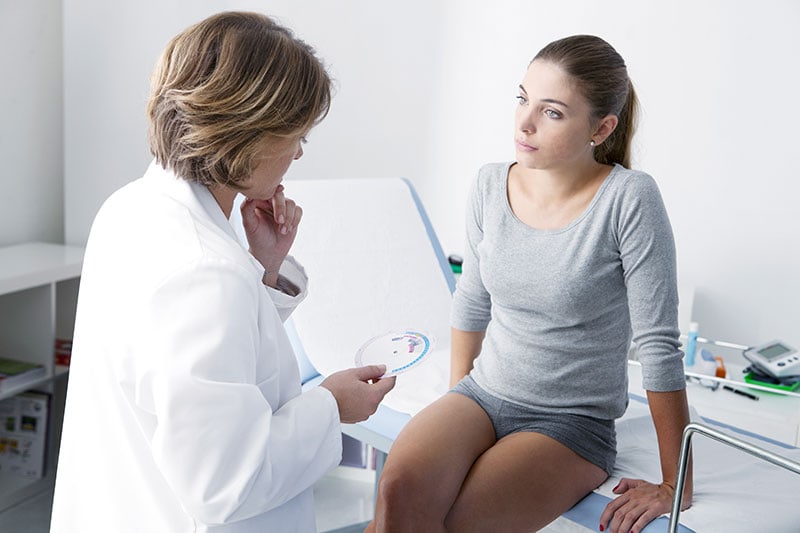 Please note: If you're the parent of a teenage girl, we suggest that you consider sharing the following with her:
Your first gynecology appointment. Four words absolutely certain to intimidate, right? But the prospect of your first visit with a gynecologist doesn't have to be scary. We'll bet that, after it's over, you'll rate that first appointment as warm and reassuring, rather than frightening.
What's a gynecologist?
A gynecologist is a medical doctor whose practice is focused on women's health and the reproductive organs of the female body. Obstetrics is the branch of healthcare concerned with pregnancy. The combined specialty is generally referred to as obstetrics and gynecology, or OB/GYN, for short.
Why does a teenage young woman need to see a gynecologist?
The American College of Obstetricians and Gynecologists (ACOG) recommends that girls have their first gynecological visit between the ages of 13 and 15. That's when a girl's body is undergoing significant changes, and sexual issues are becoming relevant. (In the US, the average age of first menstruation is 12 years and 9 months.)
What is the purpose of the first gynecological appointment?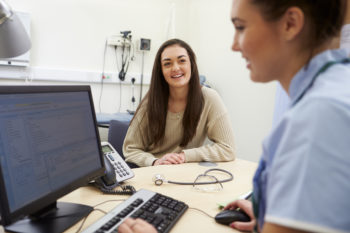 The initial visit is meant to establish an open and trusting relationship between the patient and a new kind of health care provider, a gynecologist. The goal is to set up a comfortable place to educate the new patient on any and all questions that the patient might have.
It will also introduce the new patient to an exam room with some of the instruments that are part of gynecological exams (such as stirrups and a speculum, which are different than what they have seen at their pediatrician). The doctor will also talk about the standard tests (such as a pap test and giving a urine sample) that are often a part of a visit to the gynecologist.
What to expect the first time seeing a gynecologist?
The subject of menstruation, irregular periods, and other aspects of puberty will be discussed, together with pregnancy. So will the prevention of sexually transmitted infections and diseases (such as gonorrhea and chlamydia), sexual health, birth control, and reproductive health (if age appropriate). Lastly, risky behavior, like alcohol abuse, smoking, and unsafe sexual activity, will also be mentioned.
The agenda will also include vaccination against human papillomavirus (HPV). That vaccine protects against cancers caused by an HPV infection. The Centers for Disease Control recommend that HPV vaccination occurs around the age of 12. HPV vaccination has been proven to be both safe and effective.
Can a family member or friend be present?
Of course. Competent gynecologists encourage the presence of a parent or friend. Parents are especially invited because they are likely to know a lot more about the family health history that is pertinent to the discussion.
However, at some point during the appointment, there will be a private conversation between doctor and patient. And that discussion is almost certain to remain completely confidential.
What will the first gynecological exam be like?
There will be a general physical exam, which includes information like height, weight, and blood pressure. There is also likely to be a brief external genital exam. The external genital exam is also an opportunity for a young patient to learn the name, location, and function of all components of her genitalia. Don't be shy. Ask for a mirror and ask questions.
The doctor may also conduct a breast exam. Even though young women have a low risk of breast cancer, the first appointment can provide a chance for the patient to learn how to conduct a lifetime of self-examinations.
When should you get your first pap smear?
The first appointment is basically just to get acquainted. It's unlikely an intrusive internal pelvic exam will be necessary. Absent unusual circumstances, many gynecologists don't prescribe pelvic exams until age 21, when ACOG guidelines advise that annual pap smears (to detect cervical cancer) should commence.
What information should the patient provide to her gynecologist?
The doctor needs to know about any medical conditions the patient may have, the medications (if any) the patient is taking, and past surgeries. It's a good idea to write this information down (including relevant dates, etc.) before the appointment.
(Speaking of dates, the patient should schedule the first appointment for a time when she is not on her menstrual cycle.)
The doctor will also need to know the medical history of the patient's family, especially on the mother's side. A family history of abnormal blood clotting is especially relevant because that can determine what methods of birth control are most appropriate.
The patient is in control
Your doctor is there to serve you. A good OB/GYN is an advocate for the patient. And a good OB/GYN is completely non-judgmental. You're not going to shock her, you're not going to impress her, and you're not going to embarrass her. Remember, she has literally seen it all.
So don't let your own embarrassment devolve into a medical problem. If you're nervous, let your doctor know, so she can help you get comfortable.
The follow-up and scheduling an annual wellness visit
Before you leave, make sure you know what to expect in the way of follow-up information. If you had any tests performed during your appointment, your doctor's office is likely to call to inform you of the test results.
It's also a good idea to make your next gynecologist appointment before you leave, as well. Most women (even very young women) will schedule an annual wellness visit.
About Dr. Thaïs Aliabadi
As one of the nation's leading obstetricians, Dr. Thaïs Aliabadi offers the very best in gynecology and obstetrics care. Together with her warm professional team, Dr. Aliabadi supports women through all phases of life. She fosters a special one-on-one relationship between patient and doctor.
We invite you to establish care with Dr. Aliabadi. Please click here to make an appointment or call us at (844) 863-6700.

Latest posts by Dr. Aliabadi Education Team
(see all)