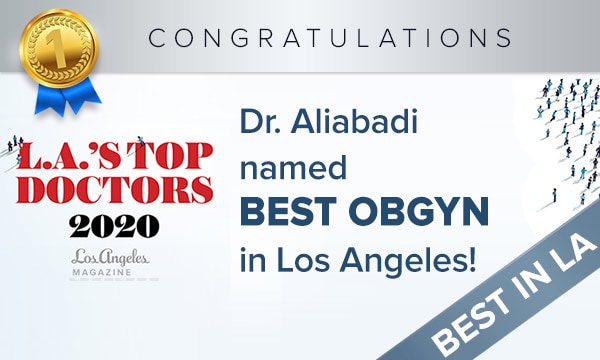 Los Angeles Magazine has again named Dr. Thais Aliabadi to its Top Doctors list for 2020. The influential list notes a physician's standing within their peer group after a survey of 1,400 doctors in Los Angeles County.
Dr. Aliabadi is known as an expert in Endometriosis, PCOS and other severely under-diagnosed conditions that lead to tremendous pain and infertility. She has appeared
specializes in state-of-the-art, minimally invasive surgical techniques, which promise patients shorter recovery times and reduced pain.
"It feels good to be recognized by my fellow physicians," said Aliabadi, one of the country's leading OB-GYNs. "This award could also be given to our entire team, who consider women's health to be the prime focus of their practice."
In addition to maintaining offices in Los Angeles, Dr. Aliabadi travels internationally to deliver patient's babies and perform gynecological surgeries. She serves as the official OB-GYN for a number of royal families and many celebrities. She teaches medical residents at Cedars Sinai Medical Center and medical students at the University of Southern California.
Dr. Aliabadi graduated summa cum laude with her medical degree from Georgetown University School of Medicine, where she was a member of the Alpha Omega medical honor society. She then completed her internship and residency training in obstetrics and gynecology at Los Angeles County and University of Southern California Medical Center.
Prior to her medical training, Dr. Aliabadi received her Bachelor's degree in biology from the University of California at Berkeley with honors and a Master's degree in physiology from Georgetown University.
Dr. Aliabadi has three beautiful daughters and is happily married to her college sweetheart from her time at Berkeley. Active and energetic, she enjoys skiing, traveling, interior design and spending as much time as humanly possible with her family.
Dr. Aliabadi is fluent in English, Farsi, French, and Spanish.

Latest posts by Dr. Aliabadi Education Team
(see all)